REBOOTING AN UNLOVED PART OF BRISTOL'S HISTORIC CENTRE WITH SUSTAINABLE OFFICES AND GREEN SPACE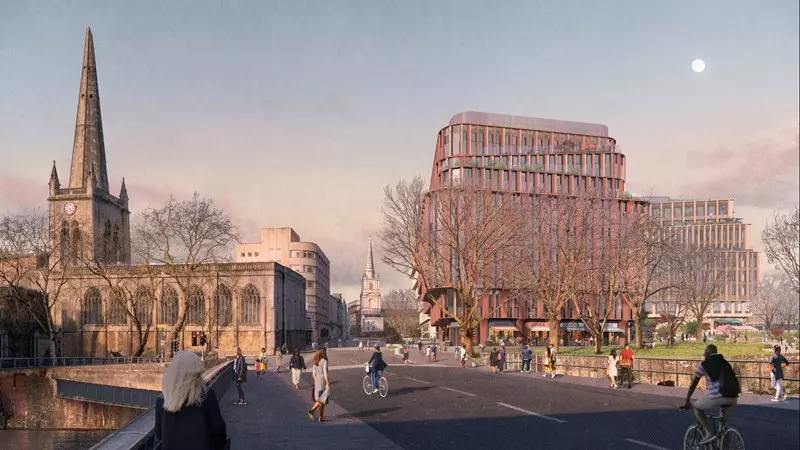 St Mary le Port, in the heart of Bristol, is being redeveloped as a mix of sustainable office space and retail development. It respects and reflects the historic importance of St Mary le Port's tower and ruins, and makes pedestrian and economic links to the nearby High Street Vaults, Castle Park, and the wider City Centre.
The three new office buildings embrace the future needs of sustainable and healthy, post-COVID workspace. At ground level, small-scale, independent shops and cafes link through to the historic St Nicholas Market and the wider heart of Bristol city centre.
Working in partnership with Bristol City Council and the local community, our designs propose a mixed-use scheme that draws on the past, embraces the present, and looks to the future.
The plans will bring new independent shops catering for all budgets, attract new visitors interested in the ruins of St Mary le Port church, and deliver a new attractive office location commensurate with Bristol's ambitions and climate targets.
Roz Bird, Commercial Director at MEPC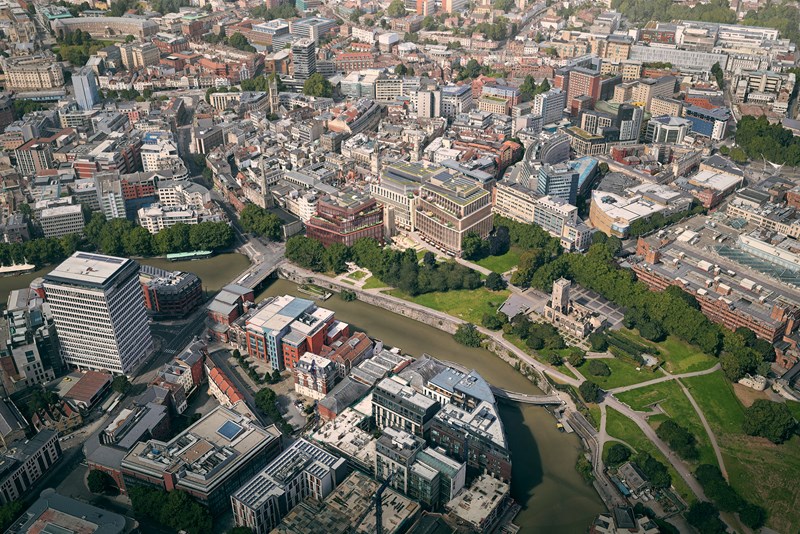 REINSTATING HISTORY FOR EVERYONE
There are currently three 1960s bank buildings on the western edge of Castle Park. These are vacant and no longer fit for purpose. Hidden amongst them sit the characterful ruins of St Mary le Port Church.
The Church and nearby Vaults are to be repaired, providing free access to the public. We will bring two historical gems to life whilst creating additional outdoor space that extends into Castle Park.
Castle Park is well connected by foot and cycle paths, public buses, and by boat. These routes are extended through the site, reinstating the historic streets and routes lost after the war. Open and welcoming, it will become a vibrant new sustainable place to serve people who work, live, and visit the area.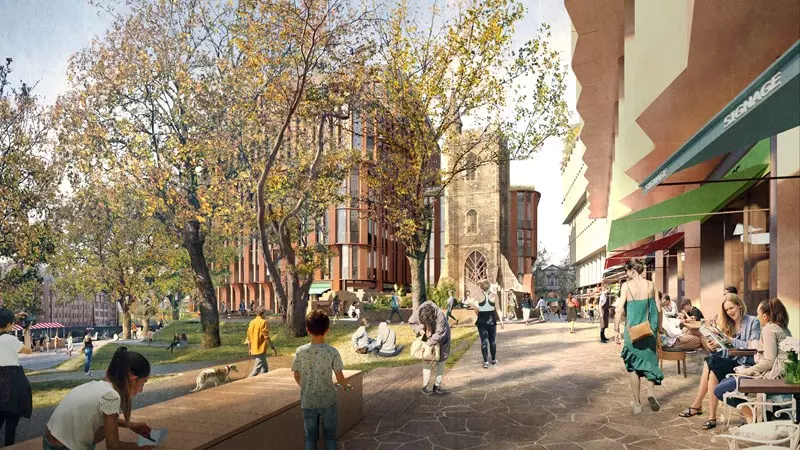 A TRULY SUSTAINABLE DEVELOPMENT
The development includes the latest sustainable building design thinking with the aim of achieving net carbon zero in operation. In addition to setting ambitious and deliverable targets for the buildings, it will be adopting the latest thinking in Environmental Net Gain (ENG) to take care of the natural environment on site. We will increase the amount of green space by around 200%. An extensive planting scheme will include new trees, biodiverse roof terraces, green roofs, terraced planters at street level, and landscaped terraces down to the Floating Harbour. Click here to find out more, including a 360-degree virtual reality walkthrough.
Team
Masterplanner / Architect
Feilden Clegg Bradley Studios
Heritage Consultant
Feilden Clegg Bradley Studios
Structural Engineer
Hoare Lea
Landscape Architect
Grant Associates
Archaeology Consultant
Wessex Archaeology