THE OLDEST SURVIVING STEAM-POWERED COTTON MILL TURNED TO CHARACTERFUL CITY APARTMENTS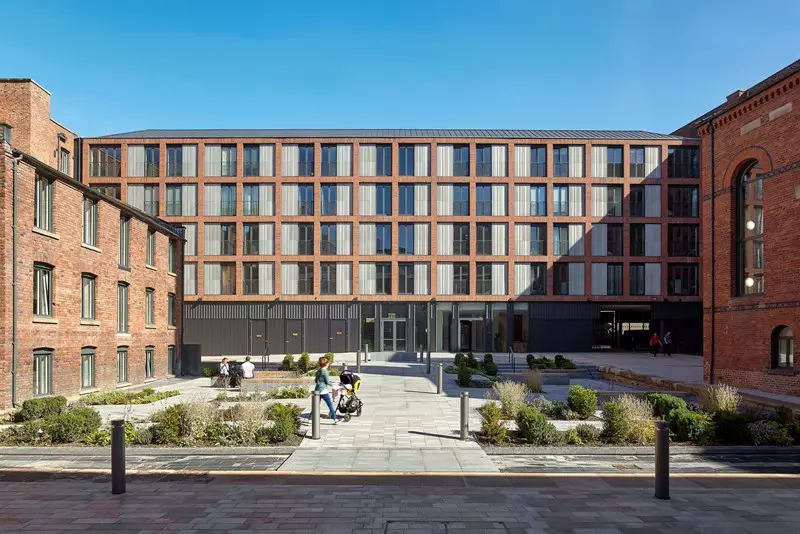 Our brief to restore and transform the Grade II and II* Listed Murrays' Mills was relatively simple; to create a new community, and to let the buildings' layout, character and heritage inform how this was achieved.
The mill range, begun in 1798 composed two parallel 7-8 storey mills, linked by a more recognisably Georgian administrative building and enclosing engine houses, a canal basin, a chimney and sculptural stair towers. The former Wing Mill ( which had been destroyed in a fire in the 1950s) was replaced by a new buildings , completing the courtyard once more.
Building bridges between old fabric, new uses and new buildings, the practice has established a subtle but resilient order capable of holding the Ancoats line well into the future.
Ellie Duffy, Architects Journal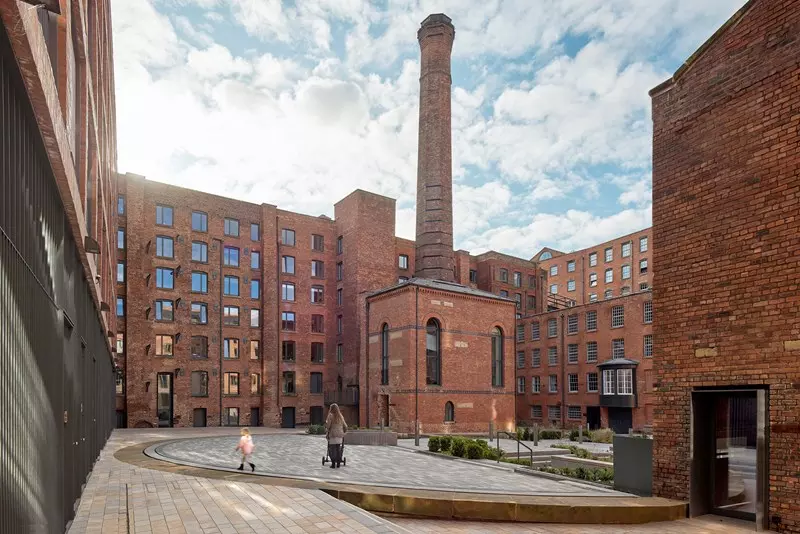 FUNCTION FOLLOWS FORM
The structure of the existing mill buildings drove the arrangement and layouts of the apartments, resulting in a portfolio of 123 one, two and three-bedroom homes, and a townhouse in the former engine house building.
The central courtyard within is a calm space, with planting and places to sit. It is brought to life by people using the front doors and shared circulation cores to the duplexes arranged around it. Typical upper apartments are dual-aspect to maximise daylight.
RED BRICK
The mill buildings have elegantly proportioned façades, unified by repetitive window arrangements. Their unapologetic façades are softened by their weathered hand-made brick construction.
We constructed the new building, Wing Mill, from a similar soft red brick. In response to the load-bearing masonry walls of the mills, the new façade also expresses its structure. This contrast between the historic and new buildings, unified by the same material, creates a striking setting.
ONE OF THE COOLEST NEIGHBOURHOODS IN THE WORLD
In 2014, the Manchester Life Development Company was formed to spearhead the urban regeneration of Ancoats and New Islington, and create the necessary momentum for wider regeneration to take hold.
In as little as five years the transformation is astonishing. Time Out even listed Ancoats as one of the greatest places for fun food, culture and community.
FCBStudios has delivered three projects in Ancoats with Manchester Life: Murrays' Mills, One Cutting Room Square and Smith's Yard and the neighbourhood continues to evolve at pace. The original density and vibrancy of Ancoats has returned, though now via fine new buildings knitted in among their elegant predecessors, and the buzz of theatres, bars, and cultural venues.
Team
Architect
Feilden Clegg Bradley Studios
Contractor
Graham Construction
Civil & Structural Engineers
Arup
Landscape Architect
Planit-IE
Environmental Engineer
Arup
Heritage Consultant
KM Heritage
Planning Consultant
Deloitte Real Estate
Quantity Surveyor
MAC Consulting
Photography
Daniel Hopkinson
Awards
2020
Civic Trust: Conservation