SPECIALIST RESEARCH SPACES INTERSPERSED WITH OPPORTUNITIES TO CONNECT AND COLLABORATE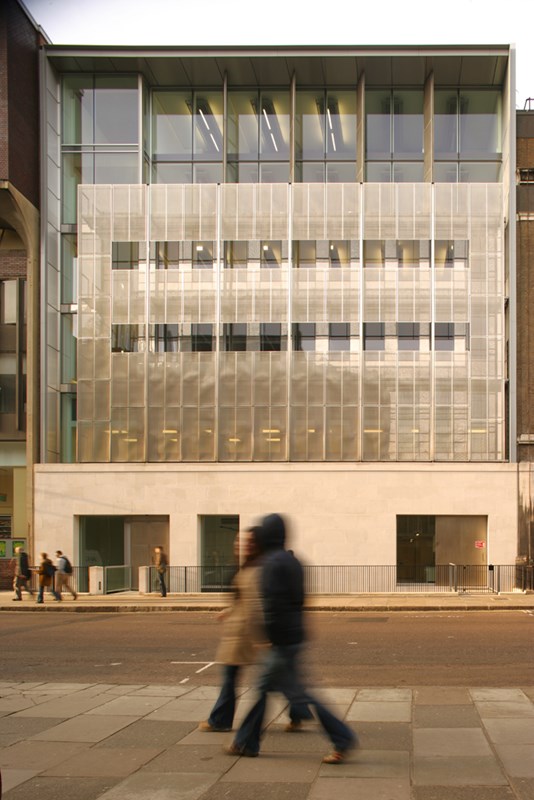 In the heart of the UCL campus in Bloomsbury, the Centre for Nanotechnology is a joint venture between Kings College UCL and Imperial College. It brings academics and scientists from multiple disciplines together to make it one of the world's leading research facilities in the field of nanotechnology.
Much of the building houses highly sensitive instruments for the preparation and investigation of nanoscale structures and materials, including a 200 square metre Clean Room. On the upper floors are a mix of cellular offices and open plan space for research and computational modelling, and additional labs with widely varying internal conditions from fully air-conditioned, 'black box' spaces to day-lit observation rooms.
A SPECK OF DUST IS LIKE A METEOR
For nanotechnology research, a supremely uncontaminated research environment is required. Its tiny scale means that experiments can be completely thrown out by the slightest vibration or interference. To support the specialist nature of the building, over half the budget was given over to M&E including a 200 sqm clean room
MAKING CONNECTIONS
The stair is the social spine of the building. Isolated from the surrounding structure to reduce transfer of vibration it has welcoming break out spaces for informal meetings and conversations.
Between labs there are windows, with some looking onto the stair. Meeting rooms and all-important coffee areas are open to the stair. The idea was to draw people out of the labs for conversation, and future collaboration.
What is impressive is that despite technical pressures and a demanding site, the building is highly architectural and feels both confident and delicate.
Catherine Croft, Building Design
A PATTERN FOR SEEING MORE CLEARLY
The façade is made up of layers. An inner stainless steel rainscreen clad wall with fixed lights within , and an outer vertical stainless steel brise soleil which sandwich around steel maintenance walkways.
Together, the double skin has been exploited to create a moiré pattern – moiré patterns being one of the tools first used by scientists to measure particles at the atomic scale.
Team
Architect
Feilden Clegg Bradley Studios
Environmental Services Engineers
Buro Happold
Main Contractor
Bluestone Plc
Montresor Cladding Consultants
Montresor Partnership
Quantity Surveyors
Edmond Shipway
Structural Engineer
Buro Happold
FCBStudios Team Leads