PROTECTING THE PAST, WHILST PREPARING FOR THE FUTURE
Our ten-year project to protect Bath Abbey's internationally significant historic buildings for future generations has also reduced their environmental impact and facilitated their ongoing relevance.
Bath Abbey has been standing at the centre of Christian faith in the UNESCO City of Bath for more than 1300 years. The £19.3 million programme of restoration, building works and interpretation improves its accessibility, sustainability, hospitality and service to the city – and visitors from around the world – as well as providing flexibility for worship now and in the future.
A technically complex scheme, the quality of work is outstanding. There is no ego here. It is a flexible and inventive solution, literally tapping into Bath's natural hot spring water, which will undoubtedly stand the test of time
AJ Architecture Awards Judges
THE POWER OF ANCIENT TECHNOLOGY
The careful restoration of the Abbey's floors also provided us with an exciting and sustainable opportunity to introduce a low carbon underfloor heating system, fed by hot water from the City's natural thermal springs. Innovative systems are used to capture the heat : the water rises from the earth at 45 degrees and, as it makes its way from the Roman Baths to the river Avon, it runs through the Great Drain alongside the Abbey, cooling to 36 degrees. Here, heat exchangers capture the heat, which is fed into the underfloor heating system to maintain a comfortable temperature within the Abbey.
This innovation has greatly improved the thermal comfort but also significantly reduced the Abbey's heating bills.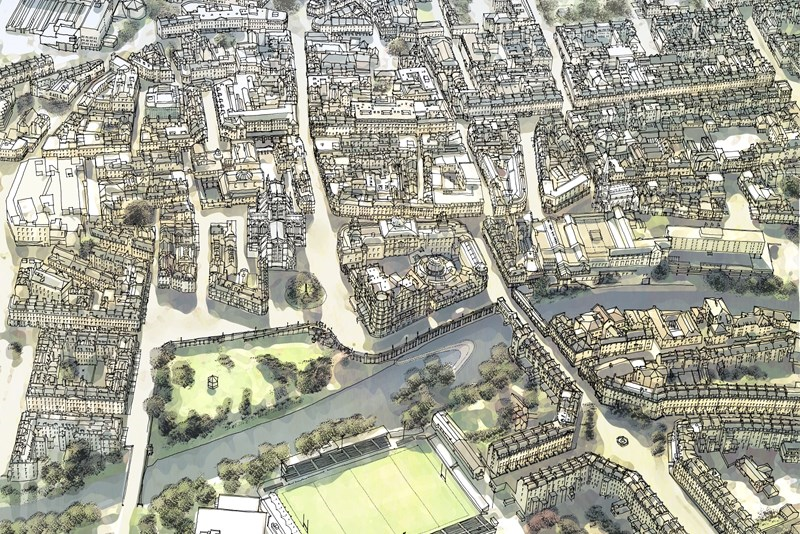 56,000 ARTEFACTS UNCOVERED
The Abbey's magnificent floor contains more memorials than any other church or cathedral in the UK. The practical task of conserving and stabilising the failing Abbey floor presented an opportunity to scrutinise and document all of the 891 carved memorial stones, unveiling the names of nearly 1500 people commemorated there.
The stones represent a cross-section of Bath's society from 1625 to 1845, including the culturally significant Georgian period chronicled by Jane Austen and other world-famous authors. The research, interpretation and conservation of the floor restores a crucial missing part of the story of Bath and its social history.
Perhaps the most extraordinary moment of the project of all was the conservation and relaying of these stones uncovered around 56,000 artefacts, adding to the story of the Abbey and the city.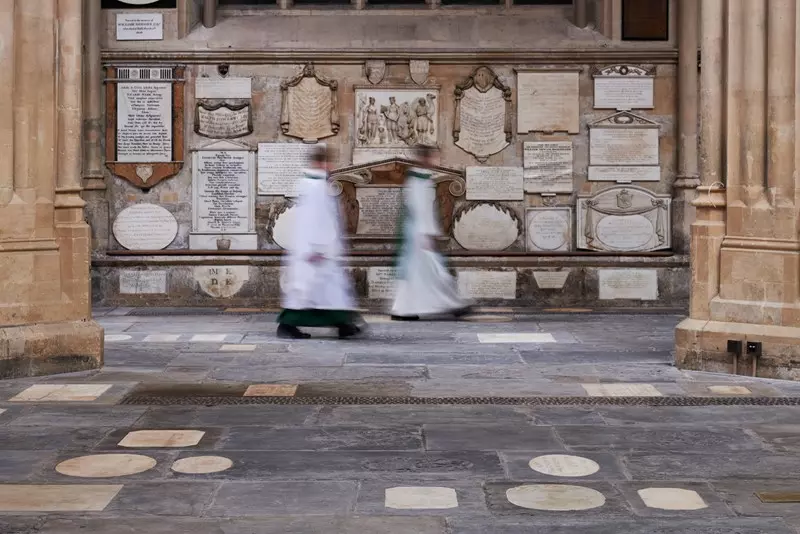 EXCAVATING THE FUTURE
Beneath the Abbey's Grade I listed historic pavement and adjacent Grade II listed Georgian terrace, new spaces for education, administration and a bespoke practice room for the Abbey choirs and music makers have been created.
The renovation of Bath Abbey created a series of new spaces from underused parts of the Abbey and its neighbouring Georgian terrace, linked by newly excavated vaults. These spaces provide important facilities that allow the Abbey to achieve its potential as a church, venue and a piece of Bath's heritage.
Team
Architect
Feilden Clegg Bradley Studios
Main Contractor
Emery Builders
Structural Engineer
Mann Williams
Archaeology
Wessex Archaeology
Conservation
SSH Conservation
Lighting Design
Michael Grubb Studio
Photography
Hufton+Crow, James Newton, Allgood
FCBStudios Team Leads
Awards
2022
AJ Architecture Award: Community and Faith Category
2022
WAF: Religion Category: Highly Commended
2022
National Churches Awards: President's Award
2022
Business Green Awards: Renewable Energy Project Of The Year
2018
Bath Property Awards: Transformation Category
2018
Bath Property Awards: Winner of Winners