A SPACE IN NATURE FOR EARLY YEARS LEARNING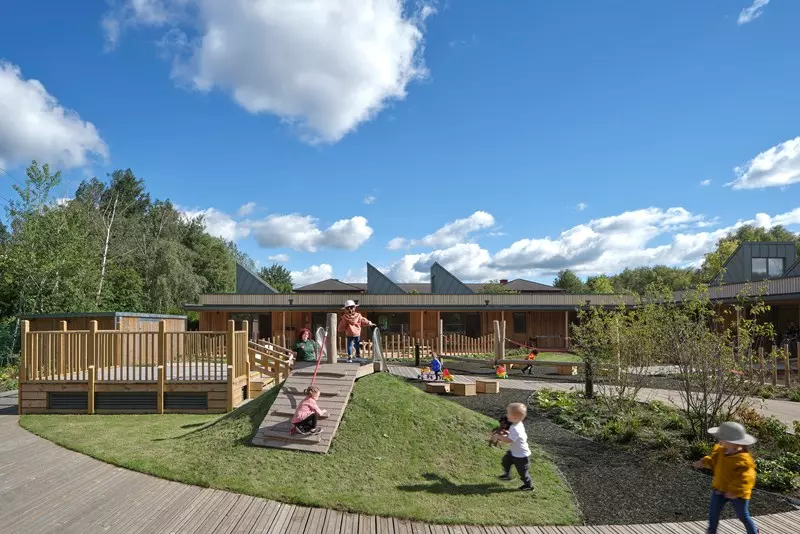 The new on-campus nursery for Staffordshire University puts play, development, wellbeing and nature at the heart of early years education, in a net zero carbon building. Providing 100 childcare places, the new nursery includes a state-of-the-art digital observation suite for trainee teachers, social workers and university students. The associated forest school is an independent space for school-age children to engage in outdoor learning activities that develop skills and knowledge not possible in their classrooms.
TAKING NATURE'S LEAD FOR A SUSTAINABLE LEARNING SPACE
Our early design conversations with Staffordshire University pointed us towards creating a building from which the children and staff could interact with its natural surroundings. The single-storey design consists of two wings that form a sheltered courtyard. This focuses attention away from adjacent roads and towards a landscaped play space – and beyond to the neighbouring nature reserve.
The classrooms here look a little different. Designed to be flexible and child-focused, they can be zoned for simultaneous wet play, general teaching and quiet time. Low windows, recessed seating and external benches animate the building at child height, creating accessible ways to explore and connect with the outdoors.
Each classroom can be opened up and expanded into a dedicated external learning space, providing new opportunities for flexible indoor/outdoor teaching. The garden encourages inquisitiveness, adventure, and child-led learning through planting, textures and natural materials.
A NOURISHING SPACE FOR THE NEXT GENERATION
When considering a design that will educate and care for the visionaries of the future, it was essential that it did not negatively contribute to the environment. The development of the nursery as a Net Zero Carbon building shaped many of the design decisions.
Natural, low impact materials were used throughout to create calm interior teaching spaces characterised by timber beams, wood wool ceilings, rubber flooring and plywood joinery. The highly insulated timber frame is clad in stepping larch boards whilst the distinctive rooflights provide ventilation and an abundance of natural light.
Team
Architect
Feilden Clegg Bradley Studios
Main Contractor
Henry Brothers Construction
Structural Engineer
Civic Engineers
Services Engineer
Max Fordham
Landscape Architect
re-form Landscape Architects
Photography
Daniel Hopkinson
FCBStudios Team Leads