AN URBAN SCHOOL FOR CHILDREN FROM EARLY YEARS TO SIXTH FORM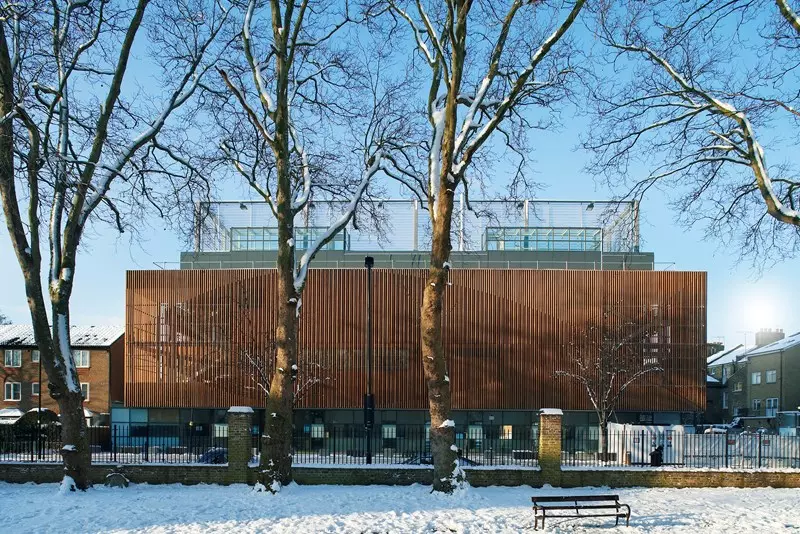 St Mary Magdalene Academy is a 1,360-place all-through school, from reception to sixth form and co-located with a new Early Years Centre; providing continuity of education within one facility.
Designed to maximise use of a very tight urban site: the built Academy's internal floor area is approximately the same as the overall gross site area. The new school is an example of how to optimise available space to provide high-quality indoor and outdoor spaces and illustrates our interest in the relationship between internal spaces – autonomy with coherence.
The design of the school was informed by extensive consultation: with staff, governors, the Local Authority, planners and local residents. The completed Academy now plays an important role in the community, with a range of facilities shared by pupils and the public.
The building is a triumph... an architecture of character, richness, detail and beauty, spaces that are dignified, civic and very beautiful.. ingenious use of topography and geography of site.
Kieran Long for Architects' Journal
MEMORABLE SPACES
A common design approach and learning culture runs through the whole school, but within this, individual areas each have their own sense of identity.
A simple material palette unites these uses. Walls are mainly clad with clay tiles and windows have laminated timber-frames. The halls are picked out with sharply detailed hardwood cladding, adding quality and presence. Views in, out and throughout present an easily-navigated series of memorable spaces to orientate and delight users.
Team
Architect
Feilden Clegg Bradley Studios
Structural & M&E Engineer
Buro Happold
Quantity Surveyor
Davis Langdon
Landscape Architect
Churchman Landscape Architects
FCBStudios Team Leads
Awards
2009
RIBA Stirling Prize: Longlist
2009
RIBA Sorrell Foundation Schools Award: Shortlist
2009
BCSE Awards - Inspiring Design
2009
AJ100 Building of the Year: Shortlist