A CANTILEVERED BAMBOO STRUCTURE BRINGS LOW COST, FLEXIBLE SPACE TO THE ORPHANAGE.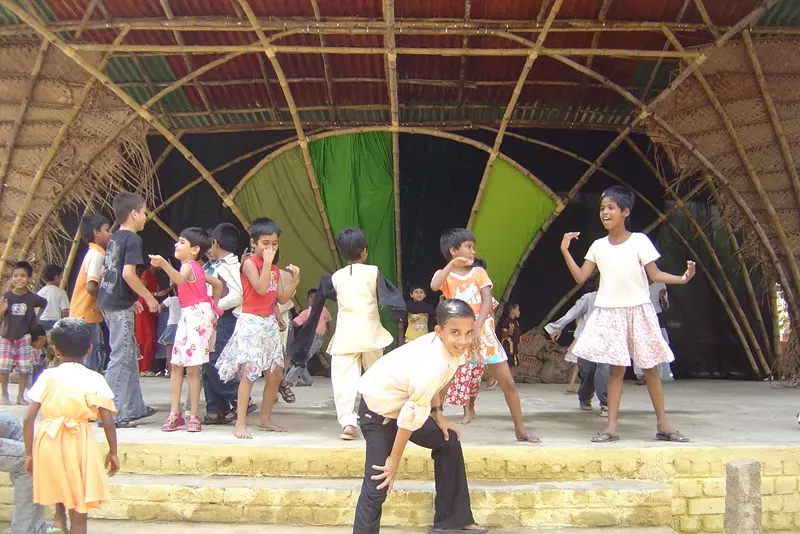 A scheme for a Chennai orphanage, housing 130 children of Anglo-Indian origin from poor and destitute homes tackled key infrastructure issues such as drainage, rainwater harvesting and electricals. It also delivered a covered walkway and stage area. As well as a performance space, the stage provides privacy between the school and the orphanage and is a space where children can play, pray and have lessons in the shade or out of the monsoon rains.
This project was supported by the FCBStudios' charities fund and was part of an ongoing charitable project which draws on UK professionals to help improve local infrastructure.
INNOVATING WITH ANCIENT MATERIALS
Constructed entirely from bamboo, the cantilevered structure is made of bamboo canes, and is clad with 4mm thick locally sourced handmade corrugated bamboo sheeting and the stage roof is used to harvest rainwater.
Substantial research was undertaken to test the suitability of this material. Particular focus was given to the wide cantilevered canopy, designed to oversail the stage area to define the space and provide shelter.
Team
Architect
Feilden Clegg Bradley Studios
Structural Engineer
Faber Maunsell
FCBStudios Team Leads