Student accommodation that brings a sense of home and belonging to its residents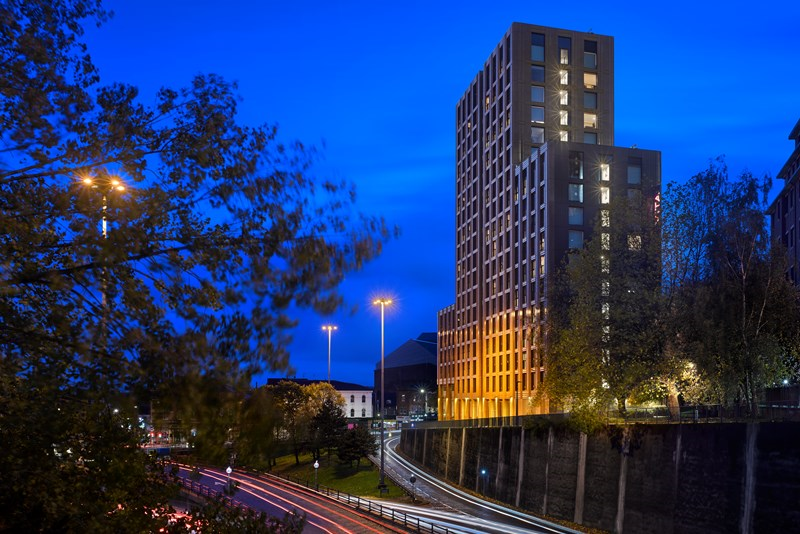 The first VITA development in Leeds, St Albans Place is a 7, 11 and 18 storey serviced apartment building that brings a sense of home and belonging to its residents.
The 376 studios range from 20m2 to 34m2. Each one contains a kitchen and ensuite facilities and is well planned to feel spacious and have impressive views across the city. At ground floor and mezzanine level is a student Hub where residents can build friendships and connect with their city. Facilities include a gym, shared social areas and study spaces as well as a proposed new restaurant/bar intended to open out into New Briggate Park.
In the northeast of Leeds City Centre, St Albans Place is of simple and elegant proportions. The building is a gateway to a developing cluster of tall buildings and student accommodation. It's bronze ceramic façade is a subtle nod to Leeds traditional industries, creating an elegant form on the skyline that responds to the changing light.
The use of a structural concrete frame is cost effective and allows for future flexibility if there is a change in market demand.... Overall, the viability of most student accommodation schemes demands large numbers of bedrooms and this scheme has skilfully broken down the large mass and added interest to the skyline.
RIBA Judges
interaction and wellbeing
The private spaces are complemented by a series of generous communal areas, which encourage interaction between the students through organised and organic activities.
Planned evenings of activities are structured daily, and a movie room and flexible social spaces all help to form the basis of a supportive student community. A bookable self-catering dining space is provided for personal celebrations. A range of private and shared study spaces help foster opportunities for team working, and awareness of peer well-being.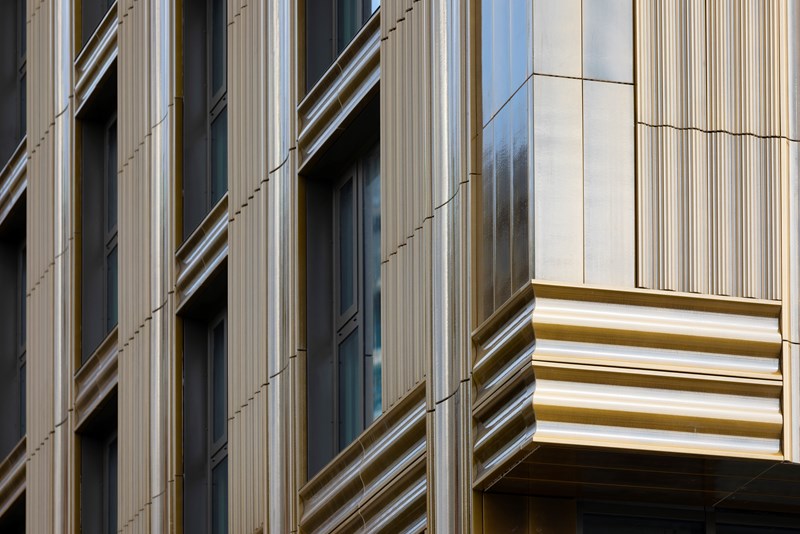 Woven facade
Drawing on Leeds' traditional architectural ceramic and fabric industries, the façade design of St Albans Place has pursued the narrative of a woven façade, using the familiar material in a contemporary and innovative way. The 'warp' and 'weft' of vertical and horizontal strands appear interlayered, with the bespoke glazed ceramic extruded tiles producing contrasting strands of varying texture and reflectance from a single palette of colour.
An emerging student quarter
St Albans Place is located in a dominant position within the city, visible from a number of historic locations and with wide views from the motorway approach into Leeds.
Within an overgrown and underused park, the site was previously a car park with views to the motorway. The tripartite building now gives a sense of enclosure to the park, sheltering it from the noise and visual connection to the road.
Now forming the gateway to an emerging student quarter within the north of the city, this project has been strategically important to the city in freeing up much-needed family accommodation.
Team
Architect
Feilden Clegg Bradley Studios
Contractor
Kier Construction
Structural Engineer
Curtins
M&E Engineer
Crookes Walker Consulting
Quantity Surveyor
Abacus Consulting
Project Manager
Paragon Building Consultancy
Acoustic Engineer
Fisher Acoustics
Landscape Architect
Re-form Landscape
Planning Consultant
Deloitte Real Estate
Photography
Richard Battye and Will Pryce
FCBStudios Team Leads
Awards
2021
RIBA Yorkshire Regional Award