A company headquarters, to be noticed but not noticeable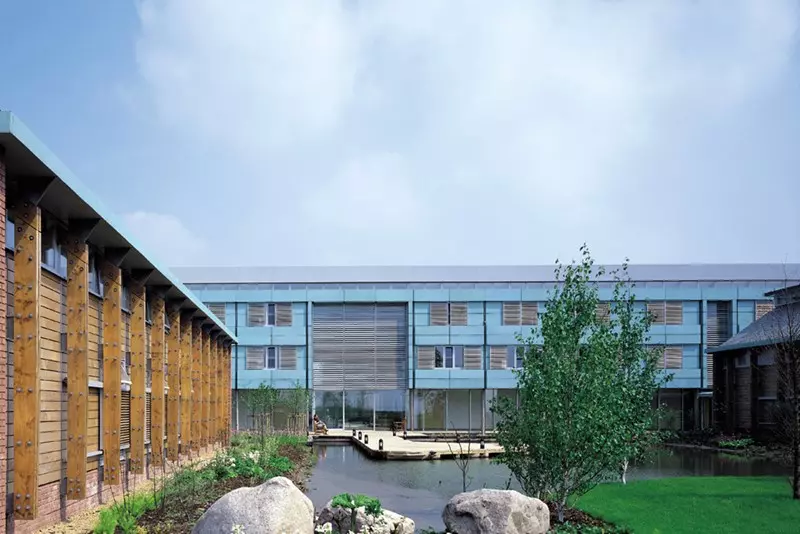 The corporate headquarters for Rare required low energy solutions to substantial security and heat output challenges; while the brief required the building to be sensitively integrated into the prominent hilltop landscape setting, to be "noticed but not noticeable".
Creating a spirit of togetherness and wellbeing founded on genuine support for each other was key to the client. Surrounded by countryside and nature and with shared facilities, such as the refectory and break out spaces in a central building provide space for social interaction and headspace. Administration offices, hardware support and recording studio, are also housed in the central building which is connected by glazed links to a series of 'barns' which house the majority of workspaces.
extensive landscaping
A masterplan was produced for the whole campus at Manor Park that included a new entrance road and extensive landscaping based on an ecological assessment of the 60 acre site. Careful negotiations took place with the planning authorities and the Royal Fine Art Commission, while public meetings were held to hear local views of the proposals.
25% less energy
This low energy solution responded to the demands made on the internal environment by significant computer heat loads.
The building was designed to use 25% less energy and less than half the water than a conventional building of the same size. Energy-saving features include natural ventilation and the use of borehole water for cooling. A reed bed system is used as the final "polisher" to a sewage treatment plant within the masterplan.
Team
Contractor
Wates Construction Ltd
M&E and Structural Engineer
Battle McCarthy
Landscape Consultants
Battle McCarthy
Environmental Engineer
Humble Arnold
Quantity Surveyor
Derek Evans and Partners
Photographer
Dennis Gilbert/View Pictures
FCBStudios Team Leads
Awards
2001
Engineering Councils Environment Award