A CALM AND PROTECTIVE SHELTER TO DISPLAY SOME OF THE COUNTRY'S FINEST ROMAN ARCHAEOLOGY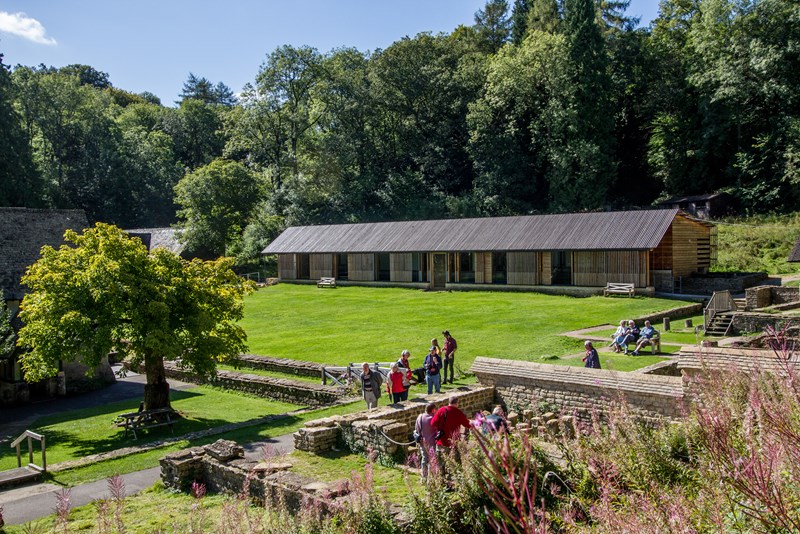 Chedworth Roman Villa is a Scheduled Ancient Monument set within an Area of Outstanding Natural Beauty in the heart of the Cotswolds. Looked after by the National Trust, the site includes over a mile of Roman walls, bathhouses, hypocausts, a water shrine and several mosaics thought to rival those in Pompeii.
To protect the most significant archaeological remains, the mosaics, we designed a conservation shelter, following the line of the west range of the villa. We also took a fresh look at the interpretation of the site and where new opportunities might be provided for learning and enjoyment. A refurbished visitor reception building, and a much-needed education centre have greatly improved the visitor experience.
The stunning buildings allow us to create a truly immersive experience and exceptional levels of access for our visitors.
The National Trust
A LIGHT TOUCH
The site's rural setting, coupled with our unshakeable conviction that the Roman archaeology should remain the star of the show, inspired our formal and material approach to the new building.
The new building sits lightly on the existing Roman foundations. The structure is assembled from a kit of parts and is held in place with optimally sized timber frames that didn't require fixings into the Roman masonry of the villa. It holds its own weight and can be easily demounted or adapted as future interpretation and conservation practices change.
GROW YOUR OWN TIMBER
All elements of the timber cladding, including the timber "wrap", the sliding shutters, and weatherboarding are also of untreated European Larch, grown on the National Trust's estate in its managed forest at Ashridge in Hertfordshire. Lime mortar, limestone and timber were the principal connections linking new and old, with concrete limited to only a few historically unimportant places on the site.
Team
Architect
Feilden Clegg Bradley Studios
Archaeologist
Cotswold Archaeology Trust
Building Regulations
Oculus Building Consultancy
M&E Engineer
E3 Consulting Engineers
CDM Co-ordinator
Rod Hewitson
Interpretation
Furneaux Stewart
Structural Engineer
Integral Engineering Design
Project Management
Mildred Howells & Co
Photography
John Dawson, National Trust
FCBStudios Team Leads
Awards
2013
CPRE Gloucestershire Awards