The Route to Net Zero Carbon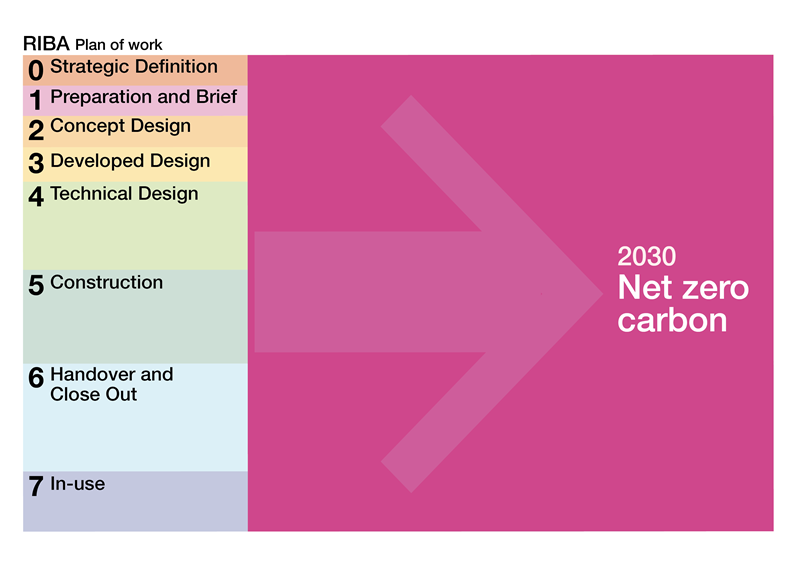 FCBSTUDIOS HAS DECLARED A CLIMATE EMERGENCY. HOW WILL WE FOLLOW THROUGH AND ACT ON IT?
FCBStudios' route to net zero carbon takes an holistic view of the carbon impacts of buildings on the environment including consideration of the implications of material selection, construction, operation, maintenance, and end-of-life use.
RIBA STAGE 1 – 7
In order to target zero carbon outcomes by 2030 or even before, and to support those clients who are making such pledges, the design of renovations and new buildings has to address carbon issues from inception.
The FCBStudios zero carbon timeline identifies our practice's ambitions to focus on low carbon design issues at each stage of the design process over the next five years – relating to the RIBA plan of work stages. Following this timeline, our aim is for our portfolio of projects starting on site in 2025 to be designed to be capable of achieving net zero carbon in use on completion.
RIBA STAGES 1, 2 AND 3: UNDERSTANDING WHERE WE ARE
Over the first three months of 2020, we have been developing alternative zero carbon plans for all our projects up to RIBA Stage 3. We have developed our own in house early design stage carbon assessment tool and have been reviewing all our current projects to establish a current benchmark from which we can then target year on year improvements. Through engagement with key consultants, such as structural and services engineers at the outset of a project, the designs are leaner and perform better in later stages.
By the end of April 2020, all our projects at RIBA Stages 1, 2 and 3 will be assessed to establish their potential carbon impacts against building typology benchmarks. Analysis of this will help to appreciate the range of embodied and operational whole life carbon figures and encourage understanding of the scale of the issue to resolve. For each project, the amount of offsetting required to meet zero carbon targets will be calculated.
RIBA STAGES 1, 2 AND 3: ONE PLANET LIVING ACTION PLANS
During 2020 we will ensure that all our current projects are assessed against the One Planet Living Principles to establish the priorities in each project with an action plan for the ten topics and related to UN Sustainable Development Goals.
The One Planet Living plans will be established through the FCBStudios environmental review system. These will be incorporated into the project plans and will identify research themes and areas of innovation.
Although, on the whole, these will be internal documents at this stage, some clients may wish to engage with Oneplanet.com or Bioregional to more formally assess and publicise their project using the ten One Planet Living Principles.
RIBA STAGE 3: OPERATIONAL PERFORMANCE TARGETS
The feedback from the Stage 7 POEs will help us define realistic year-on-year performance design targets for improvement to whole-life carbon. By 2021 all projects submitted for planning approval will include achievable zero-carbon operation plans.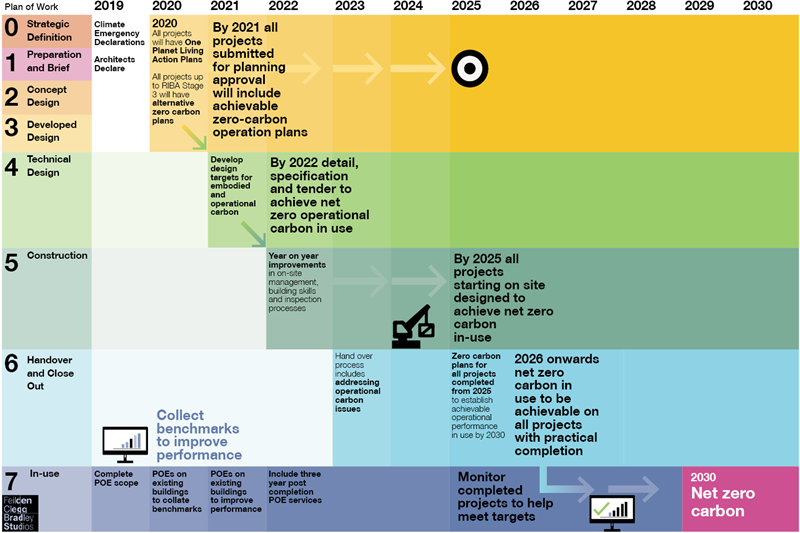 RIBA STAGE 7: POE BENCHMARKING
Our work in post occupancy evaluations over the years has demonstrated the potential performance gap between design intent and actual energy use. Our best performing projects such as The Hive, Heelis and the Woodland Trust have benefitted from POE studies that have allowed the building use to be analysed and improved over time. Further studies of our existing projects will inform new design targets.
RIBA STAGE 4: ZERO CARBON TECHNICAL DESIGN
By 2022 or before, all our Stage 4 tender information will include specification clauses and tender guidance to achieve zero carbon outcomes.
2021-2024 construction information has to incorporate details, specifications and tender clauses to ensure the contractor understands the skills needed to achieve the carbon design targets set as part of the zero carbon plan.
RIBA STAGE 5: ZERO CARBON CONSTRUCTION ON SITE
Through 2021 - 2025 we will develop contract specification, workmanship requirements, monitoring, inspection, commissioning and handover systems to ensure that building contracts set out the clear requirements required by the contractor and their supply chain on material sourcing, transport, construction, workmanship, and supervision required in order to meet zero carbon targets on site.
RIBA STAGE 6: HANDOVER
By 2025, handover needs to specifically address site construction quality testing and building operation issues so the building has the potential to perform as intended, and the client will understand how to operate the building efficiently.
RIBA STAGE 7: IN USE
We propose that our scope of services will include clear requirements to monitor use and support the client during the first three years of building operation.
2030 NET ZERO CARBO
To establish the new zero carbon design regime by 2025, early action is needed in order to meet 2030 targets in operation.
By working to the targets on our timeline, we aim to reach zero carbon ahead of 2030. Through collaboration, knowledge sharing and reporting on our progress, we hope to learn from those who have more experience than us, spread expertise amongst our peers and help our clients and the wider industry to reach the zero carbon targets outlined in the Architects Declare Manifesto.
Images
1. FCBStudios' route to carbon zero.
2. FCBStudios' route to carbon zero timeline.
3. CO2 emissions decline from 2020 to reach net zero in 2040.
FCBStudios Associate, Dr Joe Jack Williams presented FCBStudios' route to carbon zero at the Architects Declare Symposium on embodied carbon in March 2020. Watch his presentation here.