Natural History Museum share plans for new Science and Digitisation Centre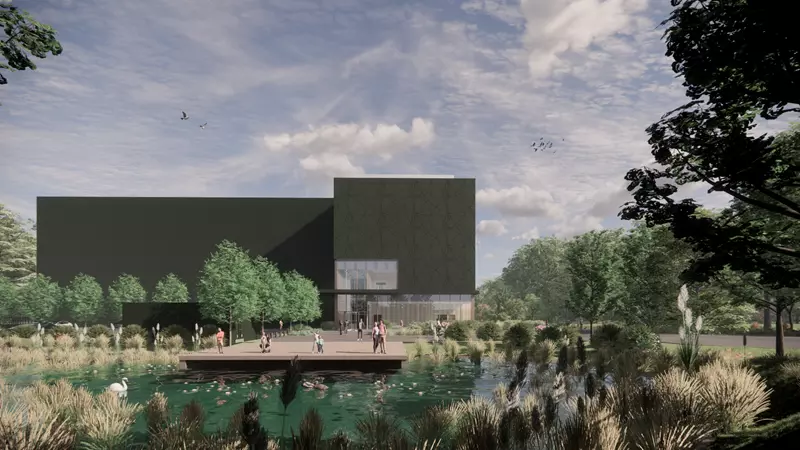 The Natural History Museum (NHM) has shared FCBStudios' plans for a new flagship collections, research and digitisation centre at Thames Valley Science Park (TVSP) in Shinfield, in partnership with the University of Reading.
By 2031, the centre will be operational, equipped with cutting edge laboratories, space for museum scientists and purpose-built storage for 28 million specimens.
From anteaters to zebras, corals to ancient fossils, transporting these specimens to Shinfield will be the largest ever move of natural history specimens globally.
This project will secure the future of the collections and will give an opportunity for Museum scientists to embark on a new era of exploration. The acceleration of digitisation will enable global access to the collections via the Data Portal, transforming research capability and impact. Through on-site labs and novel analytical technologies, the facility will help the Museum to find solutions for nature from nature.
The proposed new facility provides an opportunity to develop a new asset which is fit for the future and an exemplar of Sustainable Design. The project aspires to deliver a Biodiversity Net Gain (BNG) of 20%, contributing to the future of the biosphere as well as studying its past.
Simon Carter, Partner at FCBStudios said: "The NHM's collection is huge, diverse and of incredible value to the scientific community. In making a purpose-built facility for storage and conservation, in a world class working environment, we are realising the potential to make this collection an international resource for learning about climate change and how we can help the natural world as we go through this period of immense planetary change. The building itself is designed for the future, with longevity, durability and resilience underpinning the design. It is low energy, using the fabric to produce a stable environment reducing the underlying energy use. The materials are designed for the circular economy, providing benefits beyond the life of the building. Its setting – in parkland of native tree and shrubs, and wildflower rich grasslands – will increase the habitat available for wildlife, as well as being a space for staff to take breaks."
Discussions with Wokingham Borough Council are underway on all aspects of the planning application, including where the Museum can add value to the local community for employment and engagement, such as link ups with local schools to activities engaging the community with biodiversity and volunteering opportunities.
The project is generously enabled through a substantial £201m investment from the UK Government as part of its priority to increase investment in science, research and development. 
FCBStudios are leading a consultant team including Ramboll, Grant Associates and Mace.
A full planning application to develop the site will be submitted to Wokingham Borough Council in November 2023.
For further information and to view the full plans click here: https://www.nhm.ac.uk/about-us/science-centre/plans.html