TRANSFORMING THE STUDENT EXPERIENCE THROUGH BOOKS AND MORTAR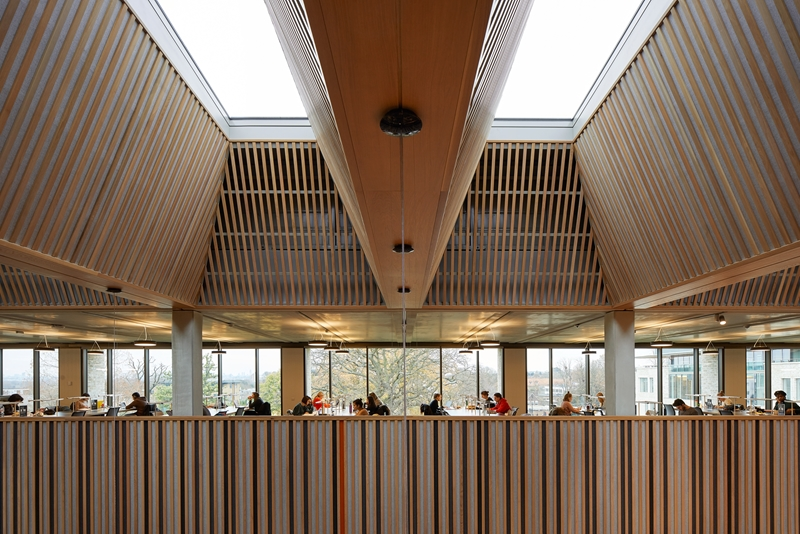 The University of Roehampton's library is the centrepiece to their ambitious campus masterplan. Nestled within a generous park and gardens, it is set apart from other London universities.
As befits a place for learning and study, our vision for the building has gravitas and longevity. We used a clear architectural language and a simple palette of materials.
The new university library successfully creates many joyful places within a strict and meticulously constructed architecture that succeeds in locating the individual within the building, but also the individual within the wider campus.
Judge's citation, RIBA National Awards
LOOKING OUTWARDS FROM THE SPINE
Books are at the core of learning, and they're also at the literal core of this library. This means that the building's study spaces benefit from the light and views, and wrap around the atria that weave through the structure. In total, there are 1,200 study spaces over five floors, designed for a variety of group sizes and learning styles, from individual silent study to group collaboration. There are also staff support and work areas for specialist digitisation and collection management.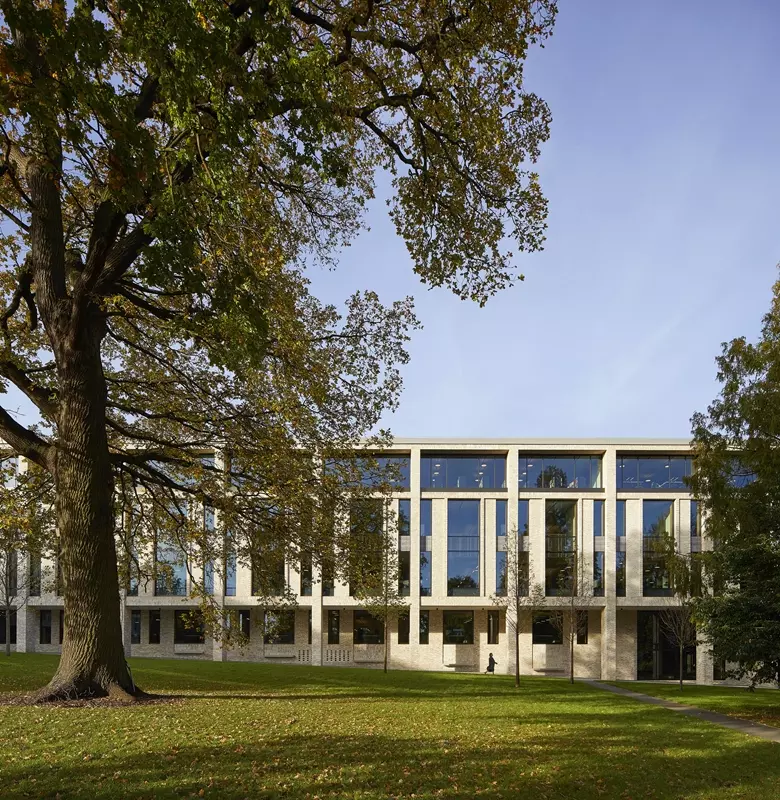 A NEW CHAPTER FOR SUSTAINABLE COMFORT
The library is designed to be a passive building in terms of energy, with insulated façades, high levels of airtightness that are supported by a thermally activated building slab (TABS) system installed into the concrete soffits.
The sustainability benefits of this building go beyond the library itself: its roof-mounted 3.5kW photovoltaic array and connection to a combined heat and power unit also supply the neighbouring Elm Grove residential and conference centre.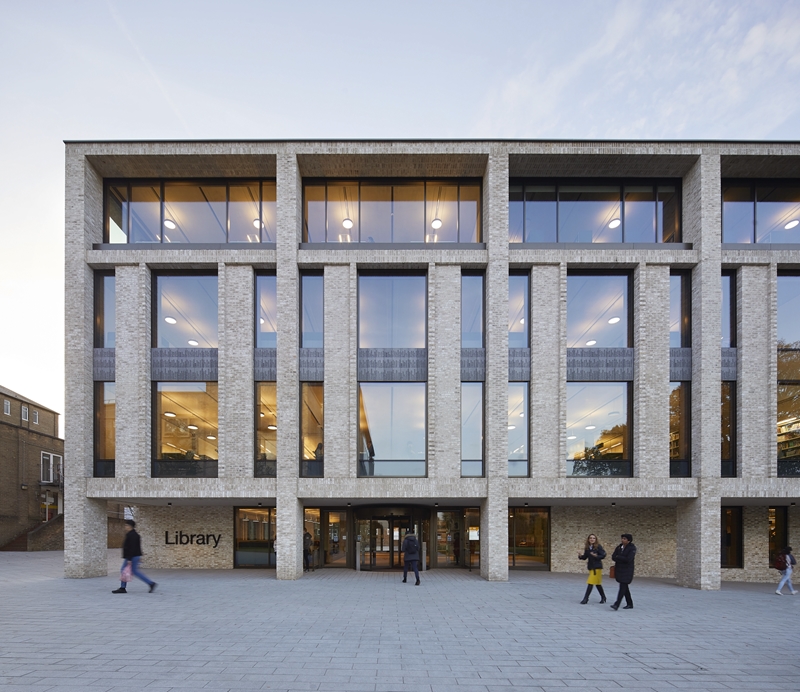 MADE TO MEASURE
A key part of the project was the extensive use of prefabricated elements, which was particularly relevant and successful given the library's location at the centre of an active campus.
Use of prefabrication enabled a shortened site construction period, reduced disruption to the surrounding university and improvements in the quality of the finish. The project utilised pre-cast concrete for both the primary structural frame and external cladding, and large parts of the internal timber linings were prefabricated off-site.
A striking colonnade links the building to the nearby lake and its relaxing landscape setting and Piano Nobile floors emphasise the bookish purpose of the building.
The brick façade, the pre-cast concrete structure and oak linings will retain their finishes long after the students have graduated.
Team
Architect
Feilden Clegg Bradley Studios
Structural, Acoustic and Services Engineers
BDP
Landscape Architect
Gross Max
Fire Engineer
Jeremy Gardner Associates
Principal Designer
Gardiner & Theobald
Access Consultants
David Bonnett Associates
Communication Design
Thomas.Matthews
FCBStudios Team Leads
Awards
2018
New London Architecture: Education: Commended