A MASTERPLAN AT THE PHYSICAL HISTORICAL AND EMOTIONAL HEART OF LIVERPOOL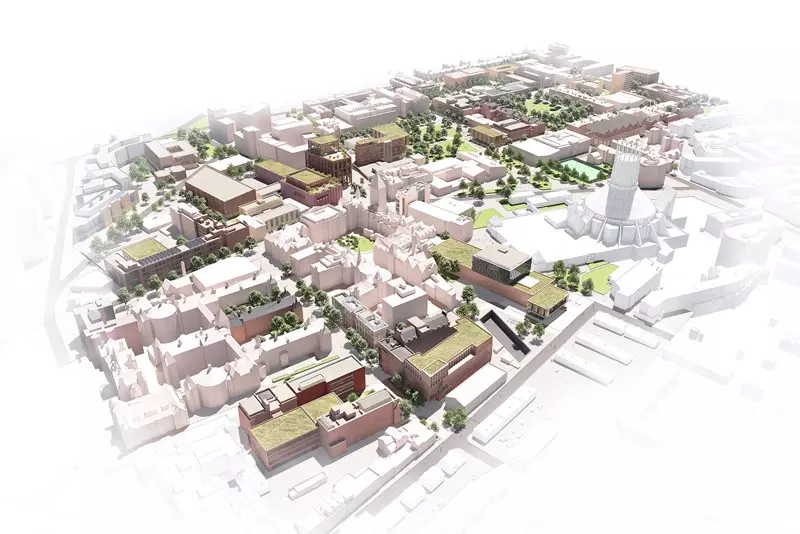 Liverpool's 38-hectare Campus is made up of 50 buildings. Our plan brings together the divergent parts of the Liverpool campus in one coherent vision.
Located alongside Liverpool's iconic Roman Catholic cathedral, close to the cultural hub of Hope Street, and the Knowledge Quarter, it also takes in satellite locations, expanding the reach of the masterplan to the Leahurst and Ness Gardens sites.
Our plan would firmly establish the University as a top Russell Group member, the centre of Liverpool's knowledge quarter and an essential part of the city.
The development of guiding principles set the tone for a sustainable future, recognising the importance of a holistic approach in the process and the creating of green urban space contributing towards wellbeing.
Alex Beedle, Interim Director of Facilities Residential and Commercial Services University of Liverpool
A NETWORK OF IDEAS
A series of integrated proposals, the masterplan amplifies individual buildings, areas of campus and routes as a places that will shape and positively affect every facet of student life.
Key existing buildings are retained and creatively reused, weaving between new architectural proposals. A new park at the heart of the campus becomes a focus for student life. Pedestrian priority is given by moving parking to the edge of campus and carefully adapting the flow of traffic. Space is made for 1,000 trees within a carefully devised public realm vision.
Through these and other proposals, the university becomes a model for sustainable development, cementing the University as guardians of the past and innovators of the future.
Team
Masterplanner
Feilden Clegg Bradley Studios
Civil and Structural Engineers
Curtins
Landscape Architect
Planit ie
Planning consultant
Pegasus Group
FCBStudios Team Leads