EMBEDDING UNIVERSITY EDUCATION INTO THE HEART OF SOCIAL CHANGE IN BELFAST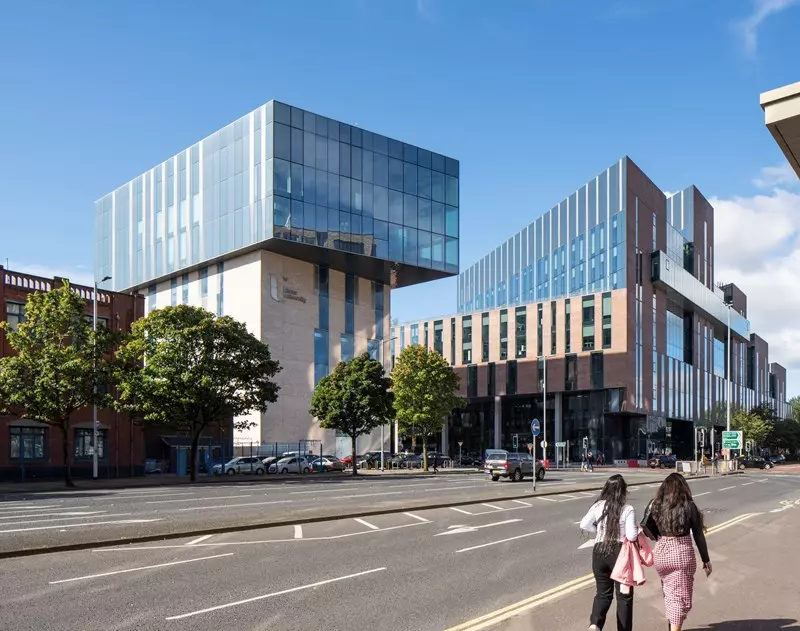 This landmark project marks a watershed shift in UK university development trends, stepping away from the campus and embracing the city as part of the university experience. The urban presence of the Ulster University campus, along with its 16,000 students and staff, will help boost wide-scale regeneration in Belfast's up-and-coming cultural quarter, as well as in the wider area.
It is good to see Belfast city alive with commerce, art, and inspiration, the dividends of peace are all around us. Where barbed wire once sliced up the city, today we find glass letting the light shine in and out, it has profound impact. Testament to powers and possibilities of peace.
Joe Biden, US President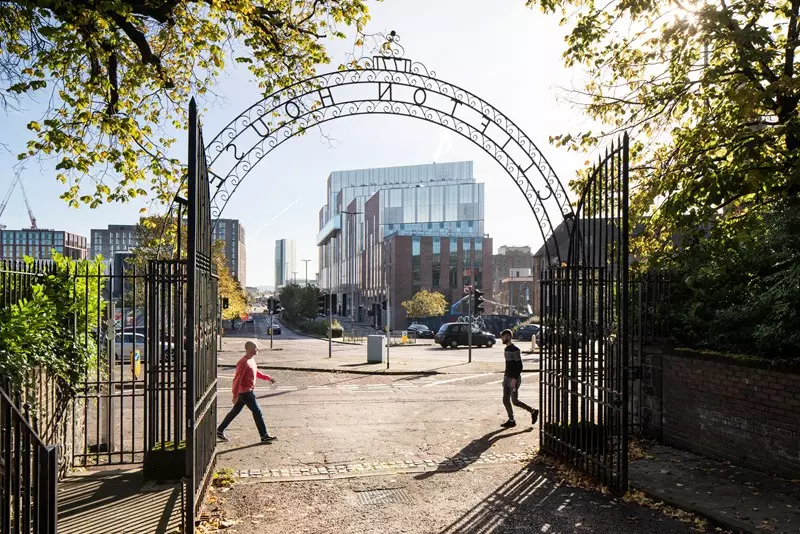 A FLEXIBLE AND COLLABORATIVE FUTURE-FACING CAMPUS
Stitched into the historic fabric of the city, and taking inspiration from the beauty of the surrounding Antrim Hill and Lough Nature Reserve, the layout and design of the striking campus buildings provide beautiful learning environments around a series of dramatic interior atrium spaces.. Designed to be 'long-life and loose-fit' they will allow for changing needs and new adaptations The university's six faculties are positioned to spark creative debate and innovation between disciplines. This approach is reflected in a sequence of internal pedestrian streets and a variety of open public spaces.
A bold visual marker in an area once regularly in the news during the Troubles, the campus design signifies the university's wider intentions to break down barriers and attract people from all backgrounds through its doors.
We are here to reach families and young people that believe higher education isn't for them. This building, as it twists and turns in the city, is designed to do just that. We can already see the city flourishing around us.
Duncan Morrow, Lecturer and Community Outreach Director, Ulster University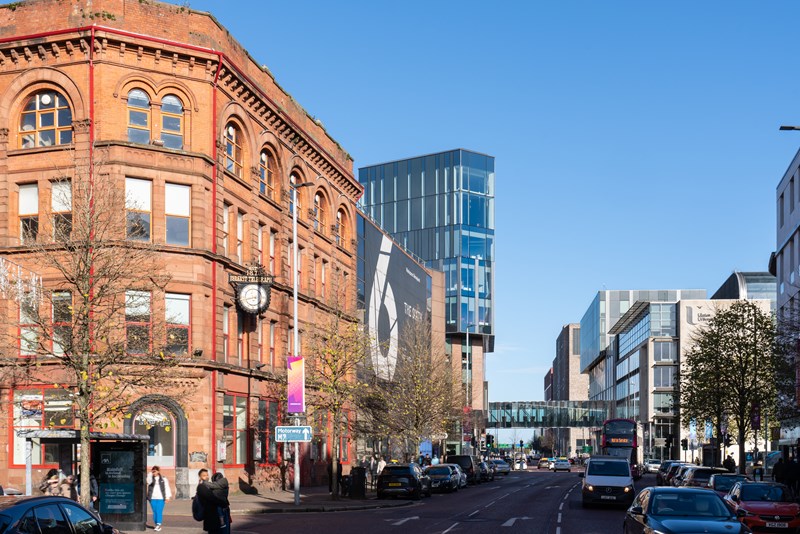 CATHEDRAL THINKING – BUT VERTICALLY
With 14 occupied floors, this bold and innovative campus is vertically stacked in the city's artistic Cathedral Quarter. Faculty and administrative offices are organised one above the other around receptions, meeting rooms, kitchenettes and shared offices.
The large, south-facing façade looks out across the city and nearby hills. Student hubs and social learning areas have been incorporated into the vertical approach to bring the entire academic community together, creating a truly 24-hour campus.
In a post-covid academic world, these connected spaces place a valuable emphasis on community and collaboration – values that are core to Ulster University's priorities.
Team
Lead Architect
Feilden Clegg Bradley Studios
Local Architect Partner
McAdam Design
Main Contractor
Lagan Somague (joint Venture)
Architectural Services
Scott Tallon Walker, White Ink
Civil, Structural, MEP Engineers
Mott MacDonald
Engineering
WYG Consulting
Project Manager
Currie & Brown, WH Stephens
FCBStudios Team Leads