A hideaway within an historic protected National Nature Reserve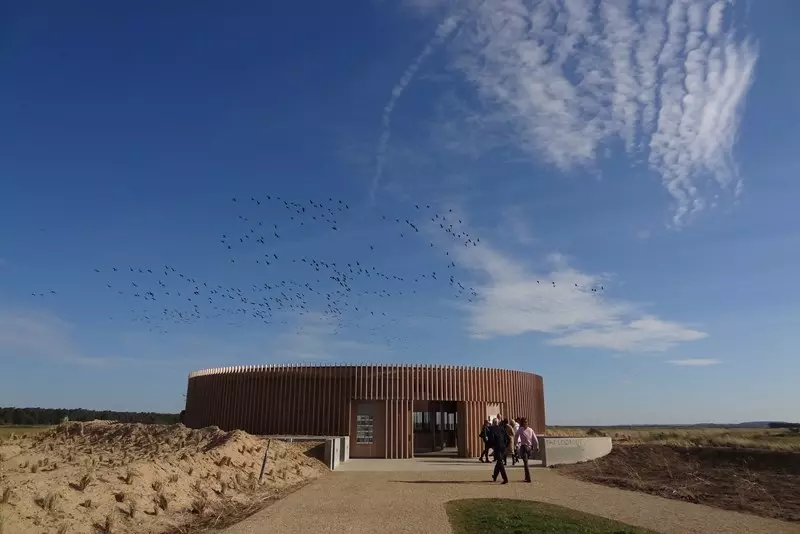 At Holkham National Nature Reserve, the most important thing is the wildlife. The Lookout provides visitor facilities, but also acts as a hide from which to watch the wildlife whilst educating visitors about the reserve and controlling their impact on the diverse, rare and protected wildlife that lives there.
The wetland landscape inspired the choice of the building's form and materiality. The circular form is pleasing from every prospect and, as a lookout, it provides panoramic views of the wildlife and infinite horizons beyond. The slatted larch elevation disguises human activity preventing disturbance to adjacent nesting birds. Swales were dug around the building to encourage the salt marsh habitat. The resulting earth was used to bury flood defences further embedding the building in its landscape.
The Lookout is a delightful, thoughtful and sympathetic building by FCBStudios, which has transformed the visitor experience in – and hopefully its impact on – the Area of Outstanding Natural Beauty that is Holkham beach and its surrounds.
Pamela Buxton for FX Magazine
Sustainable Management
The Holkham National Nature Reserve was designated in 1967 and covers 3706 ha from Wells-next-the-Sea to Burnham Overy. Comprising of a number of rare habitats including salt marsh, sand dunes, pine woodland, foreshore, beach and grazing marsh, the present landscape was reclaimed from the sea in the late 19th century by the 2nd Earl of Leicester who planted three miles of sand with Corsican pine trees to stabilise the dunes and hold back the sea.
Best known for its magnificent panoramic beach and the rich and varied wildlife found on the grazing land and salt marshes, the landscape of the Holkham Reserve in Norfolk is just one layer of a man-made landscape that has changed dramatically over time and which will continue to change in response to environmental and social influences.
Protected by AONB, SSSI and NNR designations the landscape is predominantly the result of one family's sustainable management over the generations.
Team
Design Architect
Feilden Clegg Bradley Studios
Delivery Architect
Lucas and Western Architects
Contractor
RobSon Construction
Structural Engineer
Integral Engineering Design
Quantity Surveyors and CDM Coordinator
MAC Cost Consulting
Transportation Consultant
Ian J M Cable Architectural Design
M&E Engineers
E3 Consulting Engineers
Ecology & Landscape Consultant
Catherine Bickmore Associates
Geotechnical Engineers & Flood Risk Assessors
Plandescil
Arboricultural Services
A T Coombes Associates
FCBStudios Team Leads