AN INDUSTRIAL CENTREPIECE FOR AN AMBITIOUS REGENERATION PROJECT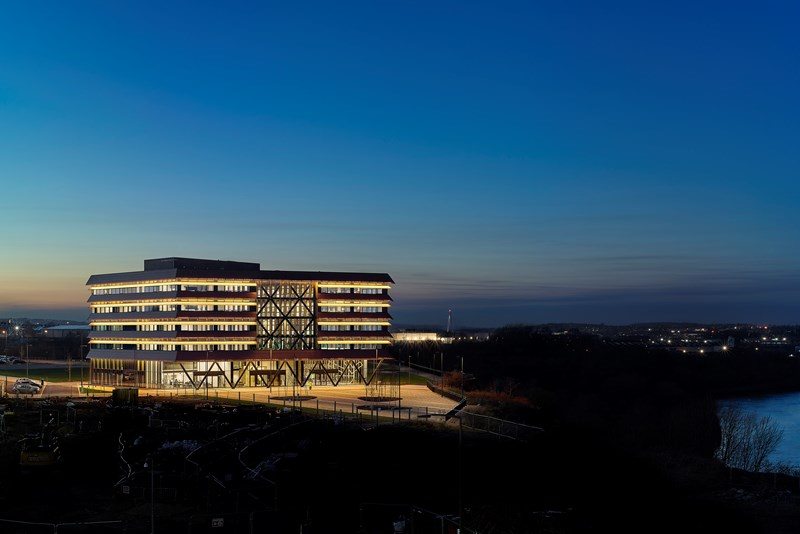 'The Beam' is a five-storey centrepiece to the ambitious regeneration of the former Vaux Brewery site in Sunderland City Centre.
This speculative office building provides five floors of Grade A office accommodation and forms part of the Riverside Sunderland Masterplan, a 15-year regeneration project to extend the city centre, create thousands of jobs and have a major social and economic impact on the region.
Designed with five themes in mind: a healthy office, a sustainable workplace, an appealing workplace, a lean building, and a contextual response, The Beam sets a high standard of workplace accommodation for the site.
Not only has it helped bring thousands of jobs to the city, but it has also helped breathe new life into this area of the city centre, which has for so long been underutilised.
Councillor Graeme Miller, Leader of Sunderland City Council
ROOTED IN PLACE
The design is rooted in its place – a building for Sunderland. A 'liner' of a building, its horizontal lines and prow reflect the shipping heritage of Sunderland, while bronze finishes are reminiscent of not only shipping, but of the brewing kettles of the Vaux Brewery. An exposed steel structure resonates with the trusses of the Wearmouth Bridge. Externally its expression rejects the trend for full height vertical windows, and instead has an holistic approach to shading and ventilation through its softly perforated, horizontally pleated façade.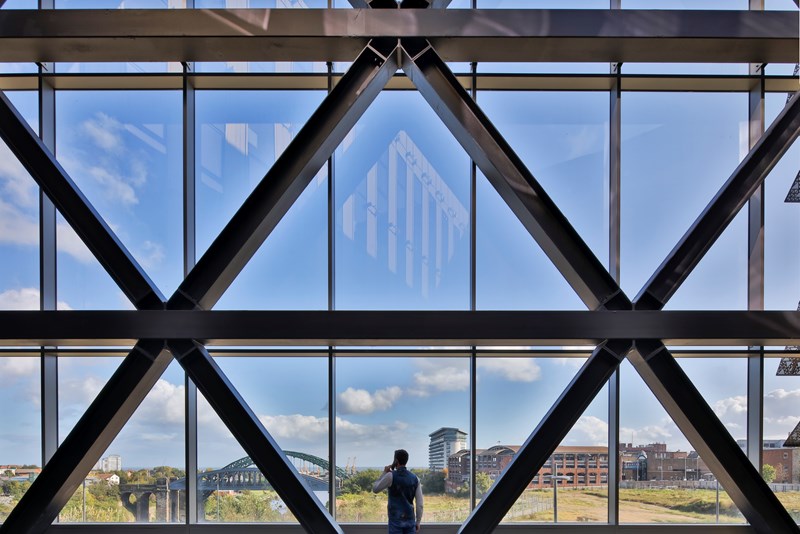 A LEAN BUILDING
The project has been efficient and lean in its construction to not only ensure its embodied energy is minimised, but also that it is cost effective. This has been achieved through an innovative low embodied energy, hybrid steel and pre-cast concrete frame that was quick to construct.
The lean construction system gives a desired character and finish architecturally and helps to reduce embodied carbon – often overlooked as the major carbon consumer in the life of the building.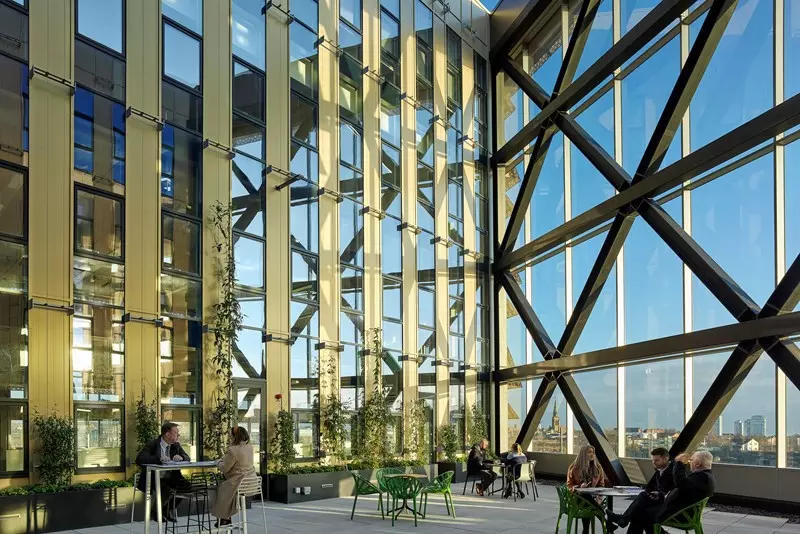 SUSTAINABLE AND HEALTHY
This sustainable workplace promotes a healthy work-life balance. Office spaces wrap around a protected courtyard atrium which is vibrantly planted and open to the sky. This space lends itself to staff meetings, lunch breaks and events and brings daylight and fresh air deep into the building's core.
Opening windows and generous floor-to-ceiling heights help natural ventilation and allow for natural lighting throughout. Exposed concrete ceilings provide thermal mass keeping the building warm in winter and cool in summer. Floorplates are designed to be sub-divisible into multiple demises. Future-proofing is around not only flexibility and adaptability, but also around climate change adaption.
Team
Architect
Feilden Clegg Bradley Studios
Main Contractor
Tolent Construction
Structural Engineer
Cundall
Landscape Architects
Landscape Projects Ltd
Project Manager
Siglion / Igloo Regeneration
Photography
Daniel Hopkinson
FCBStudios Team Leads
Awards
2020
Insider Media North East: Commercial Development of the Year
2020
BCO Commercial Workplace