A CALM AND HUMBLE HOME TO SUIT THE CONTEMPLATIVE LIFE OF A BENEDICTINE COMMUNITY.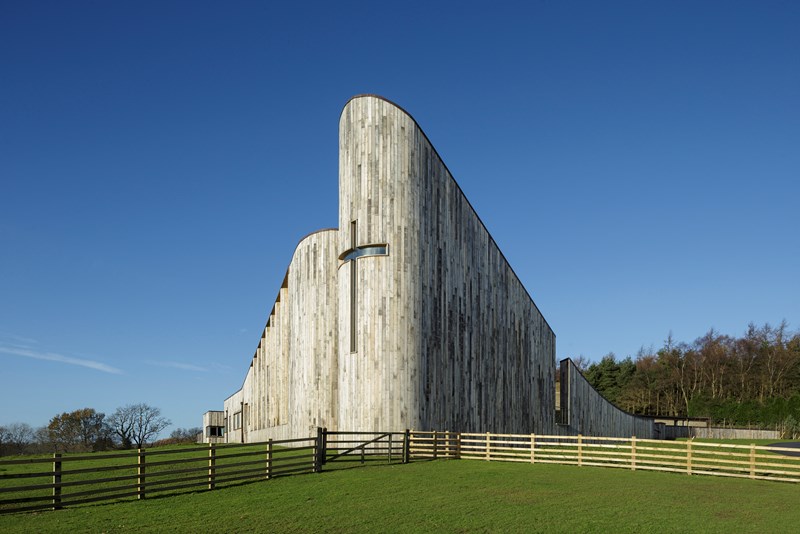 Stanbrook Abbey is a new home for the Conventus of Our Lady of Consolation, a Benedictine community of nuns who devote their lives to study, work and prayer. A place to 'pray always'.
Comprised of 26 new private cells for the nuns, it houses shared kitchen and dining facilities, and work rooms as well as the Community Church and Chapel, the Chapter House and guest spaces.
Located in the North York Moors National Park, the site provides the nuns with a peaceful setting for their contemplative life. Taking full advantage of natural light and views, the monastery related closely to the surrounding undulating landscape. The spaces are both inspiring in their visual connections to the landscape and simple in their practical details.
Its' straightforward palette of materials; oak, stone and copper, demonstrates a thorough ethos carried through from the sisters' brief. they live a simple disciplined lifestyle and the building truly reflects this in every element.
RIBA Yorkshire Awards Judges
ANOTHER 250 YEARS.
The nuns original Monastery had been purpose-built for them in the mid 19th Century but it was rapidly becoming expensive and restricting with substantial fuel and repair bills. Numbers had dwindled from 80 to approximately 25 residents, so the need was for a new location and Monastery designed for the 21st Century and beyond.
The nuns were keen for the new Abbey to be both economic to run and sensitive to ecological and environmental concerns. Our design embraces sustainability, architectural vision and structural innovation.
Natural ventilation is used throughout, including in the church and chapel, which use wind-protected stack vents at high level to draw air through the building. Very high levels of insulation and low energy appliances and fittings were installed as well as a reed bed sewage treatment system.
AN ASCETIC APPROACH TO AESTHETICS
Preference was given to materials which are renewable, recycled or have low embodied energy. We chose indigenous natural materials where possible and locally sourced timber was used to minimise the use of structural steel. Sandstone, formed by recycling off cuts from a local paving manufacturer, was also incorporated into the design and used for cladding in conjunction with oak boarding.
Team
Architect
Feilden Clegg Bradley Studios
Main Contractor
William Birch Construction – Phase 1, QSP Construction – Phase 2
M&E Engineer
AECOM - Phase 1, Energy Unique - Phase 2
Structural Engineer
Hydrock Consultants Ltd – Phase 1, Buro Happold – Phase 2
Cost consultant
Davis Langdon - Phase 1, Richard Cavadino - Phase 2
Project Manager
Davis Langdon LLP - Phase 1, Richard Cavadino - Phase 2
Photography
Tim Crocker, Peter Cook, Tom Lonsdale
FCBStudios Team Leads
Awards
2020
EASA / National Churches Trust: Best Church Building of the Last 10 Years
2016
RIBA Stirling Prize: Midlist
2016
RIBA Yorkshire Building of the Year
2016
EASA / National Churches Trust Presidents' Award: New Building
2016
Wood Award: Education and Public Sector
2011
LABC North East Yorkshire Building Excellence Award: Best Community Building