A FRAMEWORK TO DEVELOP A MODERN AND ADAPTABLE HOSPITAL ESTATE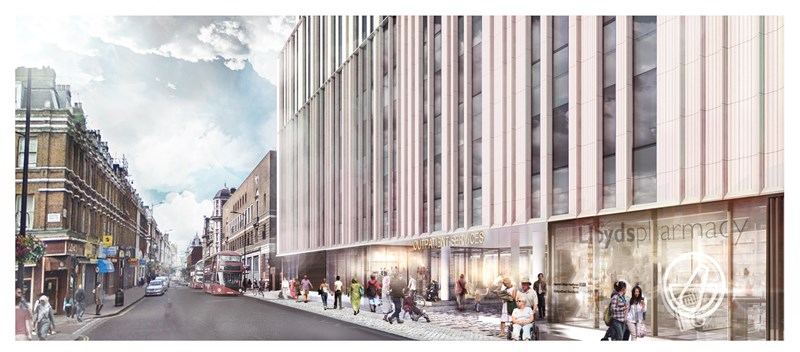 The current hospital is spread across 21 buildings which house 24/7 A&E services and acute care, maternity services, a wide range of specialties and one of London's four major trauma centres. In redeveloping the site, the hospital seeks to maintain their high clinical standards, but within a modern hospital estate with built in flexibility for the future. An overall reduction in the number of buildings will improve the way-finding and ease servicing across the site to create a better staff and patient experience. The redundant historic estate will allow for future mixed-use development on the remainder of the site and help to subsidise the capital cost for the hospital redevelopment.
A SINGLE BUILDING FOR ALL OUTPATIENTS FACILITIES
The first phase of the masterplan is the New Outpatients Building which was granted planning permission in October 2017. This will bring together all outpatient facilities from across the Trust and clearly mark the entrance to the hospital campus from the east. Designed to improve clinical outcomes and patient experience, services in the new building will be tailored to combine different specialist services to better meet patients' needs and help them to recover quickly and stay well. The ground floor of the building has a cafe and shops. It is open to the public and connects to the surrounding neighbourhood. Glazed ceramic panels on the external elevations reflect light in the narrow streetscape. Internally, a central atrium will bring daylight to the internal circulation spaces, and forms a focal and orientation point for the whole building.
Team
Masterplanner / Architect
Feilden Clegg Bradley Studios
Building Services, Sustainability and BREEAM
AECOM
Fire and Wind Engineer
AECOM
Accessibility Consultant
Earnscliffe, Making Access Work
Heritage Advisor
Professor Robert Tavernor Consultancy
Consultation Consultant
Lexington Communications
Healthcare Planning
Essentia Healthcare Planning
Landscape Architect
Grant Associates
Structural, Transport and Civil Engineer
AECOM
Townscape Assessment
Tavernor Consultancy
FCBStudios Team Leads