REINSTATING THE ICONIC UNDERCROFT WITH AND FOR ITS USERS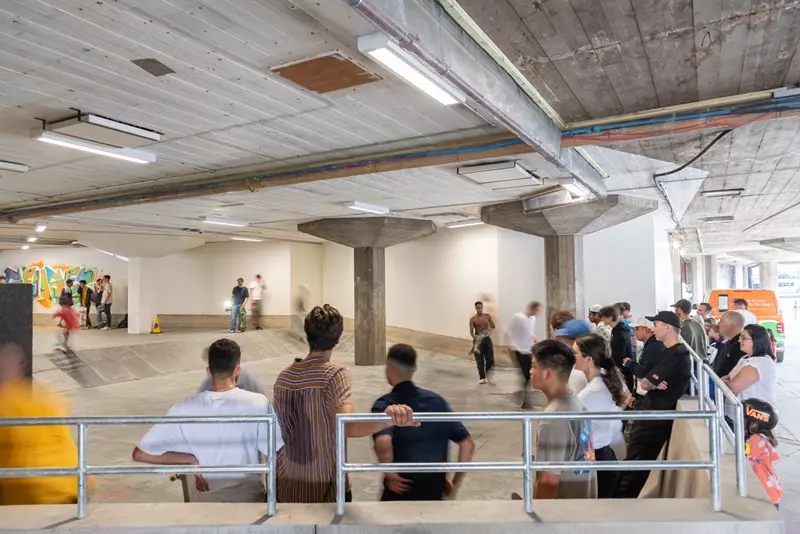 The undercroft of the Southbank Centre, is the world's longest continually used skate spot.
Defined by the mushroom-shaped concrete columns that support the Arts Venue buildings above, and the rawness of the boardmarked concrete, it was first discovered by skateboarders in 1973. It has since fostered a culturally significant community with a sense of belonging. With the intention of a temporary closure, part of the Undercroft was boarded up in 2004.
Its restoration reinstates iconic parts, including the much loved Small Banks and Wooden Ledges which are legendary in skateboarding history, and reopens over 400sqm of new space for skating, BMXing and graffiti.
The southbank undercroft is a rare free creative space in the very heart of London. it will enrich London's cultural life, give young people positive and creative outlets as well as a much-needed sense of community.
Long Live Southbank
REMAKING SKATEBOARDING HISTORY, FOR EVERYONE
Reinstating elements of the 1960s Undercroft was important from a conservation point of view. To the skateboarding community, it was more important to look at a 1970s history when skateboarders where developing new styles and tricks on the timber ledges and paved banks.
The use of reclaimed 1960s paving slabs was important to the skateboarding character of the space. A new wall was constructed using the principles of the board-marked concrete upstands of the original building, but with sacrificial ply layers finding a balance between the craft of the original building and providing a robust skate-able surface tolerant to the daily use of the Undercroft community.
At the rear of the space, glass blocks set in precast concrete panels ensure daylight still filters through into the space. Alongside improved lighting this was important to ensure a well-lit and welcoming space that would encourage a greater diversity of users to the space.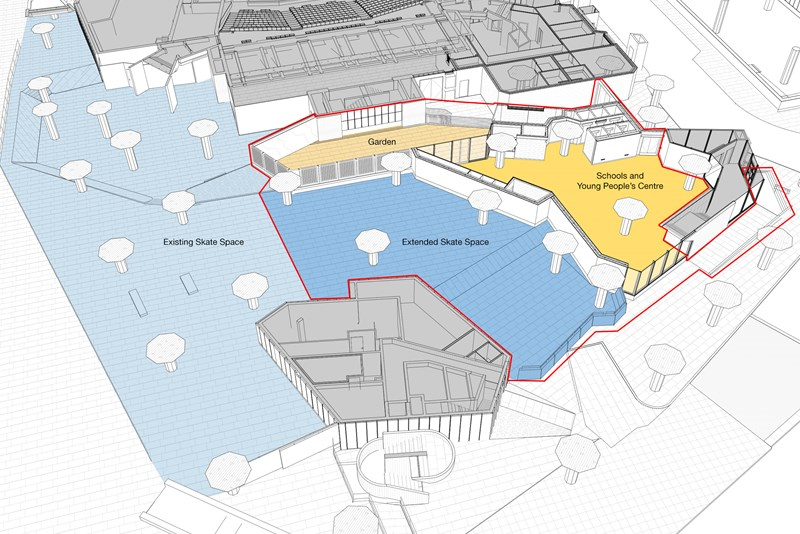 Team
Architect
Feilden Clegg Bradley Studios
M&E & Sustainability Engineer
Max Fordham
Project Manager
Long Live Southbank
Photography
Paul Carstairs
FCBStudios Team Leads