A CHILD-CENTRED SCHOOL THAT IS AT THE HEART OF THE COMMUNITY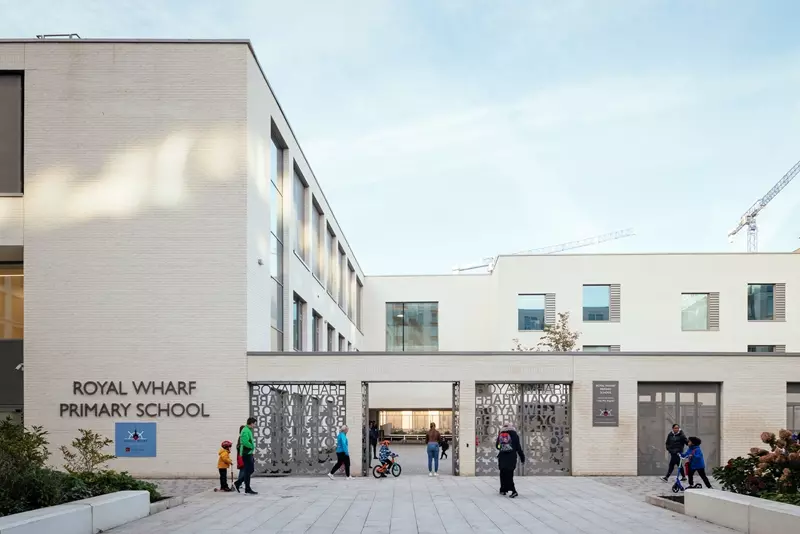 The two form entry primary school stands out from its surrounding residential buildings. It is intended to be distinctive, to stand alone in style and be visible to all as a community landmark.
Within the school, we have created a sequence of spaces for the children. They connect between the different levels, through the stair artrium, but also through windows intentionally set at child height. In this way, learning from others and a sense of inquisitiveness are encouraged. A rooftop games area and outdoor spaces, which cater for many kinds of play and learning, complement the indoor spaces.
The new building, naturally ventilated and with lots of natural daylight, will create a happy and successful school.
Skill and close collaboration of the design team have produced a building to be proud of. The outcome is joyful and inspiring.
RIBA London Award Judges
NEW DEVELOPMENTS NEED NEW SCHOOLS
At the centre of a masterplan for 3,500 new homes in the London Docklands, the school is an important part of the growing community.
Its position on the corner of the high street, opening onto a pocket square makes it a focus for the new neighbourhood. People meet in the square before and after school, and use the school as a community space in the evening.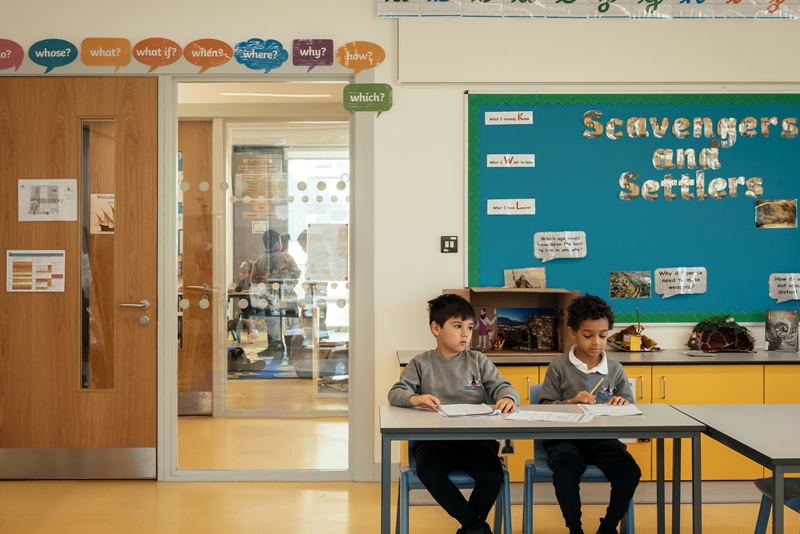 GROWING WITH THE SCHOOL
Arranged over three storeys, classrooms for the youngest pupils are on the ground floor and flow into the outside space. As the children grow, they move up the building, with the oldest children occupying the top floor - with access to the rooftop MUGA (sports pitch) and views out to the city.
The L shaped building footprint lends itself to defining distinct courtyard play zones which provide a variety of outdoor spaces for different age groups.
Team
Architect
Feilden Clegg Bradley Studios
Structural Engineer
Pryce and Myers
Acoustic Engineers
Max Fordham
Landscape Architect
Exterior Architects
Project Management
Mott Macdonald
Quantity Surveyor
Mott MacDonald
Photographer
Jim Stephenson
FCBStudios Team Leads