THE KEY TO UNLOCKING HISTORIC SPACES? INNOVATION AND CONNECTION
At the heart of the UNESCO World Heritage Site of the city of Bath, The Roman Baths is a site of international historical and archaeological significance. Our scheme transforms a neighbouring group of nineteenth-century buildings to provide the Baths with dedicated learning spaces and a flagship hub for the Bath World Heritage Centre.
These are spaces of character and joy born out of complexity and calculation.
Eleanor Young, RIBA Journal
BENEATH THE STREET
Originally built as a laundry, boilerhouse and warehouse to service the Victorian spa, our scheme has connected three historic buildings by navigating the level changes between them across a complex archaeological site. Two generous learning spaces are supported by essential facilities previously lacking: a generous cloakroom, dedicated WCs, offices and a lunchroom.
Beneath the street, at the Roman ground level, the Baths and the learning spaces are now connected, allowing visitors to walk across and through the archaeology that wasn't previously open to the public. Part of the undercroft provides a third learning space where, immersed in Bath's historical past, children can try archaeology for themselves.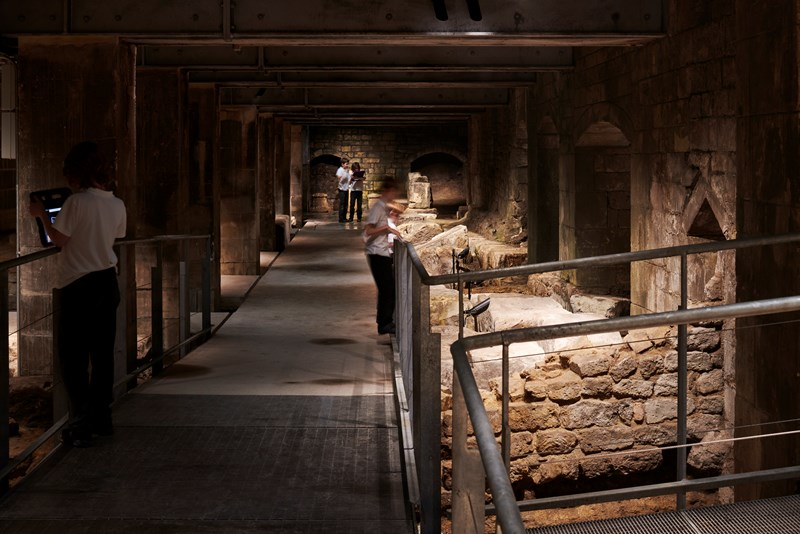 TWO MILLENNIA OF HISTORY WITHIN ONE CONNECTED SPACE
Within these enigmatic spaces the visitor experience is not 'museumified'. Here, Roman archaeology stands alongside medieval, Georgian and Victorian buildings in a continuum of over two thousand years of the city's development. An impression of being 'behind the scenes' is preserved; there is space for visitors to see, interpret and imagine for themselves. Scraping away layers of intervention in the old buildings reveals the character of the former laundry, boilerhouse and warehouse that once serviced the Victorian spa. Soot-blackened walls are left on view and, against this rugged backdrop, new insertions are drawn from a simple palette of unfinished steel, oak and bare lime plaster.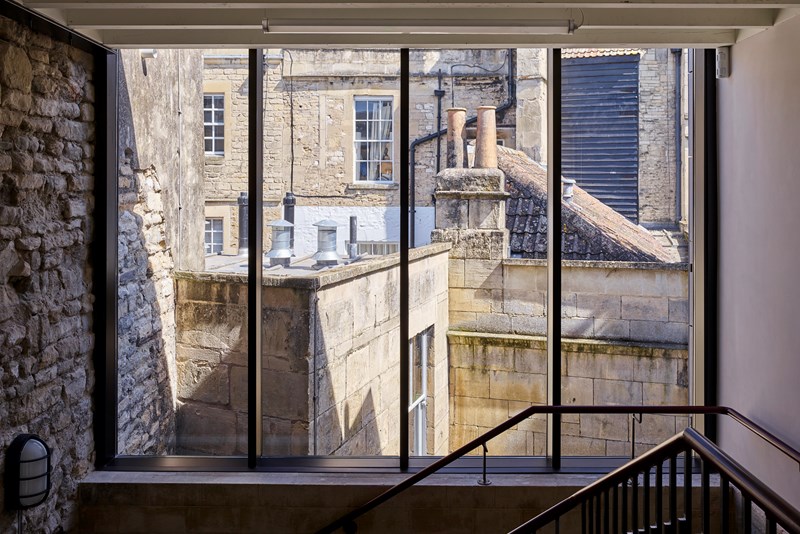 CHANNELLING THE PAST INTO THE PRESENT
Staying true to their history as spa buildings, we have tapped into the waste heat from the thermal spa waters to heat the Learning Centre.
Bath and North East Somerset Council's Energy Capture Project has installed heat exchangers in the reservoir of the thermal spring, where the water temperature is the highest, and this provides a low-carbon heat source for the new facilities. The use of this natural, renewable energy was developed alongside the heat capture project downstream at Bath Abbey. Find out more in our Explore article 'Just add water'.
Team
Architect
Feilden Clegg Bradley Studios
Main Contractor
Beard Construction
Structural Engineer
Integral Engineering Design
Quantity Surveyor
Edmond Shipway LLP
Building Services
Method Consulting LLP
Acoustics
Harmonia Consulting
Archaeologist / Heritage Consultant
Cotswold Archaeology
CDM Advisor
Chase Consulting Ltd
Exhibition Designer
Houghton Kneale Design
Fire Engineer
The Fire Surgery
FCBStudios Team Leads