REFOCUSSING A V&A GALLERY TO REVEAL THE ART
The refurbishment of the Grade I Listed Aston Webb Gallery transforms the way visitors experience the iconic Raphael Cartoons on display there. The new decorative scheme helps to focus attention and reveal the Cartoons' extraordinary details and vibrant palette. Attention to acoustics, state-of-the-art lighting and the positioning of bespoke furniture have combined to bring calm to the room.
The visibility and appearance of the Raphael Cartoons has been vastly improved, within a space that is fitting for both these remarkable drawings and the museums' contemporary international audience.
FCBStudios' sensitivity to the unique historic significance of the space combined with their understanding of the needs of visitors resulted in a transformed experience of the gallery, enhancing appreciation of the works and the architecture.
Dr. Philippa Simpson, Director of Design, Estate and Public Programme
ONE OF THE GREATEST TREASURES OF THE ITALIAN RENAISSANCE
Raphael (1483-1520) painted the series between 1515 and 1516 for Pope Leo X as full-scale designs for tapestries to be hung in the Vatican's Sistine Chapel. Seven of the ten original Cartoons survive and are displayed in the Raphael Court (Gallery 48a) at the V&A.
These works of art are lent to the V&A from the Royal Collection by His Majesty The King and have been on view in the museum since 1865. The refurbishment is supported by Lydia & Manfred Gorvy, Julia and Hans Rausing, American Express, the Royal Commission for the Exhibition of 1851, Sir Michael and Lady Hintze, the Robert H. Smith Family Foundation, the American Friends of the V&A, and many other generous donors.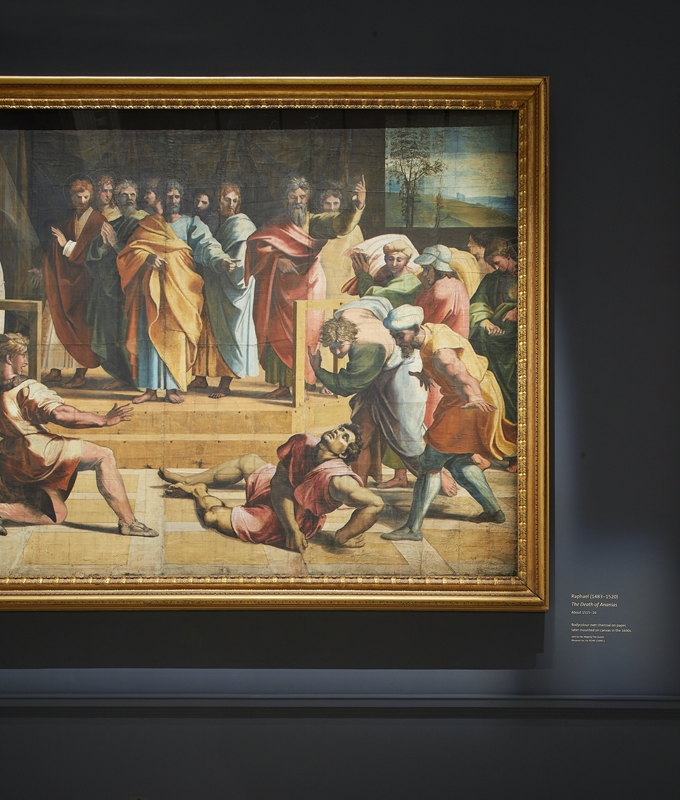 Team
Architect
Feilden Clegg Bradley Studios
Contractor
Quinn London Ltd
Structural Engineer
Eckersley O'Callaghan
Lighting Design
Studio ZNA
Acoustics
Anderson Acoustics Ltd
CDRM Advisor
CDRM Services
Furniture Maker
Jon Lloyd Construction
M&E Sustainability Engineer
JRG Electrical Consulting
Project Manager
Avison Young
FCBStudios Team Leads