WORKSHOP AND TEACHING SPACES FOR STEAM SUBJECTS TO INSPIRE COLLABORATION AND INNOVATION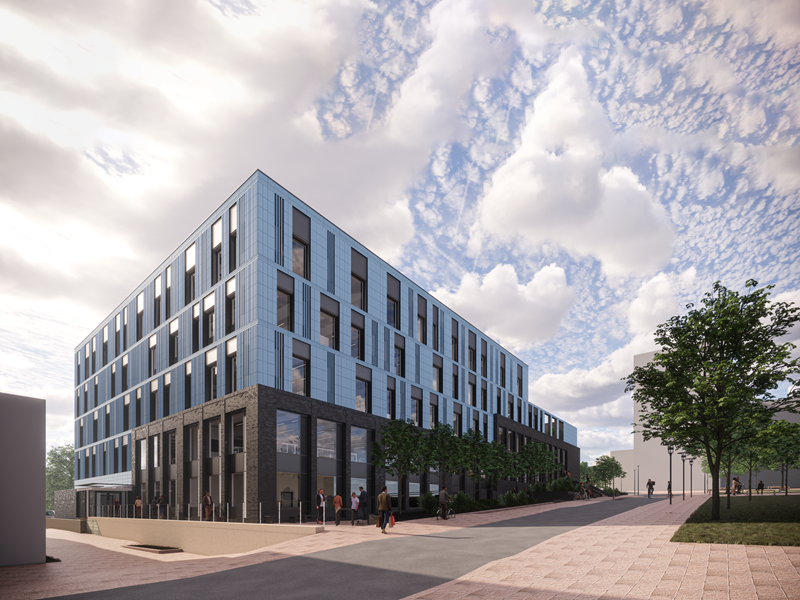 Housing contemporary specialist equipment and laboratories, this facility will bring engineering, science and the arts together, enabling holistic and creative approaches to problem-solving to address some of the world's biggest issues, such as climate change and healthcare.
Through exemplary social, research and teaching spaces, it will facilitate a new depth of collaboration across related subject areas, facilitating brilliant minds coming together and solving real-world issues.
BACK TO BASICS
The 1979 Babbage Building will be refurbished and extended. The original concrete frame – a characterful waffle-slab constructed square grid –that will be revealed by stripping out suspended ceilings and overhead services. The design created open plan spaces through the formerly enclosed plan which open out into a new atrium that links old and new.
Glazed screens make physical and acoustic separations between workshops and teaching areas but maintain a sense of connectivity and natural daylighting throughout.
Externally, the building is unified by glass and sky blue ceramic cladding and reflective grey brick. On the upper level, terraces provide additional outdoor teaching spaces, bringing more opportunities for creativity, cross-disciplinary collaboration and wellbeing.
A space where students, researchers and industry come together to develop new ideas that enable society to meet some of its most pressing global challenges.
Prof Judith Petts, CBE, Vice Chancellor of the University of Plymouth
WE SOLVE REAL WORLD PROBLEMS
Reusing the structure of the Babbage Building means that the New Engineering and Design Facility will inherently have far lower embodied carbon than a new-build alternative.
The new façade contributes to the operational efficiency of the building with improved airtightness, and environmental conditioning makes use of the thermal mass of the concrete frame. Heating is delivered from on-site Air-Source Heat Pumps that will connect to a future Heat Network, while an onsite PV array will offset CO2 emissions.
Team
Architect
Feilden Clegg Bradley Studios
Structural & Civil Engineer
WSP UK
M&E / Acoustic Engineer
Max Fordham
Landscape Architect
Grant Associates
Cost Manager
Faithful & Gould
CDRM Services
CDRM Services
FCBStudios Team Leads