Placing culture at the heart of town centre regeneration
Our Cultural Heart is the flagship project of the Huddersfield Blueprint, a ten-year plan that will revitalise six key areas of Huddersfield, to create a thriving modern-day town centre.
Working alongside Kirklees Council, our ambitious £210m regeneration vision will transform Huddersfield's Queensgate retail area into a vibrant, dynamic and inclusive cultural destination. The Cultural Heart project positively addresses the changing landscape facing town centres by introducing community-focused cultural uses that will bring richness and vitality.
A new art gallery, library, museum, food hall and entertainment venue, set within new expansive areas of public realm, will enable a new and sustainable cultural programme of activities to take place in the heart of Huddersfield, offering bold new additions to the townscape that are sensitive to the listed buildings within the site and the wider heritage context.
The Cultural Heart is all about delivering genuine long-term community assets, where friends and families can gather, relax and socialise…ultimately bringing our diverse community closer together.
Councillor Shabir Pandor, Leader of Kirklees Council
HERITAGE-LED REGENERATION
FCBStudios' heritage-led approach to regeneration draws from our understanding of the need to balance heritage significance with positive, sustainable and long lasting change for communities.
Designed through close engagement with Historic England and the Twentieth Century Society, our proposals seek to sensitively upgrade and breathe new life into the site's two listed buildings and introduce new buildings that take inspiration from the distinctive character of Huddersfield's heritage. Together, they create a place-specific response that speaks to the history of the area and the diverse community the buildings serve.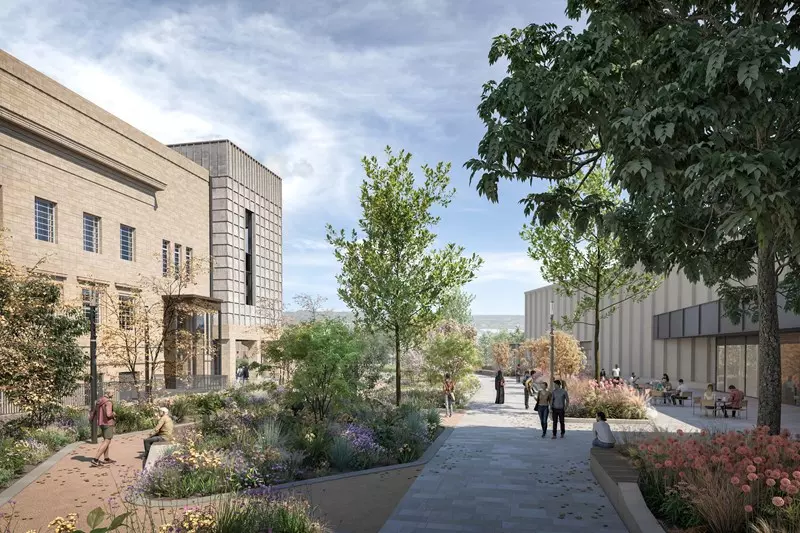 Low carbon retrofit
Our plans will transform the Grade II-listed 1940 Huddersfield Library and Art Gallery into an inclusive museum space that celebrates the diversity, history and culture of Huddersfield in a new town centre location.
The Grade II-listed 1970 Queensgate Market, known for its striking form of 21 concrete hyperbolic paraboloid roof shells and ceramic public art series by Fritz Stellar, will be reconfigured as a new contemporary library and food hall hosting local, independent businesses.
The retrofit of these buildings will significantly reduce their energy use, while at the same time ensuring a dynamic and sustainable future for the buildings in a way that better reveals their heritage significance to a wider audience.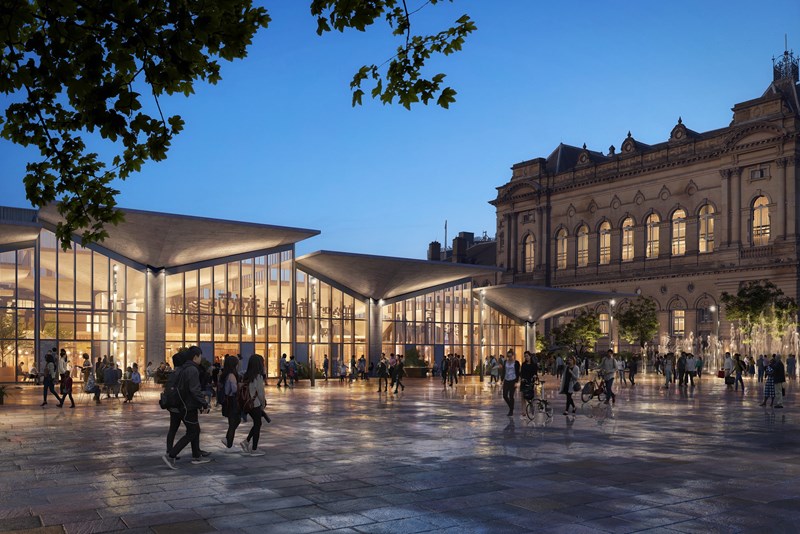 CONNECTING PEOPLE AND PLACES
By bringing new activities into the centre of Huddersfield, the proposals seek to make culture more equitable, welcoming and accessible for the local community. Bold but sensitive adaptations of the listed buildings to will create openness, celebrate their value and increase accessibility to all members of the public.
This creates a positive dialogue between the existing listed fabric, new buildings and public realm will improve movement and connectivity to the wider town centre, neighbouring Conservation Area and adjacent University of Huddersfield campus, bringing culture to the town's streets and promoting it to more people.,
of time and place
Our Social Value commitments included a cultural engagement programme that culminated in the public exhibition 'Of Time and Place'.
The exhibition conveyed the history of Queensgate Market and what 'culture' means for the people of Kirklees as told through archive materials and contemporary pieces, including new works by University of Huddersfield students and Poet Laureate, Simon Armitage. This immersive and interactive public exhibition served as a celebration of Huddersfield, encouraging local people to come together and explore the changing culture of their town and engage with our developing proposals for the Queensgate area.
towards net zero carbon
The thriving cultural hub will excel in terms of energy and sustainability, with low embodied and operational carbon measures central to our approach.
The new buildings will draw from low-energy design principles, whilst the upgrade of listed buildings with carefully considered 'fabric-first' retrofit provide sustainable interventions that are appropriately balanced with heritage significance. Our Cultural Heart will be integral to Kirklees Council's pledge to achieve net zero carbon by 2038.
Team
Masterplanner / Architect
Feilden Clegg Bradley Studios
Structures, M&E, Acoustic, Transport, Lighting, Facades and Fire Consultants
ARUP
Heritage Consultant
Feilden Clegg Bradley Studios
Landscape Architect
re-form
Sustainability Consultants
Etude and Sustainable Construction Group
Development Manager
Queensberry Real Estate
Access Consultant
Jane Simpson Access
Planning Consultant
Pegasus Group
Project Manager
Turner & Townsend
CGIs
Pixelflakes / The Collective