A FACTORY AND HEADQUARTERS THAT ARE INTRINSICALLY CONNECTED TO THE ETHOS AND PRODUCT OF THE COMPANY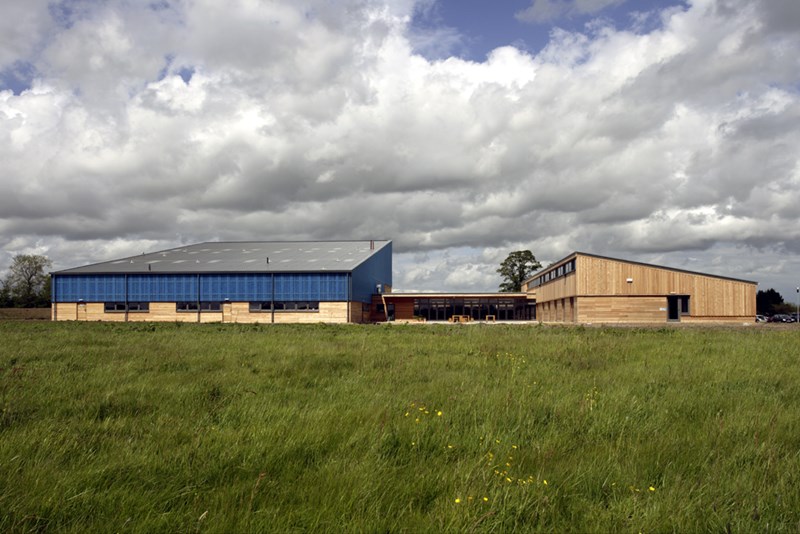 Set in a landscape of herb and flower meadows, the act of moving manufacture and operations of Neals Yard to Dorset brings them closer to the ingredients that form the basis of their products.
The headquarters is made of three parts. A timber-framed office wing for 80 staff, an industrial manufacturing wing for a further 20 and linking the two, a single-storey timber-framed social 'core'. Here facilities such as the refectory, creche, and consulting, meeting and changing rooms encourage a wholesome family atmosphere that opens out onto a garden 'captured' from the landscape beyond.
Natural light and eye-level windows throughout connect occupants with the rhythms of the day, the weather, and the seasons.
WORKING IN BALANCE
The worlds first carbon neutral retailer needed a building that would tread lightly.
The CLT frames and sandwich panel system used - a prototype system at the time - makes for low embodied carbon structure. The buildings are oriented to make the most of the sun. CO2 emissions were reduced through high levels of insulation, natural ventilation and controlled daylight. Conservation of natural resources was also a priority, including a biomass boiler energy generation, plans for solar panels – which were later retrofitted to the roof, water conservation, and the collection of rainwater.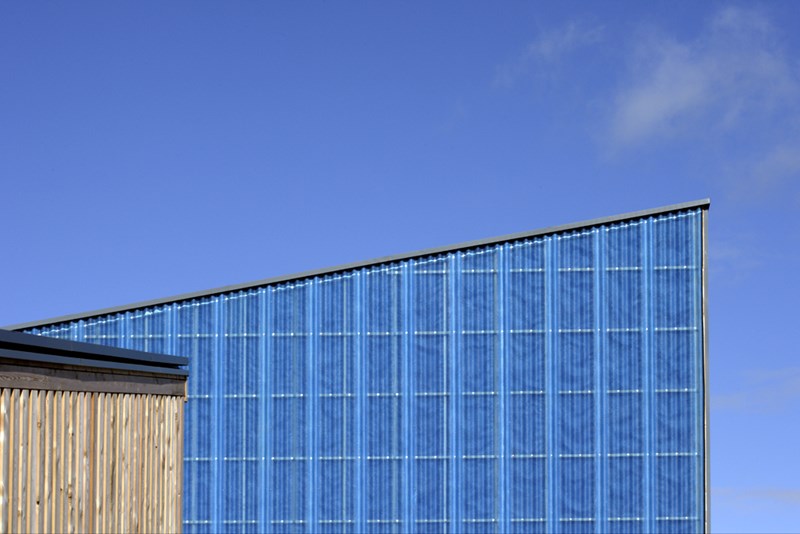 HARNESSING THE POWER OF NATURE
Our attempts to create a building which is valued in itself and is spatially flexible enough to facilitate future changes have already paid off. The roof was structured to allow retrofitting of solar panels – which has now been done.
Rainwater is collected for use in the manufacturing process and for WC flushing, and Neals Yard have committed to a minimum of 20% reused water, despite increases in production.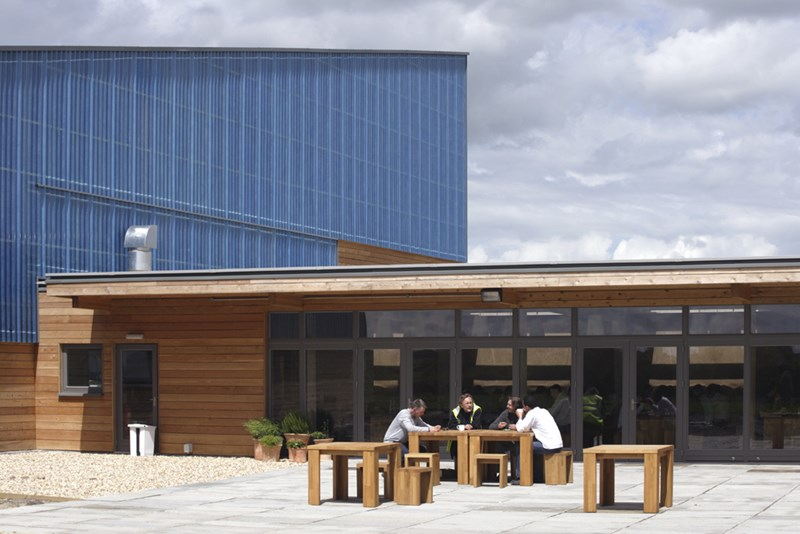 FROM THE FLOWER TO THE BOTTLE
The combination of unfinished timber and translucent plastic cladding reflect the desire to create building in harmony with its natural setting whilst using its volumetric simplicity to striking visual effect.
It also reflects the Neal's Yard corporate image, with the untreated timber echoing the unbleached cardboard packaging and translucent cladding reminiscent of the trademark use of blue glass for bottling liquid products.
Team
Architect
Feilden Clegg Bradley Studios
Contractor
Blenheim House Construction
Landscape Consultant
Melissa Hay
Project Manager
Land Projects Ltd
Quantity Surveyor
Davis Langdon & Everest
Structural Engineer
Alan Conisbee Associates
FCBStudios Team Leads