INNOVATIVE TEACHING SPACES FOR UNIVERSITY OF TORONTO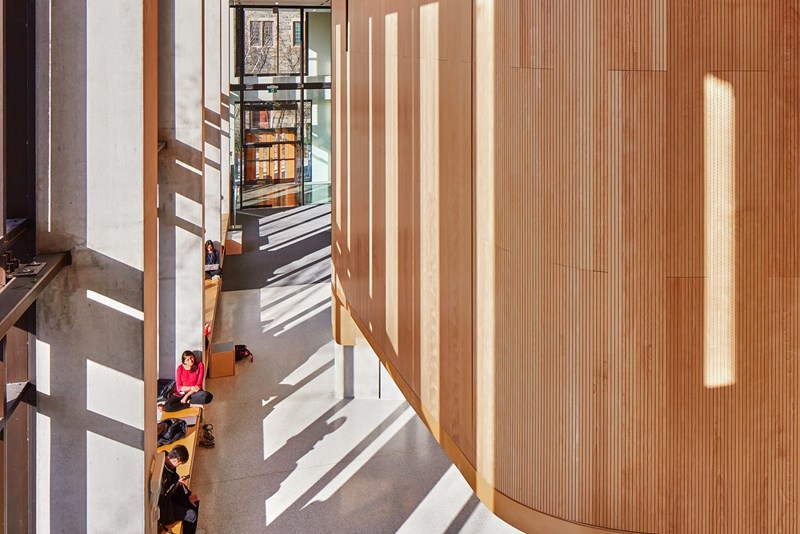 The Myhal Centre is designed to bring together students, faculty, alumni and industry partners to ensure collaboration is at the heart of the university experience. The cross disciplinary research and teaching hub caters to the university's wide-ranging engineering disciplines. Designed to enable group work outside the traditional seminar room, it provides dynamic, flexible environments that break down artificial barriers between people, foster collaboration, encourage active learning and accelerate innovation. A two-storey robotics lab big enough for drone flight and testing is just one example of this.
Teaching spaces include a sophisticated 500 seat collaborative lecture theatre, workshop and Lab spaces, TEAL rooms, innovation incubator suites allied to industry presence rooms, versatile design studios. At the heart of the building are social learning spaces and a cafe.
FOR THE INVENTORS, INNOVATORS, AND LEADERS OF THE FUTURE
Located in the heart of the historic University of Toronto Campus, the engineering building was designed in the round with a transparent and permeable ground floor that invites people in. It reflects the faculty's spirit of creativity, inclusivity and leadership, supporting and enabling the existing culture of innovative start-ups and patents coming from the school. Clustering accommodation around and within an atrium space not only allows visibility between different uses, but encourages informal meetings at open staircases, balconies and walkways.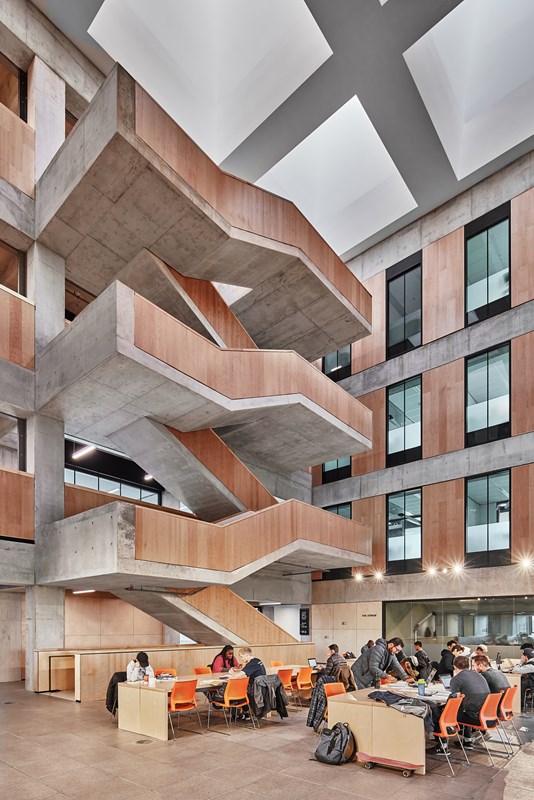 A GREEN EXEMPLAR FOR THE CITY
The Myhal Centre was designed with a 100-year design life and constructed to Toronto Green Standard Tier 2 level. As an exemplar of low energy design for the city, the building has an anticipated energy use intensity (EUI) of 100 kWh/m2 - less than half that of its university neighbours.
Team
Architect
Feilden Clegg Bradley Studios
Partner Architect
Montgomery Sisam Architects
Building Services Engineer
Smith + Andersen
Structural Engineer
Read Jones Christoffersen Ltd
Sustainability Consultant
Footprint
Photography
Industryous Photography
Awards
2019
WAN Gold Award: Education Sector
2019
Toronto Urban Design Awards: Award of Merit