A HUB FOR HEALTH, WELLBEING, WATER ACTIVITIES AND BIODIVERSITY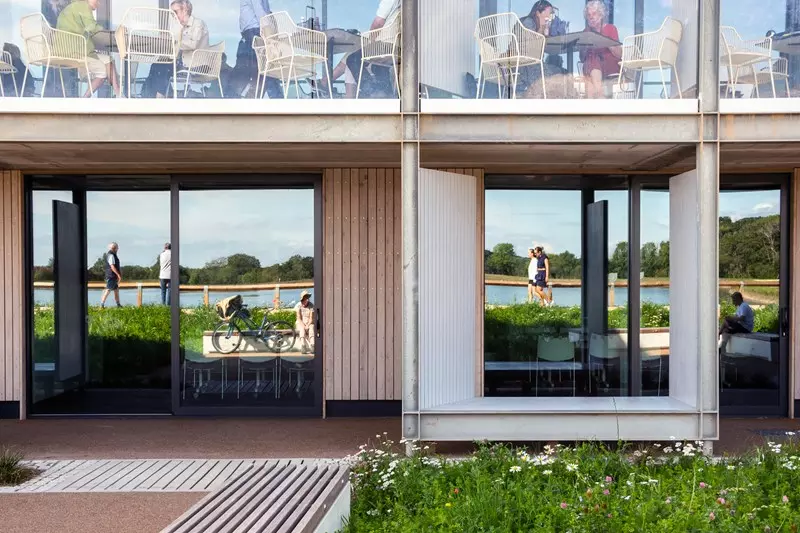 The Lisvane and Llanishen reservoirs were built in the 1860s to supply drinking water for Cardiff. A Victorian landmark covering 110 acres on the Northern edge of the city. Welsh Water took over the site in 2016, with the vision to create a hub for recreation, health and wellbeing, where local residents can connect with the water and the environment. Now Llanishen reservoir attracts visitors for watersports and Lisvane reservoir is an SSSI, recognized for its bird life and grassland fungi, and much of the remaining site is a SINC. The visitor hub sits on the banks between the two reservoirs, welcoming visitors with café and toilet facilities as well as watersports hire and facilities, including stand up paddleboarding, sailing, canoeing, kayaking and open water swimming.
The lightweight two-storey building is clad entirely in larch and has a light impact on the natural environment and a low operational energy strategy. As one of the first projects to be delivered following the introduction of SuDS (Sustainable drainage systems) as a statutory requirement the project uses innovative and ecological drainage solutions with water chains, rills and rain gardens.
Team
Design Architect
Feilden Clegg Bradley Studios
Executive Architect
Lawray Architects
Landscape Architect
LT Studio Ltd
Structural & Civil Engineer
Momentum Engineering
M&E
E3 Consulting Engineers
Cost Manager
Turner & Townsend
Project Manager
ChandlerKBS
Building Regulation Advisor
Oculus Building Consultancy Ltd
BREAAM Consultant
McCann & Partners
Helios Fire & Construction Consultancy
Helios Fire & Construction Consultancy