A HEADQUARTERS WHICH EMBODIES THE CHARITY'S VISION FOR NATURE, BEAUTY AND HISTORY, FOR EVERYONE, FOR EVER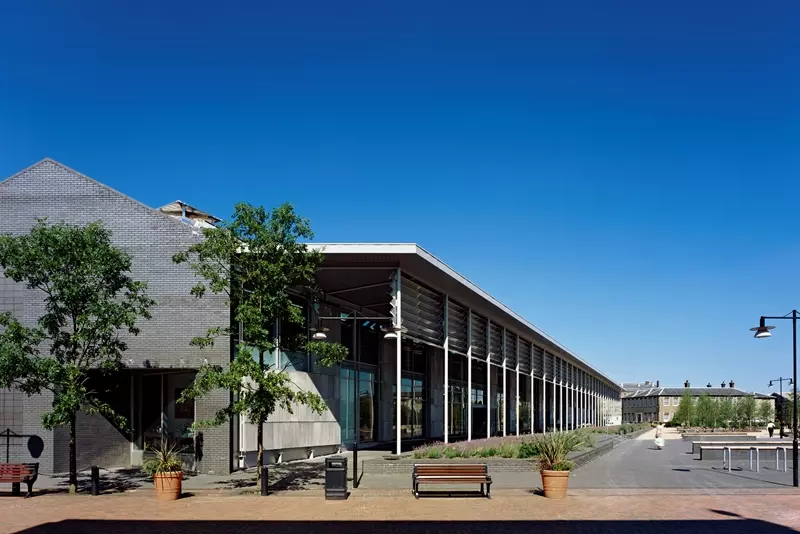 The headquarters brings together a workforce previously dispersed over four locations, that provide meeting rooms and workshops for 470 staff, plus a shop and café,
The two storey building, with 76,500 square feet of office space, is located on the site of Brunel's Great Western Railway works in Swindon. A restrained architecture, its "deep plan" form is an interpretation of the historic workshop buildings on the site, where natural light and ventilation were the only options in terms of environmental control.
We've designed the two-storey deep plan building to provide an exemplary working environment. It was abundant natural light, fresh air and a sense of connection to co-workers.
Heelis is near perfection in the early-21st century, flat-screen, low-rise, open-plan office environment - with masterful attention to sustainability.
British Construction Industry Awards
GENERATING EXCELLENCE NOT CARBON
The design aimed to be the most sustainable building possible within the available budget for a 'standard' office building. The industrial style saw tooth roof provides an even distribution of daylight and ventilation across the plan depth as well as plenty of opportunity for solar energy collection and controlled natural light.
A series of atria connect the two storeys, creating a real sense of the whole organisation sharing a single volume. The floor to ceiling height of 3.7metres at ground floor is unusually high, but designed to ensure that both natural light and ventilation work efficiently throughout. Roof glazing to the central atrium allows sunlight to animate the 'breakout' space for much of the day.
The office achieved an 'excellent' BREEAM rating and was expected to generate less than 20Kg of CO2/m2 each year. The environmental design and minimised energy usage has put in place the future possibility of approaching carbon neutrality.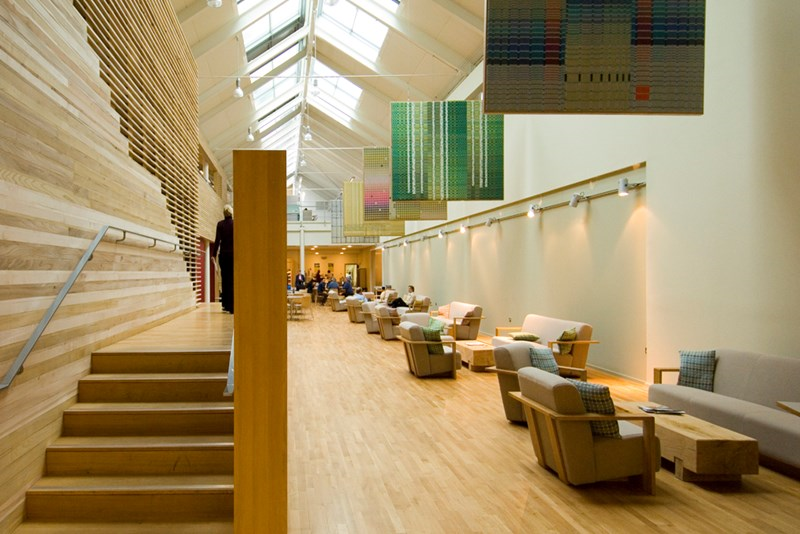 DRAWING ON MATERIALS
Inside the building, the finishes draw on materials from around the National Trust Estate. A bespoke carpet made from undyed Herdwick wool from sheep grazed on National Trust farmland is used throughout desk areas and meeting rooms. The carpet is very durable and long-lasting and we hope this commission will help support the commercial viability of the flock.
The south-facing wall and staircase of the atrium is clad in a variety of timber from National Trust estates, which runs through to the neighbouring courtyard.
Team
Architect
Feilden Clegg Bradley Studios
Cost Consultant
Davis Langdon
Façade Consultant
Montresor Partnership
Landscape Consultant
Grant Associates
M&E Engineer
Max Fordham LLP
Project Manager
Buro Four Project Services
Structural Engineer
Adams Kara Taylor
Photography
Simon Doling, David Levenson
FCBStudios Team Leads
Awards
2008
Building Performance Award: Sustainability
2008
Fassa Bortolo International Prize for Sustainable Architecture
2007
Civic Trust Award: Special Award for Sustainability
2007
The Sustainability Awards: Sustainable Building of the Year - Large Project
2006
RIBA Sustainability Award
2005
The International FX Interior Design Awards: Best Medium/Large Office Building