Restoring Hayle's heritage and building for the future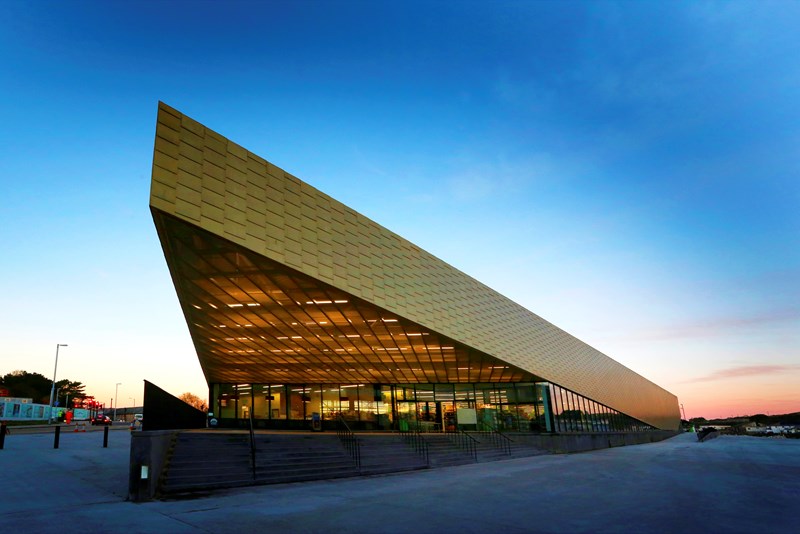 South Quay was the port that served the Cornish and West Devon tin and copper mines and today forms part of a World Heritage Site.
Vacant and closed to public access since it was decommissioned in 1969, the first phase of regeneration of the Grade 2 Listed quay has created a generous new public realm, restored the Victorian sluicing mechanism to Carnsew Pool, giving the harbour a sustainable future and provided an iconic, contemporary food store serving the town centre.
Special praise should be given to the architect, the client and indeed the town for a building that not only adds something very special to the area but also illustrates that this building typology can transcend a mere metal shed and provide a town with more than just a place to buy food.
RIBA Award Judges
What should a supermarket look like?
In imagining what a supermarket on a Listed Quayside might look like, we rejected traditional models like the out-of-town shed, the 'barn' and those forms inspired by hi-tech architecture. Our approach was akin to the approach we might take to a cultural building, setting a different ambitious tone for the area. . Dark water-struck bricks , used in the back of house areas, are reminiscent of scoria blocks typical of Hayle, while the sculptural 'hull' of the food hall resonates with the site's history of mining, manufacturing, shipbuilding and shipbreaking.
Living on the wharf
A sensitive low-carbon residential scheme for Hayle's listed South Quay harbourside features 20 houses and 10 apartments along with new cafes and restaurants overlooking the quayside public realm and estuary beyond. Their style draws on the industrial history of the area, and the Cornish vernacular, each with a connection to the street, keeping a lively year-round sense of community.
The layout and form of the design reference the linear arrangement of industrial sheds and workshops that existed historically and served the copper and tin export industries. Each dwelling has dual aspect visual connectivity with the harbour and landscape beyond.
Team
Masterplanner / Architect
Feilden Clegg Bradley Studios
Main Contractor
Bowmer & Kirkland
Structural Engineer
Buro Happold
Highways Consultant
Vectors
Heritage Consultant
Stephen Levrant
FCBStudios Team Leads
Awards
2016
Civic Trust Award: Commendation