delivering school places and community amenities within the Britannia Masterplan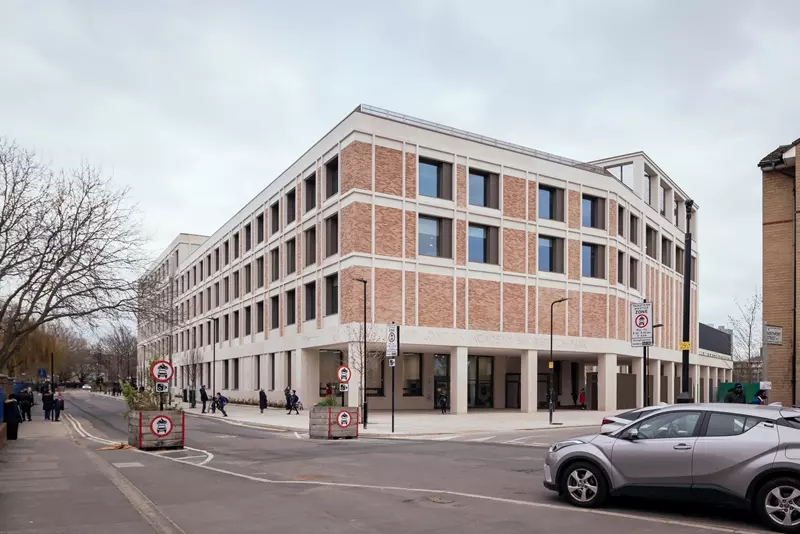 The City of London Academy Shoreditch Park is the first building to be completed in the community-focused Britannia Masterplan. With an aim to provide a life-changing environment that encourages and supports all of its students to achieve excellent educational outcomes whatever their individual ability, needs or background, the building has already had a significant impact on student academic attainment.
Since the new City of London Academy Shoreditch Park building opened its doors to students...the academy has seen a steady increase of enhanced student behaviour and higher GCSE grades.
Ian Skinmore, Hackney Council
Designing a school for a tight urban site
The future Crossrail tunnels, the size of the building and the constrained nature of the site required an innovative design approach. The building footprint has been kept as small as possible to maximise the playground areas, taking advantage of the existing topography to create an enticing amphitheatre playground. The sports hall, which has been raised up to first-floor level, shelters the playground space. A rooftop playground with city views allows for even more outdoor space on this limited site.
The interior is arranged around two atria with a primary corridor on each floor. Natural daylight and internal views through these timber-lined atria spaces produce a bright and comfortable school with a connection to its environment.
On the ground floor are the main hall, activity studio, LRC, dining hall and music department. The school acts as a centre for the community and so these spaces have been deliberately arranged to become easily accessible to the public. Clearly defined entrances on the street give it a civic presence and reiterate this purpose.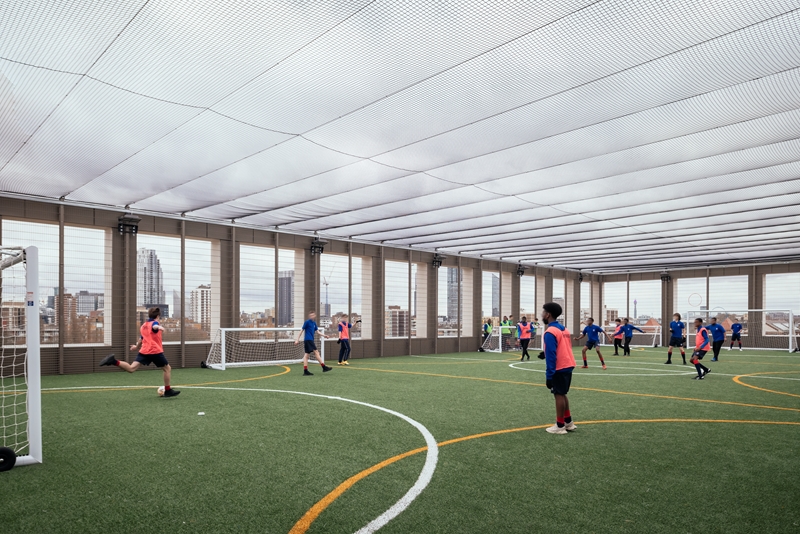 what makes A SUSTAINABLE SCHOOL BUILDING?
Providing a comfortable setting for users while using as little energy as possible was a necessity. Low running costs, low maintenance requirements, low plant replacement costs/cycles, and low carbon emissions were all part of the brief and were achieved in a range of ways. We took a fabric first approach, used cross-flow natural ventilation (with fan assist when necessary) for thermal comfort and air quality, designed large free areas for natural ventilation, and used district heating and photovoltaics to supply energy.
During construction, the design of the external envelope significantly reduced waste. The prefabricated concrete and brick facade was optimised to reduce the number of panels and fixing used, and alongside this, any wastage in the mould was used to form the panels. The process of prefabrication has also limited the onsite waste that would have been generated with a façade built in situ.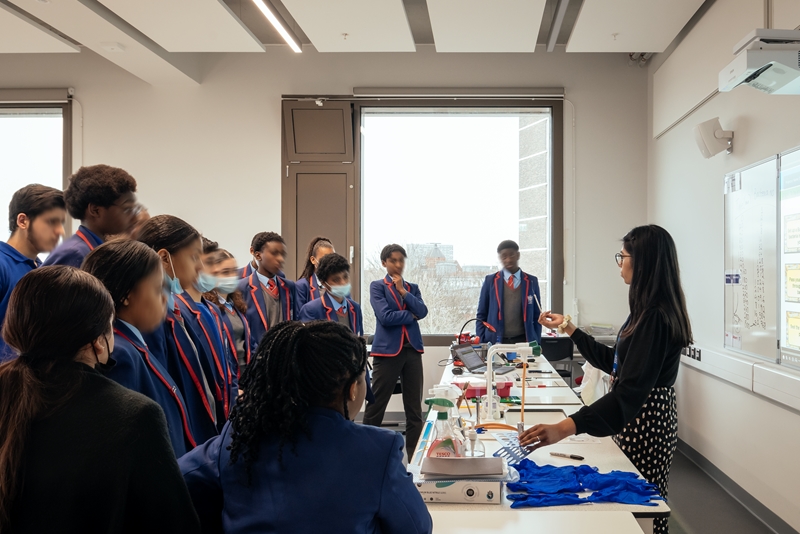 All staff have had a renewed motivation in driving forward the best teaching practices for the students in what is an excellent and well-balanced learning and working environment...the building absolutely maximises our ability to deliver our ethos of 'embedding excellence.'
Ian Skinmore, Hackney Council
Team
Architect
Feilden Clegg Bradley Studios
Civil, Structural, MEP, Sustainability and Fire Engineer
Buro Happold
Acoustic Consultant
Max Fordham
CDM Advisors
CDRM Services
Landscape Architects
Churchman Landscape Architects
Quantity Surveyor
Arcadis / Core 5
Waste and Transport Consultant
WSP
Photography
Jim Stephenson
FCBStudios Team Leads