A CITY IN MICROCOSM: WORKPLACE, RETAIL AND HOMES AROUND A CENTRAL URBAN PARK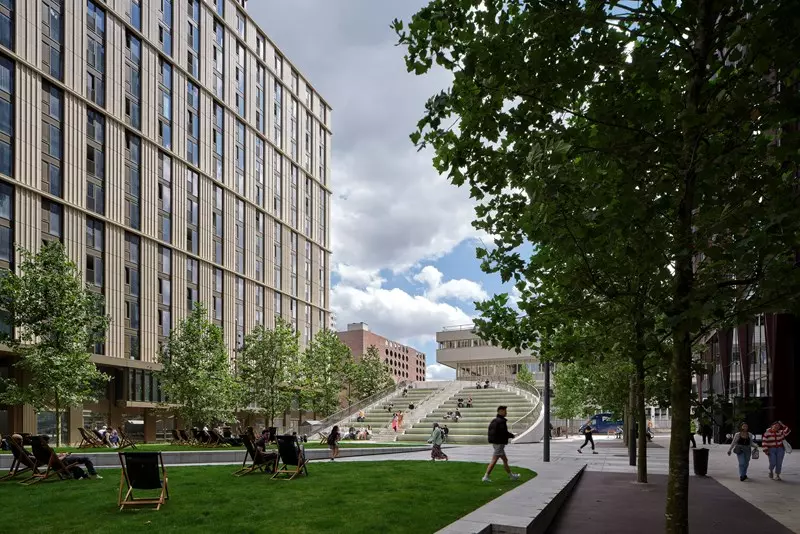 Unmatched in location and scale, the pioneering new destination on the former BBC Oxford Road site, is an eye-catching addition to the area. We collaborated with Landscape architects Planit ie, which resulted in a masterplan with a park the size of a football pitch at its heart The high-density, high-quality mixed-use scheme delivers a safe and welcoming neighbourhood for all its users.
Within the masterplan, we have delivered a series of buildings with a distinct and timeless architectural style. Two speculative office buildings, a pair of residential buildings including a 34-storey tower, student housing and the pavilion buildings at either end of the central green, as well as the concept design for the hotel and car park.
Red white and green
Symphony Park acts as an anchor to the neighbourhood and its offices, residential, leisure and retail users. It is a green canvas that can accommodate all kinds of use, from yoga to picnicking, theatre, culture and the arts, to simply relaxing and watching the world go by. Beneath the green is a dynamic and ever-changing events space, providing leisure and entertainment, day and night.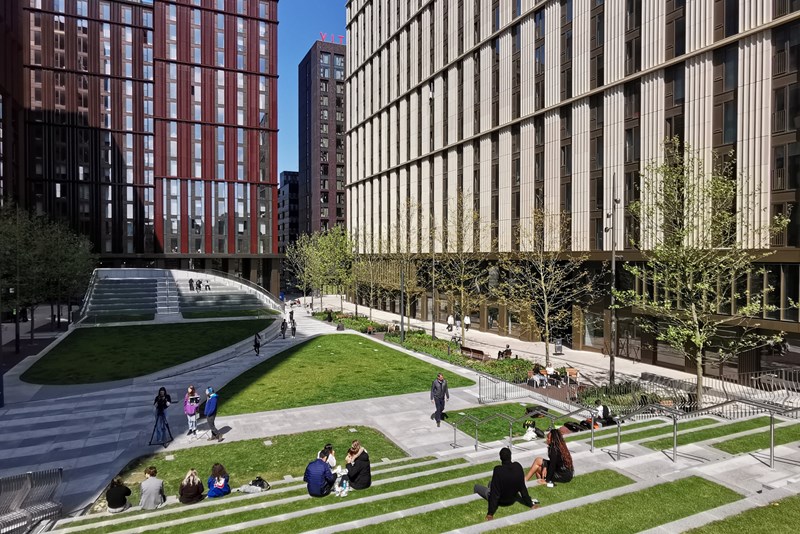 Team
Masterplanner / Architect
Feilden Clegg Bradley Studios
Main Contractor
John Sisk & Son
Landscape Architect
Planit ie
Services Engineer
Crookes Walker Consulting
Principal Designer
Curtins
Photographer
Daniel Hopkinson