AN OPEN AND ACCESSIBLE TEACHING BUILDING AT THE HEART OF THE CAMPUS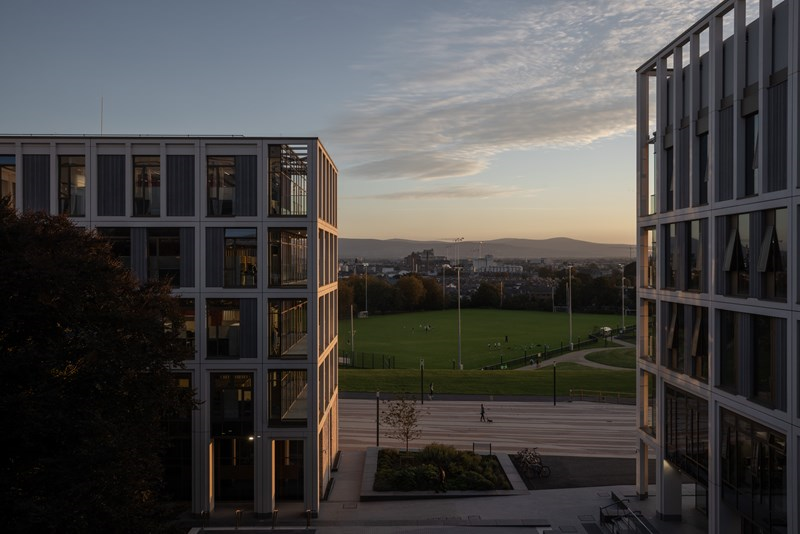 Heralding TU Dublin's ambitions for an integrated and collaborative campus, Central Quad brings together ten schools from the College of Sciences & Health, College of Engineering & Built Environment and College of Arts & Tourism in a purpose built science, innovation and research focussed teaching building.
The mix of technical teaching spaces are supported by general learning spaces, distributed learning commons, staff accommodation and building support.
The building is a contemporary and dynamic interpretation of the classic university quadrangle, split into two L-shaped blocks around a landscaped courtyard. A simple, but generous, colonnade provides shelter and a collegiate atmosphere. Large windows look inwards to the green space of the quad and outwards to the Grangegorman Campus and its neighbourhood. Routes through the building make it an open and accessible building and announce its role as a teaching and social centre for the university.
The generous entrance atrium gives the complex the lungs it needs and the opportunity for the social mixing…so essential to university experience. it works.
Liam Tuite, Architecture Ireland
BRINGING SCIENCE TO LIFE WITH ART
During the building design, we worked directly Artist Alexandra Carr to commission the five storey sculpture 'Solaris Nexum' which hangs in the main stair.
Its gently moving components reflect the shifting light deep into the building Through this artistic lens onto the activities within the building, Carr considers paradigm-shifting technologies that give hope for a sustainable future for humankind.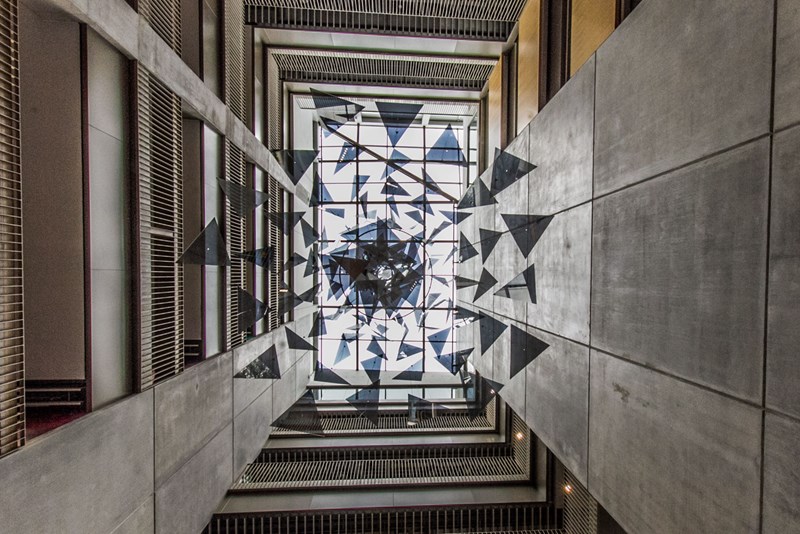 CONNECTED CAMPUS
TU Dublin's vision is of a Campus that is part of the community and the city. Grangegorman Campus is the largest higher education development in Europe, accessing a previously closed site to welcome in locals, students and visitors alike.
Our building is one of the first on a campus that will ultimately relocate TU Dublin's 20,000 staff and students, currently housed in 39 buildings across Dublin, bringing them together in a single campus.
Team
Architect
Feilden Clegg Bradley Studios
Acoustic Engineers
iAcoustics
Developing body
Grangegorman Development Agency
FFE Consultant
Red Apple Design
Fire Engineer & Accessibility consultant
Michael Slattery Associates
Landscape architects
Stephen Diamond Associates
Planning Consultant
McGill Planning
Structural & MEP Engineers
Mott Macdonald
FCBStudios Team Leads
Awards
2022
RIAI: Highly Commended