HOW DO YOU DESIGN A BUILDING THAT IS FIT FOR THE FUTURE BUT READY FOR TODAY?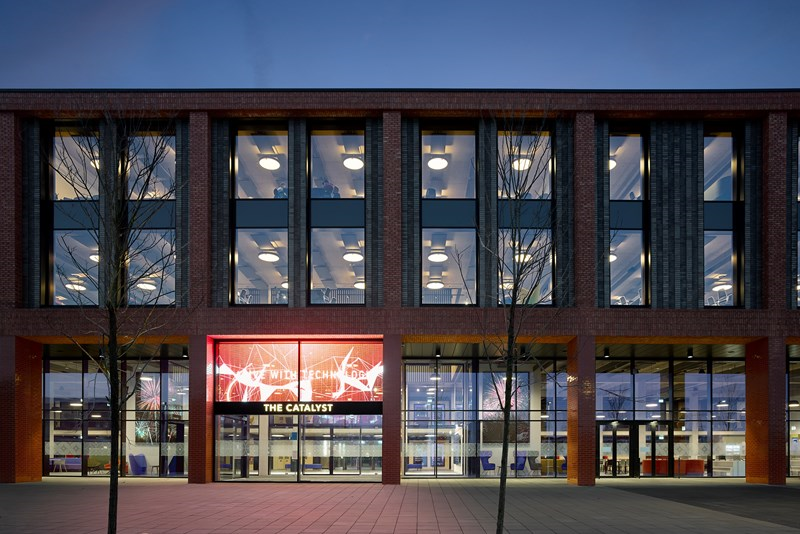 The Catalyst building captures everything about the spirit of the University of Staffordshire within a single space. It acts as a teaching and learning building, a student hub and a gateway that reaches beyond the campus to connect university and industry.
Located at the entrance of the landscaped Staffordshire University Campus, the design of The Catalyst was deeply informed by consultation with staff and students. Red and blue Staffordshire bricks frame an open and accessible ground floor and extensive glazing allows inside and outside to feel continuous, connected and welcoming to all.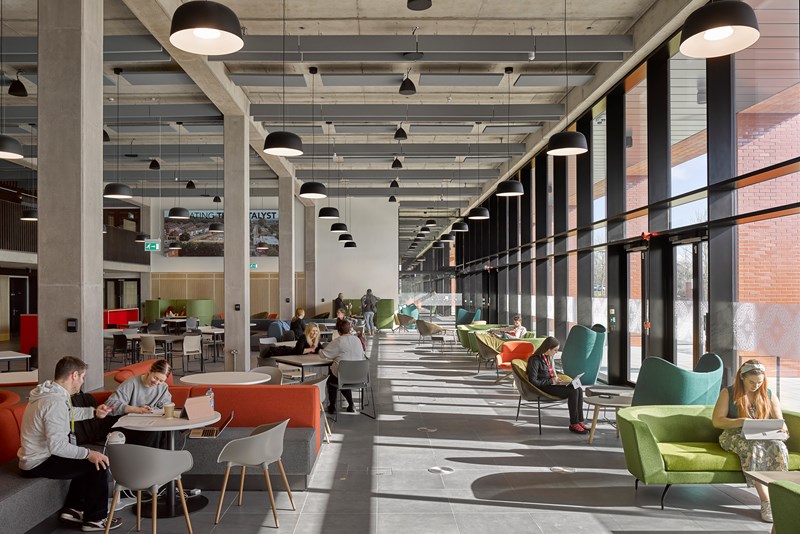 ... a central commons for the university, a 'catalyst' space, to serve as a physical arena for the exchange and evolution of ideas, views, questions and solutions.
Prof Martin Jones, University of Staffordshire Vice-Chancellor and Chief Executive
THE CHANGING NATURE OF ACADEMIC LIFE
Making use of the physical separation between the four floors reflects the diversity of academic life. As you ascend through the building, you detect a change in tempo, with spaces becoming quieter and more specialised as you change levels. For example, the vibrant ground floor houses the café and event facilities, while the uppermost floor is home to a modern library, study spaces and a dedicated area for apprentices.
Team
Architect
Feilden Clegg Bradley Studios
Main Contractor
VINCI Construction
Building Services
Max Fordham
Civil & Structural Engineers
Momentum Engineering
Landscape Architect
Grant Associates
Catering Consultant
PSV Design Ltd
Fire Engineer
The Fire Surgery
Lift Engineer
TUV-SUD Dunbar Boardman
Project Manager & QS
Mace Limited
Transport
Phil Jones Associates
Photographer
Daniel Hopkinson
FCBStudios Team Leads