BRINGING LIGHT AND OPTIMISM TO AN ICONIC SITE OF BROADCASTING HISTORY
For this project, we worked in collaboration with property group Downing and Leeds Beckett University, as part of a public/private partnership to redevelop the location of the old BBC TV Studios and the place where the first moving picture was developed.
The resulting mixed-use developments provide around 110,000 square feet of new offices and teaching spaces, and 240 student residences in a landmark building rising to 23 storeys. A new Baptist Church completes the scheme.
A PIECE OF CITY FOR THE UNIVERSITY AND A PIECE OF UNIVERSITY FOR THE CITY
Close to the heart of the city centre in Leeds, Broadcasting House presented us with an opportunity to put sustainability at the core of reimagining this historic site. The site posed some difficult challenges, which we responded to with a masterplan that manages an adjacent inner-city motorway, while still allowing for future growth. A new public space forms a significant landscape element of the scheme, as befits its prime location.
What isn't so immediately obvious is the innovation and research that went into its environmental strategy and the benefits this will bring over the coming years.
Paul Houghton Development Director, Downing
DRIVEN BY RESEARCH
Hidden in the glass and cor ten steel facade is an approach that optimises natural light whilst reducing solar penetration at the same time. Underpinned by research, we created specialist software to meticulously analyse every single aspect of the façade and resulted in a beautifully varied appearance. This research-driven strategy will bring environmental benefits for years to come.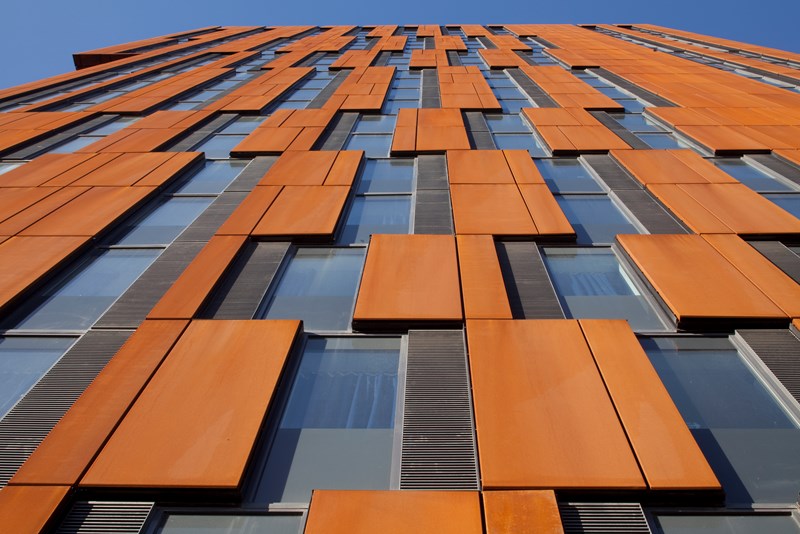 Team
Architect
Feilden Clegg Bradley Studios
Main Contractor
George Downing Construction
Structural Engineer
Halcrow Yolles
M&E Engineer
KGA Trinity Chamber
Landscape Architect
Robert Myers Associates
Landscape Designer
Luszczak Associates
Cost consultant
Ridge and Partners LLP
Facade Consultant
Montresor Partnership
Services Engineer
KGA Trinity Chamber
Planning Consultant
Matthew & Goodman
Photography
Will Pryce, Sapa, Simon Kirwan
FCBStudios Team Leads
Awards
2019
CTBUH 10 Year Award: Award of Excellence
2010
CTBUH Best Tall Buildings Award: Best Tall Building in Europe
2010
BCI Awards: Building Project: Shortlisted
2010
LEAF Emirates Award: Best Mixed Use Building Award
2010
CTBUH Best Tall Buildings Award: Best Tall Building Overall
2010
RIBA Yorkshire White Rose Award
2010
Yorkshire Property Award: Best Commercial Development
2009
Leeds Architecture Awards: Best New Building