A LOW CARBON OFFICE DESIGN, AND ITS RENOVATION 30 YEARS LATER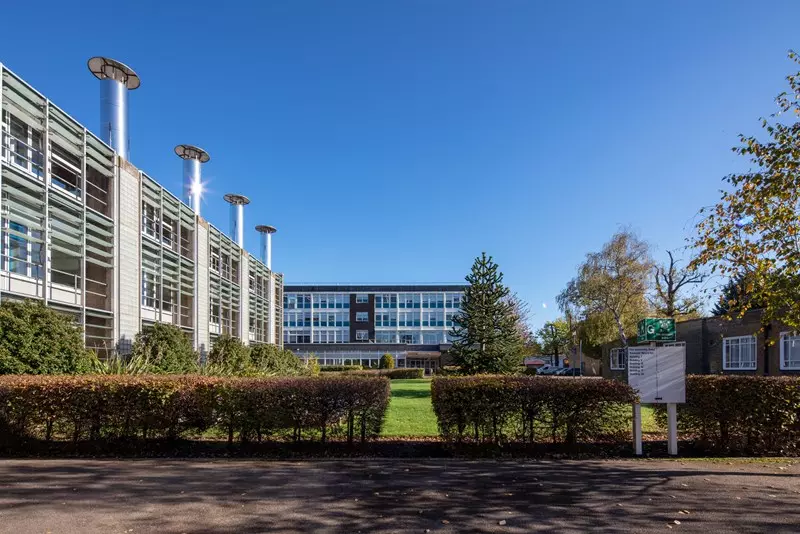 In 1996, we completed an innovative energy efficient office at the heart of the Building Research Establishment (BRE) campus.
Devised as part of the BRE Energy Efficient Office of the Future project, it was intentionally ahead of its time.
It was to meet stringent targets for energy consumption, achieved using an experimental wave form slab which was able to incorporate ventilation routes, Ventilation stacks, bore holes and solar panels to the south elevation. It achieved Breeam 'Excellent' with the highest score recorded at the time.
The project is an exciting demonstration of what can be achieved through the re-use of materials and we hope this example will support owners and occupiers of similar buildings up and down the country.
Neil Paterson, Head of Site Development, BRE
BACK TO THE FUTURE
Our 2022 retrofit of B16 and B17 on the BRE Campus demonstrates a repeatable and cost-effective approach to modernising office buildings to adapt to market demand and alternative future uses.
As an exemplar of a low cost, low carbon refurbishment, it prioritised low embodied carbon materials, local supply and reuse of existing materials where possible.
The result is a flexible mix of updated spaces for work and collaboration, meeting rooms and print hubs, reconfigured unisex superloos and new accessible WCs and the all-important tea points on each floor.
REUSE IS BETTER THAN RECYCLING
An early adopter of circular economy principals, 96% of the material from demolition of the redundant workshops on site was recycled and this was the first UK use of recycled aggregate for concrete superstructure. Other recycled materials included brickwork, screeds made from recycled power station gypsum and wood block floors recycled from County Hall in London. In revisiting our building and its neighbour to update the cellular spaces to flexible, healthy workplaces prioritised the reuse of materials where possible – including carpets, ceiling tiles, lighting fixtures and the refurbishment and reuse of existing furniture. In total, 252kg of light fittings, and 24,566kg of furniture were diverted from landfill, with the furniture refurbishment ( using fabric made from post consumer plastics) saved 9906kg CO2.
Team
Architect
Feilden Clegg Bradley Studios
Acoustic Consultant
Cundall
Approved Building Inspector
Harwood
Fire Consultant
The Fire Surgery
Main Contractor
Logan Construction
Quantity Surveyor
Gardner & Theobald
Structural Engineer
Alan Baxter
Photography
Luke Hayes, Dennis Gilbert/View Pictures
FCBStudios Team Leads
Awards
1997
British Institute of Architectural Technologists Award: Winner
1998
Concrete Society Award: Certificate of Excellence
1998
Design Council Millennium Product