A GREEN AND CONNECTED neighbourhood CATERING TO CRITICAL DEMANDS FOR HOUSING, URBAN LIVING AND EMPLOYMENT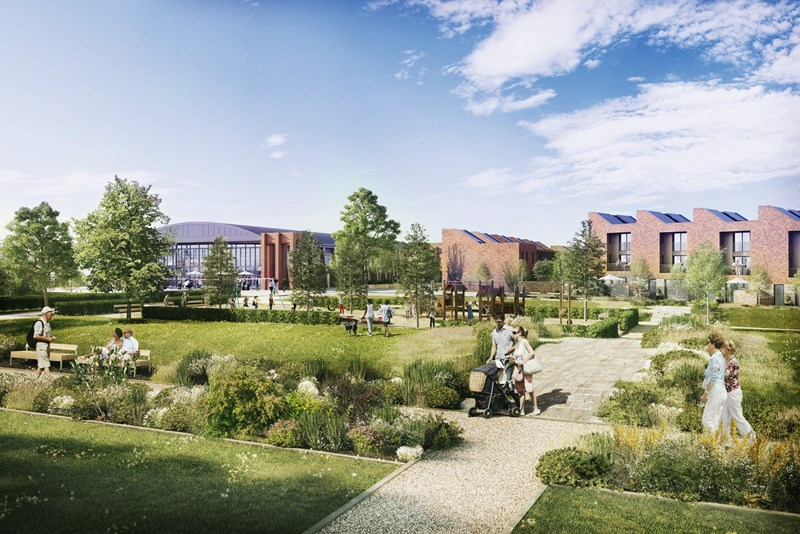 Brabazon is a new neighbourhood for Bristol, putting the historic 142-hectare Filton Airfield site back into use. Responding to the housing crisis and the UK levelling up agenda, our low carbon masterplan outlines a high-density, sustainable, new city district, with the YTL Arena Bristol at its heart.
Within the masterplan, we are delivering two phases of housing, setting a benchmark for quality homes, in green and connected neighbourhoods.
Putting the airfield back to work
The revised masterplan increases the density and variety of uses, to make the most of the potential and location of the site. It accommodates the peaks and troughs of people flows, transport demands related to the Arena, and the expectations and safety of visitors and residents.
A WALKABLE NEIGHBOURHOOD
Planned on a framework of 15-minute neighbourhoods, the masterplan's sense of place and identity is very much shaped by its public spaces. Two kilometres of pedestrian and cycle routes link a series of linear parks and gardens, as well as a destination park that follows the line of the runway, a sports hub and a central, landmark lake. The phased growth of Brabazon is linked to key sustainable travel milestones to lower car usage.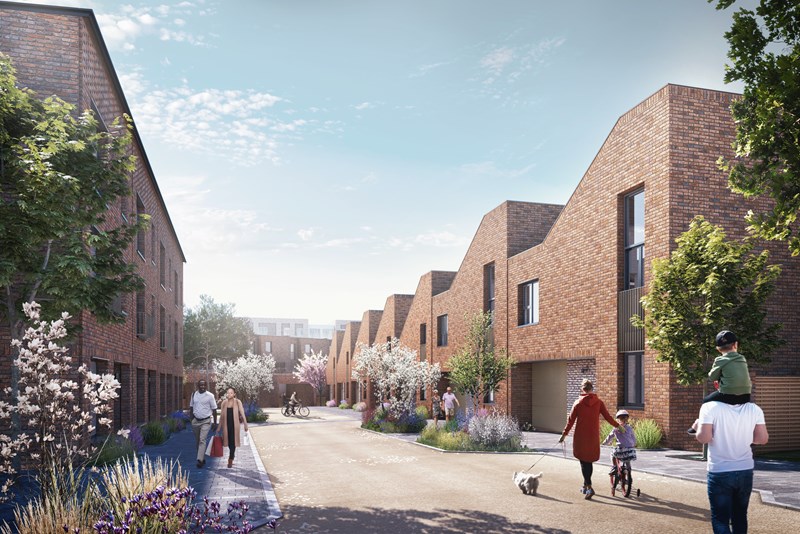 GETTING STARTED : THE FIRST PHASE
The first phase of new homes built at Brabazon forms a highly sustainable residential quarter - The Hangar District - that sets the tone for the transformation of this 380-acre site.
The new neighbourhood offers 303 new homes: a range of family homes, private apartments, and affordable homes all set within private gardens and community spaces, and arranged on a clear network of legible streets.
A public square and sweeping crescent mark the entrances into the neighbourhood, with density increasing towards these entrances. Urban-scale terraces face the main routes and two-storey pitched-roof family houses line the quieter streets between.
ENCOURAGING NEIGHBOURLINESS
With Grant Associates, we wanted Brabazon to be a green place where pedestrians have priority.
Car parking is provided off-street and the streets are at a scale that prioritises pedestrians. The tree-lined streets will offer seating and play space to encourage neighbourliness and interaction among residents.
We developed a family of housing typologies that connect back to the heritage of the airfield, but on a residential scale. A diversity of house types sit within private and community gardens, public squares, and play space.
The second chapter
The second phase of housing at Brabazon builds on the ambitions for sustainable living within a strong community that are being realised in the Hangar District.
The 339 new homes, of which 61 are affordable, will be set amongst peaceful, tree-lined streets across a south-facing hillside and will include a mix of 107 two, three and four-bedroom houses
We have evolved the family of designs created especially for Brabazon, to continue to deliver high-quality homes that are even more environmentally efficient. There is a renewed emphasis on communal living, within public and private parks and gardens and treelined streets where pedestrians have priority.
For all stages of life
The driving aspiration behind our design for the later living properties at Brabazon was to bring the whole community together, creating homes that are both practical and a pleasure to live in. These homes - 239 one and two bedroom apartments - are designed to enable residents to be more active, more social and more independent in their retirement years The mansion blocks are arranged around a central, communal garden that sits within and connects to the wider context of new parks and green spaces of Brabazon.
Team
Masterplanner / Architect
Feilden Clegg Bradley Studios
Landscape
Grant Associates
Structural Engineer
Hydrock Consultants Ltd
Building Control
NHBC Building Control Services
Interior Design
Feilden Clegg Bradley Studios
Masterplan Civil Engineer (Wider Masterplan)
Peter Brett Associates
Masterplan Ecologist
Wessex Engineering Construction Services
Principal Designer
Taylor Lewis
Residential Estate Agents (Wider Masterplan)
Savills
Transport Consultant
Phil Jones Associates
FCBStudios Team Leads