CREATIVE ARTS FACILITIES AT THE HEART OF A LIBERAL AND ALTERNATIVE INDEPENDENT SCHOOL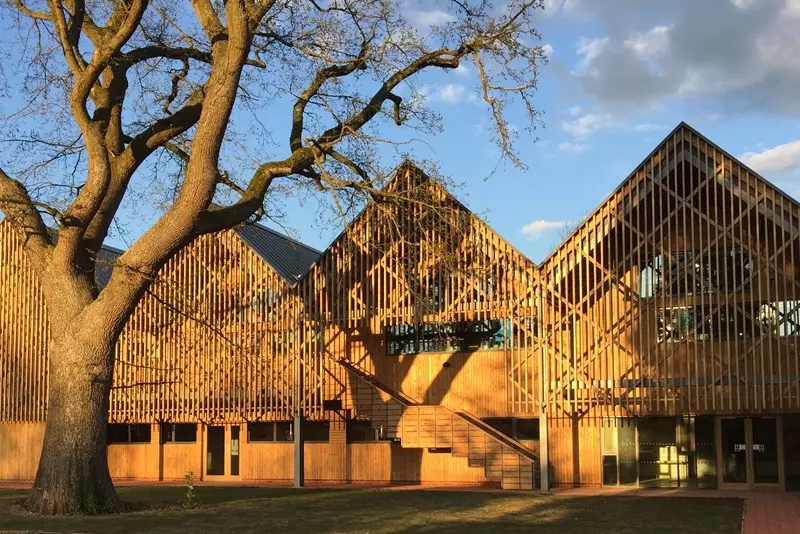 Through passive building principles, the new Art and Design building retains the school's long and close connection to the countryside.
Constructed around a 300-year-old oak tree and central lawn, the building has a strong sense of place. Its design references traditional agricultural buildings with clipped gables and simple standing-seam metal roofs, defining a series of connected barn forms.
A series of carefully scaled open and interconnected north-lit art studios on the upper level enable teaching and independent study for a wide range of group sizes and activities. Below, heavier duty craft-based design subjects are taught alongside jewellery and fashion design.
Playful use of light through layering of lattice screens to facade and external covered areas offers a joyful and varied experience for users and visitors alike.
RIBA South Judges citation
A NATURAL APPROACH
Materials were used in their natural state throughout: a lattice timber screen shelters the entrance canopy and external walkway creating a welcoming gesture on approach to the building.
Timber-slatted screens and the ancient oak tree both provide solar shading in the summer months. Renewable natural materials, including sustainably sourced timber for cladding and wood fibre acoustic panels, reduce the embodied carbon in the construction.
All circulation is external, across covered decks that double as places to draw, paint, sculpt or just relax and contemplate the environment.
In what is otherwise a lightweight building, the thermal mass of exposed concrete surfaces contributes to a stable internal temperature making for a calm and comfortable creative environment.
Team
Architect
Feilden Clegg Bradley Studios
Structural Engineer
Andrews Newby Partnership
M&E Engineer
Silcock Dawson
Arboricultural Consultant
Arbortech Consulting
Project Manager
Big Yellow Group
Photographer
Hufton + Crow
Awards
2017
RIBA Project Architect of the Year Award
2017
Petersfield Society Owl Award
2017
RIBA Sustainability Award