A SENSE OF COMMUNITY AND WELLBEING MADE ACCORDIA THE FIRST RIBA STIRLING PRIZE FOR HOUSING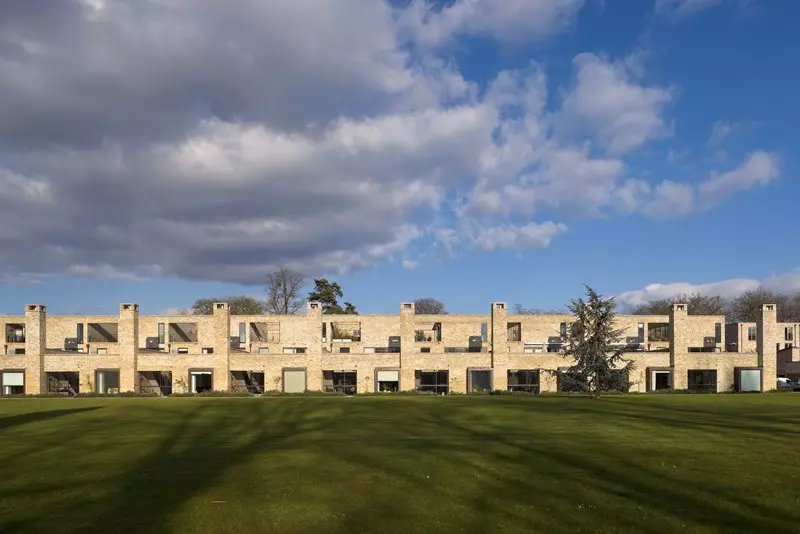 As lead architects in a housing development in northwest Cambridge, we brought community and nature to the residents of Accordia, setting a whole new benchmark for large-scale housing in the UK.
What began as a brownfield site, is now a vibrant and sustainable residential complex. To meet the demands of modern lifestyles in Cambridge, this project blended mews houses and apartment buildings with a luscious landscape filled with over 700 trees.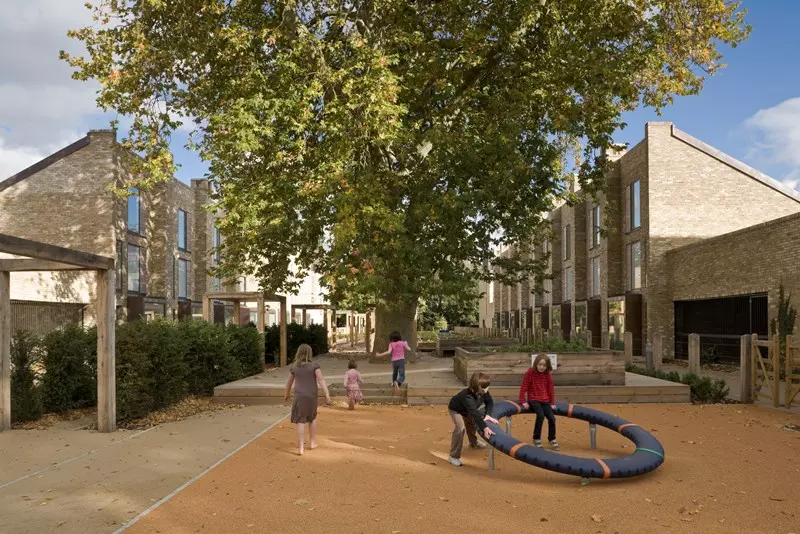 This is high density housing at its very best... an exhilarating project which marked a paradigm shift in British housing.
RIBA Stirling Prize Judges
A PLACE FOR RECONNECTING
At Accordia we wanted to create a desirable and refreshing place to live, one which balanced private residences with beautiful public spaces to help people reconnect with community and nature.
Researcher, Jamie Anderson, studied residents at Accordia, and found that living in a neighbourhood with a higher ratio of communal gardens is associated with higher levels of wellbeing and community. You can read the research paper in 'Frontiers in Public Health'.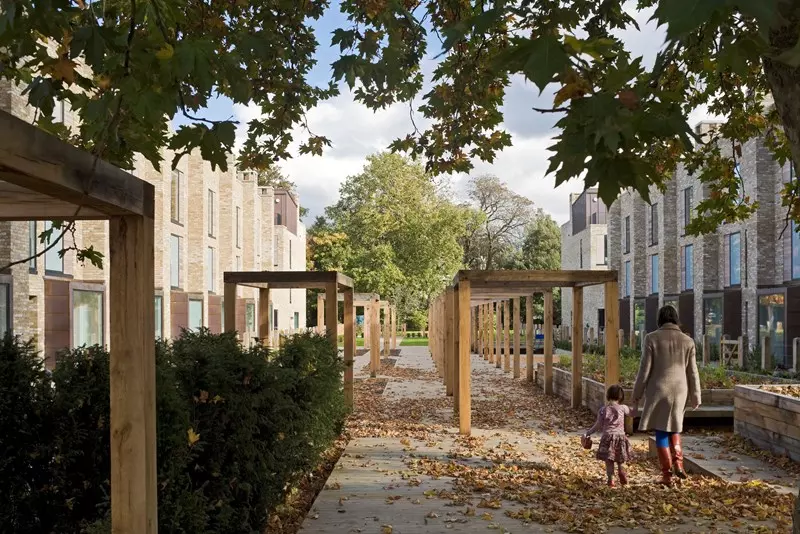 WORKING IN HARMONY WITH NATURE
Throughout the process, we maintained a holistic approach to environmental design, weaving green spaces into the fabric of these terraced streets to create a well-rounded residence for people to enjoy. Today, it boasts beautiful public gardens, landscaped 'streets', pedestrian and cycle routes, and discreet, integrated cycle and car parking for all dwellings.
The relationship between the homes, the landscape and different kinds of external space was at the heart of the project. We designed a variety of innovative houses and apartments planned in five compact groups arranged across roughly two-thirds of the site. The remaining space is given over to existing and new landscape features and communal gardens. Each home has generous floor-to-ceiling windows to provide a connection with the surrounding landscape and to flood the interiors with natural light. External spaces within each home maintain privacy for residents.
There's a place for social and environmental design in every project we take on. And because of this, the Accordia housing project became the first of its kind to be awarded a RIBA Stirling Prize.
Team
Lead Architect
Feilden Clegg Bradley Studios
Associate Architect
Alison Brooks Architects
Associate Architect
Maccreanor Lavington
Contractor
Kajima Construction Europe
Cost Consultant
Philip Pank Partnership
Landscape Consultant
Grant Associates
M & E Engineer
Roberts & Partners
Planning Supervisor
DTZ Pieda Consulting
Structural Engineer
Richard Jackson Plc
Traffic Consultant
Denis Wilson Partnership
FCBStudios Team Leads
Awards
2009
RICS East of England Awards: Regeneration Award
2009
Hauser Award: Shortlist
2006
National Homebuilder Design Awards: Best Housing Project of the Year
2006
Housing Design Awards: Medium Housebuilder Winner
2006
Housing Design Awards: Overall Winner
2006
National Homebuilder Design Awards: Best House of three or more storeys
2004
National Homebuilder Design Awards: Project Award
2003
Housing Design Awards: National Project Award