Women in Construction: the next generation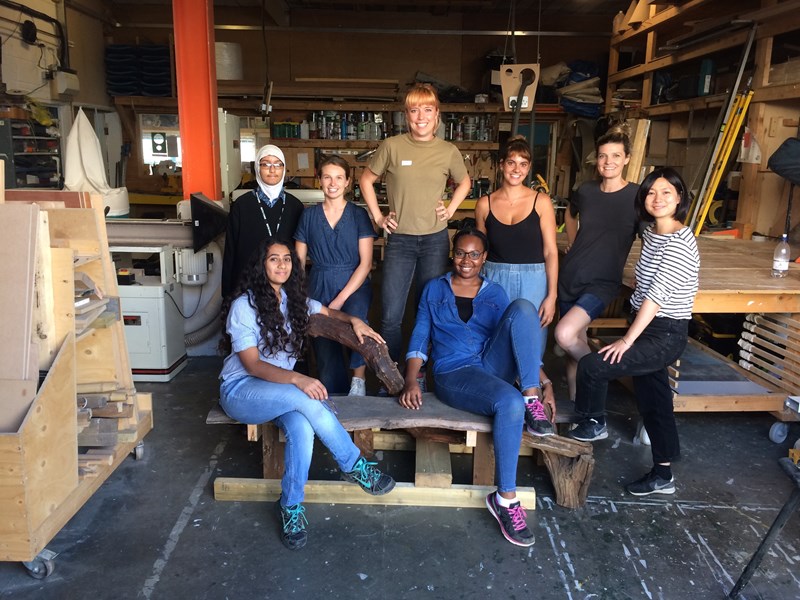 YOUNG WOMEN CAN FEEL THERE ARE BARRIERS TO WORKING IN STEM
Kerry Edwards, FCBStudios and Anna Webster, Interrobang, founders of WOWO look at the impact that a training and mentoring programme for young women can have on bringing women into traditionally male workplaces.
"Young women can feel there are barriers to working in STEM*, from not having any role models who work in these careers to having misconceptions about what jobs entail. It's crucial we do things like this so we can support the next generation of women." LB of Hackney, Deputy Mayor, Cllr Anntoinette Bramble on the WOWO Workshops
Women perform 66% of the world's work, produce 50% of the food, but earn 10% of the income and own 1% of the property. In the UK, women account for only 11% of the construction industry with fewer than 1% involved in on-site trades.
As part of humanitarian design and construction practice Orkidstudio, we have worked alongside many inspiring and talented women, who face daily challenges and major barriers in their lives that are compounded by their gender. We aim to disrupt these physical and perceived boundaries and support young women in accessing opportunities for a career in the built environment, a sector that is transforming in the face of rapidly advancing technologies.
WOWO is a training and mentoring outreach programme for teenage girls and young women in East London aged 14-21 with a focus on trades and other male-dominated workplaces in the design and construction industry. In collaboration with a group of like-minded organisations and inspiring female mentors, we support young women in developing the necessary skills, networks and confidence to become future innovators. We work to celebrate the raw talent and skills of young people in our community through hands-on making and building projects.
Over the summer WOWO ran a series of pilot skills workshops where mentors led groups of young women in the fields of carpentry, electrics, metalsmithing, coding and engineering, following a common brief to create a constructed or digital outcome. The process was documented with the help of the workshop participants and the work produced will be displayed in a collaborative exhibition "WOWOspace" in the new year.
Ironing out gender imbalances in design and construction is becoming an increasingly hot topic among industry professionals. Whilst we are keen to encourage and take part in this dialogue, our programme aims to move beyond discussion. We engage with and really listen to what the next generation of change makers have to say.
The young women gave feedback at each workshop about Women Working in the construction industry, which will be used to inform our long-term programme:
"I think that if you are a woman working in the construction industry you are doing amazingly. Nowadays I think there's an increasing number of women working in these fields but before there was nobody"
"That they are hardcore :)"
"These kinds of projects where girls are involved are really good because they encourage everyone"
"When I think of women in construction it kind of seems a little bit unconventional and unusual but there need to be more women in that sector so it is something that I would like to support."
"Women are usually less confident to express their ideas in comparison with men"
"Amazing, strong and inspirational"
"I didn't really think that they existed but attending this workshop has changed that!"
"There seem to be more women in design-based roles than in hands-on roles - I was impressed to meet electricians working for an all-female company"
Kerry Edwards and Anna Webster
Mentors
Anna Beckett is a Senior Structural Engineer at Webb Yates Engineers. She is a STEM ambassador and has lectured for Oxford Brookes School of Architecture.
Felicity Jones is a creative blacksmith and structural fabricator from London. Her contemporary approach to Blacksmithing has led her to create a range of work, from functional domestic pieces to large-scale mechanical sculpture in the public realm.
Martina Mina is a design and construction project leader for youth charity Build Up. With a varied background in architecture, urban design and playground building, she runs projects with young people aged 6-25 to design and build permanent structures in their local communities.
Nic McEwan switched from being a secondary school English teacher to design when research for her MA Education highlighted the huge importance of involving young people in the design of their school environment. She will complete her MA in Landscape Architecture at UEL this year and also runs a project for the charity London Play.
Frances Plowden Frances has 30 years of experience working as a blacksmith, furniture designer and welder. She has spent time working in Dunkirk and Calais, welding on the construction of kitchen units in the refugee camps.
Mathilda Thompson is a software engineer at Deliveroo. Most recently she has been working on building the payments system for Deliveroo Plus, a subscription service like Amazon Prime that gives customers free delivery and restaurant vouchers. "Every day offers a new challenge and I work with lots of great people and we try and solve them together."
Elly White is an electrician based in South London who works for an all-female company, called Kelly White Electrics. Before training as a sparky at the age of 28, Elly studied for a Masters in Education & International Development and worked for the charity SolarAid.
WOWO is generously supported by Feilden Clegg Bradley Studios, Hirst Conservation, RARA Clapton, Blackhorse Workshop, Forest Road Youth Club, and Young Hackney.
www.facebook.com/wowo.london; www.instagram.com/wowo.london
Images:
Top: Carpentry Workshop: Carpentry pilot workshop with youth charity Buildup at Rara, Clapton. (c) Anna Webster
1. Carpentry Workshop: Coming to grips with using hand tools at Rara\, Clapton. (c) Anna Webster
2. Carpentry Workshop: Making a bench for Hackney Marshes Adventure Playground (c) Anna Webster
3. Metalsmithing Workshop: Learning to use an angle grinder at Blackhorse Workshop. (c) Anna Webster
4. Engineering Workshop: Bridge building with engineers from Webb Yates Engineers at Young Hackney youth club. (c) Anna Webster
5. Coding Workshop: Participants learning to create their own websites at Young Hackney youth club. (c) Kerry Edwards
6. Electrics Workshop: Learning how to wire up downlighting. (c) Kerry Edwards
7. Electrics Mentor. Kelly White (c) Elly White
8. Electrics Workshop: Electrics pilot workshop with Kelly White Electrics at Rara\, Clapton. (c) Anna Webster
*STEM: Science Technology English and Maths.