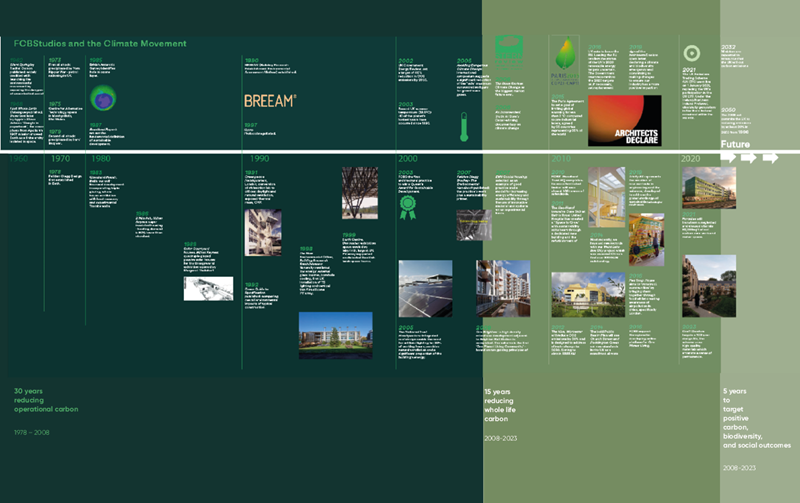 Climate pledge targets of 2030, 2035 and 2050 are getting closer. Our route to net zero, which also encompasses the key aspects of biodiversity and social responsibility, maps out our goals for 2030.
FCBStudios have consistently worked to create socially and environmentally responsible design. A review of our work through the lens of reducing carbon impacts reveals two strands to our approach over the last 45 years, and looking ahead another 5 defines the urgency and importance of developing more radical solutions:
- 30 years reducing operational carbon
- 15 years reducing whole life carbon
- 5 years to target positive carbon\, biodiversity\, and social outcomes
1978 - 2008
30 years reducing operational carbon
The importance of targeting reductions in operational energy consumption - and subsequent carbon impacts - was an underlying initiative, and bedrock of design, through the first thirty years of the practice's work.
Following the 1970s energy crisis, driven by concern over the supply of oil rather than the damaging consequences of its use, our research and our projects informed each other. Involvement in early research projects in the 1980s included the design and construction of super-insulated and passive solar homes, and the use of whole-house heat recovery ventilation systems (all forerunners to Passivhaus principles). (1)
Involvement in the creation and initial trailing of the BREEAM methodology (2), and engagement in the steering group for Soft Landings, (3) overlapped with practical design initiatives to target reductions in operational energy consumption in renovation, as at Greenpeace in 1991 (4) and new build workplaces such as the BRE Environmental Office in 1998 focusing on in-use monitoring and comfort. (5)
Genuine reductions in the impacts of operational energy were achieved through passive design techniques reducing consumption through form factor, control of solar gain, natural ventilation and nighttime cooling alongside the introduction of on-site renewable electricity generation through rooftop pv installation. (6)
Post-occupancy evaluations played a crucial part in this initiative: enabling monitoring and adjustment of technical and functional performance whilst driving lower energy use. At the National Trust offices completed in 2005 POE showed over 50% reduction in energy in comparison to benchmark. (8) This feedback loop into our early stage design work focused on performance and adaptability over time to ensure that our buildings were practical and future-proofed.
In 2006 the publication of 'The Environmental Handbook' summarised the approach to the issues addressed through our design process: with carbon defined as the key issue that is at the heart of bioclimatic design. The next five years will prove updates to this are needed but that the strategy remains fundamental to our design approach.
2008 - 2023
15 years reducing whole life carbon
Over the last 15 years, the carbon impacts of construction itself have been revealed to be very significant, as the operational performance of our designs improved to take up less of the total 60-year impact of construction and operating (see below: the first thirty years of practice).
Material choices, both to reduce whole-life carbon, and to consider their environmental and social impacts, have become a focus. In the light of the 2008 financial crisis, there were, however, initial constraints on capital investment which limited innovation to reduce long-term operational costs.
In this period the Practice's charity work started to investigate appropriate materials use in Africa, (mud bricks, interlocking stabilised soil blocks, timber and plant-based materials) reducing the necessity for imported energy-intensive materials and developing local building skills (1 -3)
This concern for materials was mirrored by some client's interests: for example, enabling us to develop a timber structure for the Woodland Trust Headquarters in 2010 which still provided passive environmental control by the use of innovative pre-cast concrete ceiling panels for energy transfer. This building met RIBA 2030 Challenge embodied energy, and energy in use targets twenty years before time. (4)
Parametrically modelled roofs using CLT instead of concrete, optimised the geometry for solar shading and passive ventilation at the Hive in 2012. (5)
The contractor's decision to pursue a cross-laminated timber structure at William Perkin School in 2012 provided a cost-neutral earlier completion date, and created of the largest timber structural frame on site in Europe. (6)
Our holistic design approach focusing on materials alongside ultra-low energy performance combined in the first Passivhaus building for the University of Oxford in 2017 (7) and developed further with the use of CLT and low carbon materials at King's College Cambridge in 2022 that prove carbon negative performance for ten years of operation. (8)
This initiative is developing further in the 6,000 sqm net zero work+maker space at Paradise (9) which will be a landmark timber-framed CLT building in London when it opens in 2025.
During this period we have developed research and post-occupancy evaluation and design tools to support these initiatives, including two PhDs with UCL and involvement in 'Carbon Buzz'.
In 2019 FCBStudios were one of the original 16 signatories to Architects Declare, and we committed to a plan to target net zero carbon across the portfolio of our projects completed from 2030 onwards.
FCBS CARBON was developed and released as a free embodied carbon tool in 2020, and we have organised a series of exhibitions to encourage debate on the climate emergency issues, including 'Carbon Counts' which has visited a number of venues around the UK. (10)
2023 - 2028
5 years to target positive carbon, biodiversity, and social outcomes by 2030
To meet targets FCBStudios will continue our focus on the design of low-carbon environments which meet society's needs and improve biodiversity.
To meet targets in 2030 our designs must be complete by 2028. For this, we need to take strategic design decisions in 2026. To design strategically in 2026 we need to develop project briefing and design protocols by 2025.
Over the next two years, we are therefore further developing our design skills, tools, and processes to support this transition to practical carbon-positive design, and a more circular economy.
We will: - Advise on retrofit solutions and the use of old buildings to target carbon reductions and help avoid new construction where spaces can be repurposed.
- Creatively reuse historic buildings with appropriate interventions\, reducing carbon impacts through the utilisation of their intrinsic embodied carbon.
- Seek out and support ambitious clients who are committed to improving responses to the climate emergency.
- Review the design performance and practical operation of past projects to define exemplars and establish realistic performance targets.
- Agree strategic project design ambitions for social benefit\, carbon\, and biodiversity at project inception\, and monitor against these at each job stage through to post-occupation.
- Co-operate\, collaborate\, and innovate.
- Share knowledge and advocate for change.
Please join us on our journey.