SODA NAMED RIBA NORTH WEST AWARD WINNER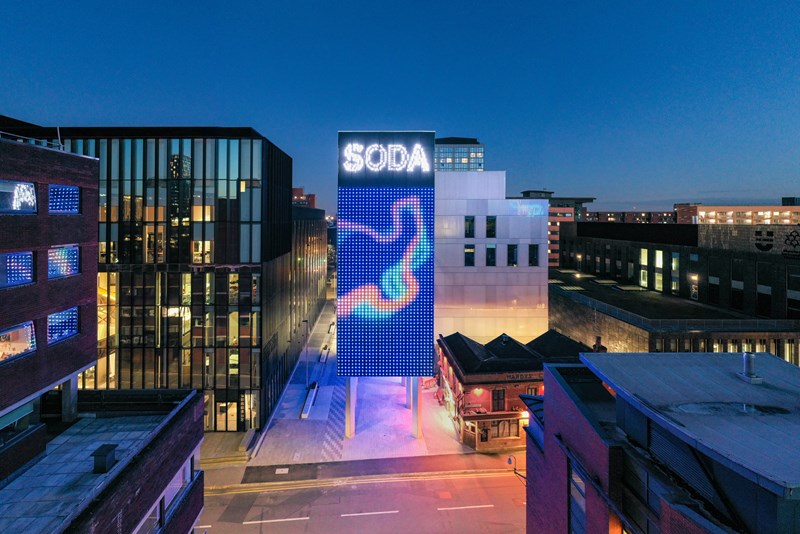 Manchester Metropolitan University's School of Digital Arts was awarded an RIBA North West award.
The judges said "Situated within the Manchester Metropolitan University's campus, the School of Digital Arts (SODA) designed by Feilden Clegg Bradley Studios, creates a cross-disciplinary learning environment within a new building which houses a large number of flexible studio spaces, a digital innovation lab, open workspaces, edit suites, sound and music studios and production studios.
The building is clad in a huge, four-storey video light wall that takes up the entire front facade and can display designs created in-house by the students to all those passing by. The facade pixel screens were reverse-engineered to use only the power available from the PV cells on the roof. The effect is striking.
While the school provides traditional ideas that offer flexibility, such as custom furniture that can be arranged ad-hoc within key spaces, there is also hidden digital technology which allows real-time connections between spaces in completely different parts of the building. This offers a vast array of configurations that students can use to link spaces throughout the school. The building is unique in the way it embodies and promotes modern methods of teaching, learning and collaboration. Its varied functions called for high-tech solutions, which have been delivered with clear vision and to a high standard.
The internal material selection throughout is a reduced palette of simple, raw finishes, allowing the digital media to be at the forefront. The building itself is future-proofed so it can respond to changes in technology. Circulation spaces have been supersized to become 'village greens' where open learning, events, exhibitions and community activities can take place. The flexible floorplates cater for various uses to be planned in future.
A building of this function will always demand a higher-than-average power supply but this has been offset from the outset by the architect taking advantage of those spaces that do not require facade openings, locating these to the south and so reducing overall solar gain."