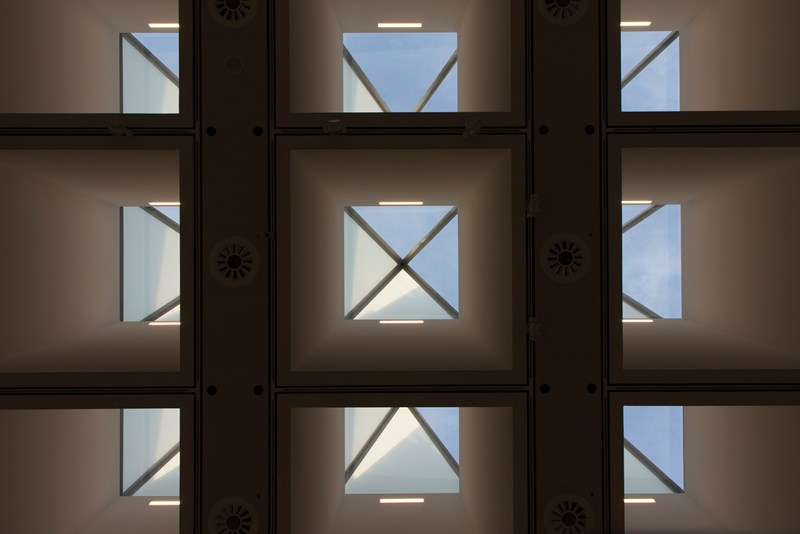 Modern architecture has given us some of the world's most exciting, uplifting and rigorous buildings.
The best Modern buildings are recognised as being of outstanding cultural and historic significance. Unlike old buildings, which primarily endure as 'authentic' historical documents, Modern buildings often have a more direct social, artistic and technological significance. Due to the needs and changing priorities of society at the time of their design, many Modern buildings tackled specific societal issues, and as such encapsulate the values and priorities of their time.
In terms of artistic significance Modern architecture also broke away from pre-determined styles and saw the best architects display new and masterful uses of materials, space, light and volume. Technically, Modern buildings often produced some of the most innovative and thoughtful responses to construction.
In the very best buildings, each of these areas of significance overlap, producing an architecture which is not only outstanding in achieving a step change in social standards, but also representing a leap in technology and ambition, providing an enduring inspiration to us all. However as part of this ambitious and sometimes experimental progress, there can also be a cost. Whilst providing inspiration, the Modern movement also created some fairly unsustainable buildings that have today become some of our most demanding conservation challenges.
Conservation of old and new buildings
When working with older traditional buildings, the philosophy of the conservation rationale is fairly clear, and usually focused on surviving historic fabric as the subject of primary value and interest. We understand the human achievement in the creation and legacy of historic buildings and find it easy to empathise with the values that created them. With an appealing patina of age, historic buildings often carry the original 'makers' marks' and survive as fragile historical documents. The materials and systems used to build them have proved themselves robust, making like for like replacement a sensible goal.
The challenge of Modern buildings, however, is more complex and immediate than those of historic buildings. There is not the same level of public empathy for their conservation as many people have negative and strongly held opinions about Modern architecture. In practical terms Modern buildings are also challenged by changing standards of environmental regulations. Large areas of glass and structures with low thermal mass mean that operational efficiency and sustainability ratings are becoming increasingly unfavourable. The land on which they were built may now attract new functions or more valuable development opportunities, adding significant pressure for physical change or total redevelopment. Original construction materials may also be showing signs of serious decay, with weak concrete, inadequate cover to reinforcement, concrete carbonation, and high alumina cements being common causes of premature decay and failure.
It is also an unfortunate fact that many Modern materials do not visually soften or improve with age. Materials such as plastics, synthetic paints, even concrete can deteriorate relatively quickly, and without appropriate maintenance regimes their appearance rapidly declines. Add to this the effects of some naïve (albeit pioneering) detailing, experimental use of materials and over-ambitious structural design, and the rate of decline is soon accelerated. Equally, misguided and ad-hoc maintenance can also destroy a building's design aesthetic.
Modern architecture: a conservation architect's challenge
The role of the conservation architect is to seek solutions which balance the need for the preservation and enhancement of fabric of historic and cultural significance (i.e. what's special or 'worth saving' about a building) with the need to conserve and enhance the usefulness and sustainability of buildings as economic assets. In dealing with Modern buildings the task is often made more difficult as whilst many buildings may be of some merit, they may also present themselves as very difficult assets to reuse. Common problems often include:
Problematic materials - their design may incorporate materials such as asbestos or problematic concrete which can be very expensive to remove or to manage via containment and ongoing maintenance.
Planning - buildings may have been planned with problems in their fundamental spatial characteristics that cannot be resolved through significant maintenance or refurbishment. For example insufficient daylight or headroom to key internal spaces can lead to unhappy occupants or even 'sick building syndrome'.
Character – Modern buildings may sit uncomfortably within their context both aesthetically and functionally. This can lead to a negative economic impact on neighbouring properties and unhappy neighbours.
Sustainability - buildings may have very high energy bills or have an embarrassingly poor environmental rating – perhaps because they were designed at a time when energy prices were lower or simply because this wasn't an important consideration at the time of the design of the building. This can be a significant factor where a public statement about energy usage is required\, for example via the UK's Energy Performance Certificate.
In such cases design teams are required to evaluate a building in a range of different ways and seek to make a persuasive case for retention and reuse which is a 'win-win-win' outcome for the various stakeholders in the process. So what factors are likely to make Modern buildings worth keeping?
Existence – one driver for a building's retention and conservation is that economics dictate that it is economically advantageous to work with a building rather than to replace it. For example construction law or planning constraints may have changed since a building was originally constructed making it impossible for a building of a similar scale to be erected on its site.
Cost of replacement – Some material characteristics of a site may make it difficult and unpopular for a building to be managed however the cost of demolition and removal may be a significant development cost which tips the short term balance in favour of retention.
Embodied energy – concrete in Modern buildings has significant embodied energy content and a balanced sustainability strategy based on retention can avoid demolition and the waste of this energy.
Ability to re-present – sometimes the lack of statutory protection of a Modern building can create an opportunity for the building to be extensively re-presented in its context, thus making the representation of old and new a key attribute.
Making a building useful to its owner is usually the best way for a site to survive the pressures of detrimental change, or even premature demolition and replacement. And seeking to understand and rediscover the merit of a building – and make this central to the future refurbishment plan - can be an essential part of making a building 'loved' again.
Two recent FCBStudios projects - the refurbishment of Southbank Centre, London, and the Richmond Building: the Student's Union Building of the University of Bristol, illustrate some of these key points.
Southbank Centre
The comprehensive refurbishment of Southbank Centre's 1960s concrete buildings: the Queen Elizabeth Hall, Purcell Room and Hayward Gallery was undertaken to improve the buildings to enable Southbank Centre to offer 'more art to more people more of the time'.
Although aged, the concrete of Southbank Centre's buildings is structurally sound. However, after 50 years other parts of the buildings have reached the end of their serviceable life. The key problems were high energy consumption, obsolete services installations and a gallery roof which was failing (a particular problem due to the climatic conditions required for art conservation). In response a phased vision was developed, which in its initial phase sought to deliver better auditoria, improved spaces for users and artists and a higher degree of control and efficiency.
The Southbank Centre refurbishment project sought to address these shortcomings with many carefully balanced judgments in the response to the significance of the buildings. Where there have been differences between end-user requirements and preserving building heritage the design has developed solutions that meet client requirements without adversely affecting the heritage value. All of the proposed interventions are designed to make effective and sensible use of the existing buildings while bringing their environmental and functional performance up to modern standards, where possible, for the next fifty years of their lives.
In particular there are two key areas where the project has developed significant solutions for the future of the building:
The Hayward Gallery roof
The comprehensive refurbishment of the Hayward Gallery included the near total replacement of outdated and inefficient mechanical & electrical plant and new roofs to the upper galleries. The key aim was to restore the original intent to admit controlled natural daylight to the gallery spaces, together with greater environmental control to improve the energy performance of the galleries and reduced running costs.
The design of the new roof has been conceived as a simple and pragmatic 'kit of parts' that separates the environmental control layers. The new roof is built on the retained existing structural truss with new glass pyramids that recreate the iconic profile and provide solar shading to the gallery, sited over flat double glazed low-iron glass roof-lights. New retractable blinds are located on the underside of the new roof-lights which will provide automatic daylight control, black out or individual control depending on the requirements of the curators.
The end results are gallery spaces which are respectful and true to their guiding principles, under a new roof covering which will unify the space elegantly and efficiently for the next fifty years. Whilst some different and updated new materials have been employed in the new design, careful attention has been taken to maintain the spirit of the original aesthetic, including the appearance of the roof after dark.
The adaptation of the Queen Elizabeth Hall Foyer
The QEH Foyer was a large, beautiful, but difficult-to-use part of the Southbank Centre. The closed corner facing the terrace and neighbouring Royal Festival Hall was also a major block to releasing its potential to promote and expand participation in the Arts. The Foyer spaces have now been adapted to create enhanced open-ness and connectivity to their amazing riverside context. This includes the installation of new windows to connect the Foyer to the adjacent external terrace spaces and the replacement of the ceiling features to improve the room acoustic and lighting.
The effect of opening up the Foyer's corner enables its space to flow out onto the surrounding terraces. This allows it to be opened in good weather giving greater access inside and out to both the terraces and the café bar. This full-height opening is married with the maximum width possible between structural walls to provide the best possible sight-lines. This creates new wider views to and from the Foyer over the terraces and towards Big Ben, the London Eye and the Royal Festival Hall.
Other internal improvements to enhance the character of the original Foyer design include a new bar and access ramp and sculptural sound absorbing light fittings.
Summary
The scheme significantly improves the environmental performance of the building, enables greater access and enjoyment, and thereby extends the lifespan of the building and its amenity. In conservation terms it was also comforting to note that during consultation over the proposed changes Dennis Crompton, one of the original LCC architects, gave his welcome and approval to the proposed conservation and refurbishment work commenting "looking at the proposals I have hope this welcome, and much overdue, liveliness will be amplified and extended."
Richmond Building, University of Bristol
The refurbishment of the Richmond Building sought to completely transform a very large, tired 1960's concrete building to prepare it for a long future providing excellent facilities for students and staff. The ultimate goal was to get the best and the most out of the building, to make it work more efficiently, and to provide a vibrant student-focused centre that would once again become a popular landmark in the University community.
Sustainable design principles were at the forefront of the client's brief. The project sought to achieve a BREEAM 'Excellent' rating and to achieve spaces that were welcoming, lively, easy to use and simple to navigate. Following consultation with students on how they wanted to use the building, the design also focused on providing a wide range of flexible spaces to meet these needs in a building that looked and felt good.
Although the building's concrete and steel frame was found to be in generally good health, its external appearance was shabby and considered to be a poor neighbour to the many surrounding historic Georgian homes. The building needed to look cleaner - in fact 'Modern' - to look its best and stand a chance of being admired. As with any well-populated public building it also needed a lively\, active facade and entrance to draw the eye towards the activity within.
This project aimed to rectify the evident failings in a number of different ways. Firstly, by refreshing the building's appearance with new glazing, concrete cleaning and repair. Secondly, it resolves the building's functional failings - particularly its accessibility and navigability - with a layout that fits the times and needs. And finally it 'opens up' the lower concrete facades to allow visual links in and out of the foyer, café bar and Anson Room, creating a much needed vibrant, active façade. Together, these helped the building develop a livelier and more contemporary feel in the spirit of the 1960s architecture.
The multi-phase project helped the building achieve a 50% reduction in its CO2 generation. The project has also created desirable new functional spaces for users, and happier neighbours. Crucially it has also created a significantly enhanced asset for its owners with an extra 3,500m2 of new office and teaching space, virtually doubling the number of people who can use the building.
Conclusion
Modern architecture is vulnerable to harmful changes during repair and refurbishment, especially where its special significance is not properly understood or appreciated by current owners, users and design teams. However, a well-informed programme of repair and refurbishment creates significant opportunities to re-discover and re-connect with the 'authenticity' of a Modern building, and to implement new solutions which combine the repair of old fabric with rejuvenation by sympathetic new layers. In the most successful schemes design for conservation and change is inseparable, and is a key part of defining a sustainable future where cultural and historic significance is enhanced. Indeed this deeper appreciation of a Modern building is essential where 'corrective' interventions are needed to enhance the appearance, performance and sustainability of a building. If undertaken carefully the process of refurbishing a Modern building can lead to dramatic improvements in energy consumption, economic performance, and social benefits for individuals and wider neighbourhoods.
An extended version of this article appeared in the Journal of Architectural Conservation July 2017
Images
Top: Hayward Gallery new rooflights © Richard Battye for FCBStudios Hayward Gallery Exhibition space, and rooflights © RIchard Battye for FCBStudios Queen Elizabeth Hall © Hufton + Crow The Richmond Building entrance, in 1966 © Building Magazine and after refurbishment in 2017 © Hufton + Crow