Living in Belfast: Part I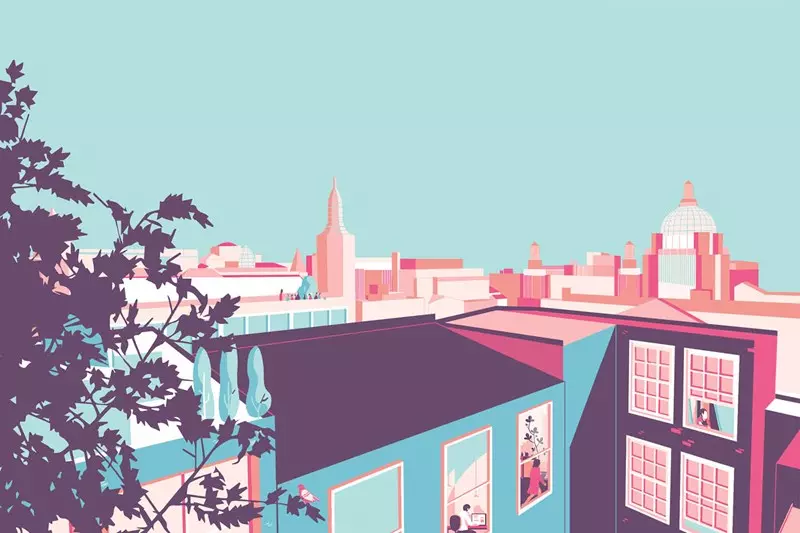 ART, HOME, AND THE DUST OF DAILY LIFE: HOW FCBSTUDIOS' COLLABORATION WITH LOCAL ARTISTS HELPED SPARK A DEBATE ON HOUSING
The 2015/16 Belfast Agenda proposed that 66,000 new residents could become the key to ensuring the city's vibrant urban centre. FCBStudios Architect Naomi Sheehan and Partner Sam Tyler reflect on how the Belfast Studio investigated how this could be realised.
Belfast has development potential unlike any other UK regional city, and the missing piece of the puzzle is dense residential development. Increased residential provision could be key to the reinvention of the city but its development potential also presents a distinct set of problems. The models applied to foster the development of other cities may be applicable in part but issues associated with transport, property values, tenure and government structure also present the need to create bespoke solutions.
Government initiatives have successfully delivered or facilitated major projects such as the Titanic Quarter, Victoria Square and in the near term, Ulster University's Belfast City Campus. Equally, there are projects which are challenging to deliver owing to the economic context. All of these projects are large in scale and, should they fail to be realised, would impact large areas of the city.
'Iconic', 'landmark' and 'gateway' projects dot the city but the background fabric of the city itself could be considered anaemic. While there are pockets of the city which capture vibrancy and are active through most of a 24 hour day, the city centre generally appears to be tentatively occupied and used solely to support office workers or spots of night-time economy including restaurants, bars and theatres. Missing in this equation is organic residential development around historic cores and new residential development appropriate to maintain a city.
In 2015/16 Belfast City Council - City, Growth and Regeneration Committee undertook a study into population and housing growth. In a significant consultation, they asked the people of the city what kind of Belfast they would like to live in. This resulted in the Belfast Agenda which sets out its ambition for the city to be home to an additional 66,000 new residents by 2035.
In response to this, FCBStudios Belfast undertook a research project entitled 'Living in Belfast', where we explored the issues which have frustrated urban residential development, and the opportunities that a vibrant urban centre can bring to the region and city.
Our research focused on residential typologies being delivered across the UK and Ireland but not yet seen in Belfast. We asked, "why is there limited innovation in residential development in Belfast?" In answer, we looked at four residential typologies, applied each to a key Belfast City site and prepared a proposal for each.
These proposals formed the basis of the 'Living in Belfast' talk series. Each one was presented and debated with an invited audience that included members of Belfast City Council's Regeneration Team, developers, social housing providers, PLACE, academics, transport engineers, architects and planners. Together, we considered the potential and future of the city and how it might transform itself into a place that would attract and welcome the proposed 70,000 new residents. All four of the models differ in scale and approach but together could assist in meeting the goals of the Belfast agenda.
Density in the City
Northern Ireland has a strong track record in providing high-quality social housing, but it remains dogged by long waiting lists. It is uniquely challenged by housing that is segregated by religion and which reinforces historic social divides and this is a structural issue not being addressed by government. In this proposal, we asked how these communities can grow in the face of limited land and how, simultaneously, they can integrate across social and economic lines.
From an urban analysis standpoint, many sites that support social housing are low density, two storey terraces. Many of these estates are also adjacent to the major public transport hubs – such as Lanyon Station and Great Victoria Street. This undermines the fundamentals of urban organisation and effective public transport – a critical sustainability issue in car-dependent Northern Ireland.
We used the markets' site adjacent to Lanyon Station to demonstrate how the current community could grow while creating a mixed-use and integrated neighbourhood through the use of podium flats. This would provide for safe residential amenity space, a high-quality public realm, employment uses and a school, as well as more traditional forms of terrace housing. Our plan allows for fantastic solar orientation and a road network which is integrated into the city streets rather than cordoned off and isolated from the city. The density of the site was increased from a suburban 120 habitable rooms per hectare to an urban 450 habitable rooms per hectare plus offices, schools and retail.
Dwelling in the City
Currently, family housing in Belfast is located primarily in suburban areas surrounding the city centre. We sought to counter this trend, by stitching pieces of the existing urban fabric back together and increasing the provision of family homes. Our aim was to create homes in the city for a varied demographic, supporting diverse patterns of occupation and providing a range of private and public amenity spaces to sustain lifetime living. Drawing inspiration from Courtyard of a House in Delft, 1658 by the Dutch painter Pieter de Hooch, we created a series of 'rooms' in the city, and consequently a series of places woven into the city grain. Threshold as room, doorway as room, entry as room, alleyway as room, yard as room, street as room, building as room…none are in isolation, and all relate to the city beyond. We focused on a site adjacent to Carrick Hill and the Ulster University Greater Belfast Development site. This area currently has residential clusters on the outskirts of the city centre, which can be seen as defensive. Our aim was to generate more connectivity through the city by establishing a series of lanes and entries, based on the historic city grain.
The proposal included a mixed-use development to include townhouses, courtyard homes, apartments and social housing townhouses, alongside public and private amenity space and a community facility such as a crèche or surgery. The proposal achieved a density of 580 habitable rooms per hectare.
Workplace to Living Space
While some of the conceptual plans for 'Living in Belfast' focused on new-build developments, this proposal concentrated on existing stock. Given the abundance of unused buildings within the city centre, we sought to investigate how to breathe new life into existing structures, while at the same time embracing diverse modes of living. Mid-century office blocks are not always the best-loved of architecture, but typically they have sound structural frames and sub-structures, laid-on services infrastructure, lifts and existing planning consent requiring only change-of-use.
Areas exist where redundant and obsolete commercial buildings lie empty, whilst severe housing need is prevalent. Addressing the opportunity inherent in this contradiction provided the incentive for our research. By using the disused office block 'Fanum House' on Great Victoria Street as our focus, the project proposed the introduction of 57 residential units, commercial space, childcare and community amenity space, over a site of only 0.21 hectares, providing 270 habitable rooms per hectare.
There is no doubt that there are opportunities to be had and important benefits to come from this type of development, not least in the supply of high-density housing which contributes to revitalising the city centre, but also by breathing new life into a dormant supply of existing building stock to build sustainable homes for the future.
Living Above the Shops The city centre is not currently considered as a desirable or aspirational place to live by many. This is due to complex legal arrangements, security of tenure, commercial perception, planning and building control constraints and parking and waste facilities. Our study investigated the potential use of currently vacant floors above shops in the historic city centre, and an assessment of regulations which prohibit people from living in empty floors above shops.
Through repurposing, rebranding and marketing, could these vacant spaces make the streets of Belfast more animated and vibrant?
We selected an area of the city centre, adjacent to Royal Avenue, with a total footprint of 75,000sqm. At high level, this could provide 150,00sqm over 2 floors and 225,000sqm over 3 floors. Assuming 75sqm for a fairly generous two-bed apartment with 25% area lost to constraints, this could equate to approximately 2250 new homes in the city centre.
Conclusion
A year on, it is interesting to reflect on this talk series. FCBStudios continue to work on educational, cultural and residential projects in Belfast and in the past year we have won planning permission for Belfast's first PRS housing scheme, made great progress on the construction of the new Belfast City Campus for Ulster University and drawn up masterplans for key parts of the City.
As the city moves forward from the constraints of its recent past, it challenges the preconceptions of both those who live there and those who visit – its built heritage, dramatic surrounding landscape, harbour, events and resources are unexpected to many of those who encounter them for the first time. We have enough landmarks in Belfast. The city needs now to promote investment in high-quality residential development, public realm and public transport to realise a city marked by people rather than an urban core dominated by road infrastructure. This is a gradual process, and not about megaprojects revealed in a flash from behind the red curtain.
Living in Belfast was a research project undertaken by the FCBStudios Belfast Studio: Sam Tyler, Cormac Maguire, Stephen Gallagher, Theo Dales, Andrew Abraham, Amy Callaghan, Ian Connelly, Arthur Parke, Naomi Sheehan, Paul Warwick.
Images
1. Living In Belfast. © Naomi Sheehan and Ian Connelly for FCBStudios.
2. Density in the City - Podium Residential on the Markets Site. Plan Drawing © Andrew Abraham for FCBStudios.
3. Density in the City - Podium Residential on the Markets Site. 3D Visual © Andrew Abraham for FCBStudios.
4. Dwelling in the City - Carrick Hill Site 3D Visual. © Naomi Sheehan for FCBStudios.
5. Dwelling in the City - Carrick Hill Site 3D Visual. © Naomi Sheehan for FCBStudios.
6. Workplace to Livingspace - repurposing of Fanum House. 3D Sketch. © Cormac Maguire for FCBStudios.
7. Living Above the Shops. Sketch © Amy Callaghan for FCBStudios.
8. Living in Belfast. © Naomi Sheehan and Ian Connelly for FCBStudios.