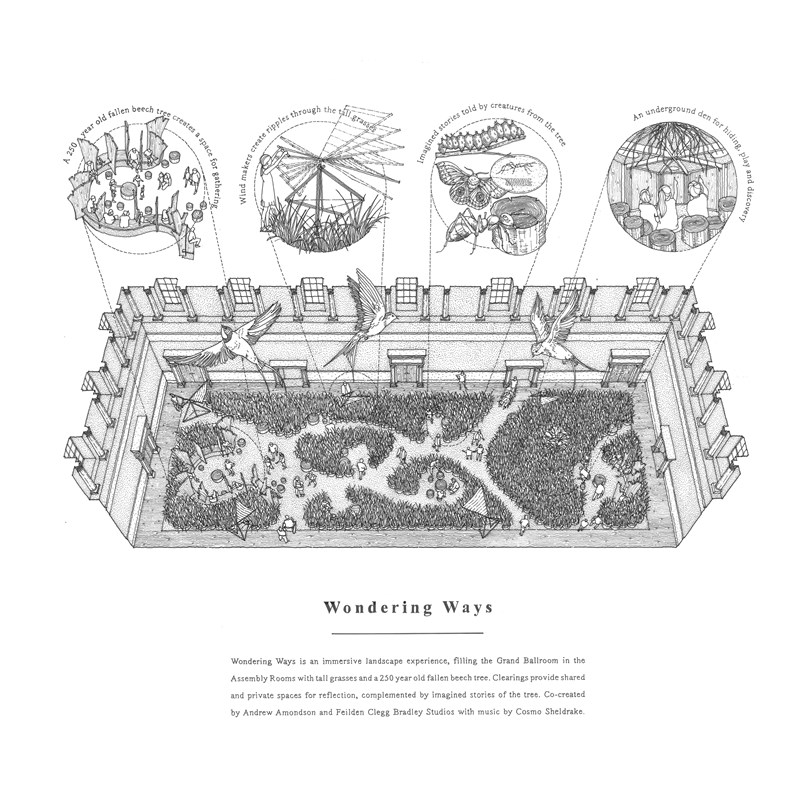 Forest of Imagination is an annual invitation to come together at a festival full of adventure, to enjoy culture, to celebrate beauty and biodiversity and to showcase the imagination of our community.
The contemporary arts and design event - created by Grant Associates, House of Imagination, Feilden Clegg Bradley Studios and local creative industries - each year reimagines a familiar space to inspire everyone's creativity and heighten a sense of nature in an urban environment.
This, the 10th Forest of Imagination, is held at the spectacular Bath Assembly Rooms, and is the result of the collaboration of a talented cohort of designers, artists, curators, story-tellers and academics.
Marcus Rothnie, Partner at FCBStudios said "For this year's theme – Assemble in the Forest – we are celebrating nature and time by bringing an immersive landscape experience into the Ballroom of Bath's Assembly Rooms, playfully occupying the space with an eclectic installation composed of a series of narratives reflecting on the life of a single tree.
"Through our collaboration with Forest of Imagination, we have developed a fantastic tradition of our young graduates and architects working together to design and build installations that can inspire the next generation of creative thinkers. It reinforces for us the importance of sustainable education, reminds us of the sensitivity of design to nature, and importantly gives our young designers the opportunity to have something they have designed realised, where typical buildings can take years to develop!
Recently, our constructions have ended up recycled, adopted by local primary schools and this year we are similarly planning for the future life of the materials we have used."
Forest of Imagination runs 15 June to 14 July at Bath Assembly Rooms. Download the full programme
From a fallen tree to a forest of imagination