Architecture of shared experience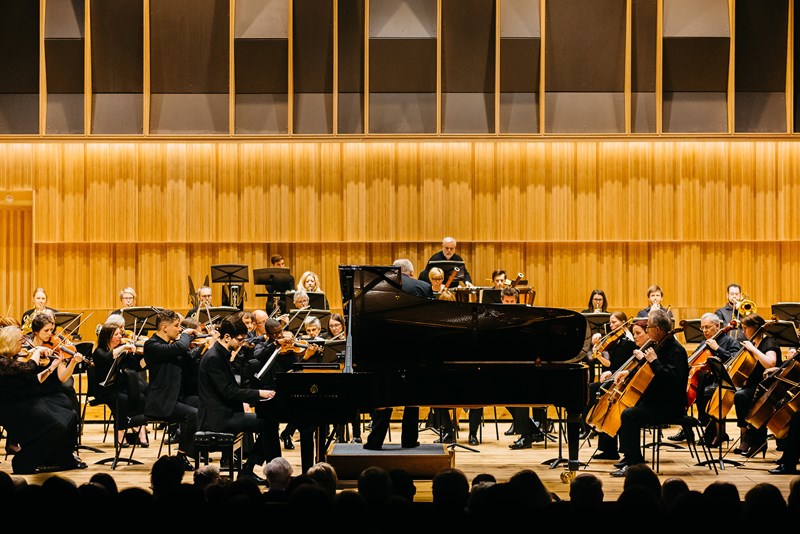 HOW ARCHITECTURAL AND ACOUSTIC DESIGN AT ROYAL BIRMINGHAM CONSERVATOIRE LED TO ITS SUCCESS AS A VENUE AND CULTURAL MEETING PLACE.
Performing arts buildings are a powerful representation of our human instinct to gather and our need for collective experiences.
In late 2017, we completed the Royal Birmingham Conservatoire, a unique building which combines a top-class music teaching institution with a range of public performance venues and social spaces.
A conservatoire is much more than just a performance venue and much more than just a university teaching building. It combines the extroverted nature of a public performance venue with the intense, private world of dedicated learning and practice. The building was designed to bring these things together to give students the skills and experience they need to become world-class performers and to give the city a new series of music venues that would reinvigorate public engagement with music.
It is a building which creates and responds to the power of shared human experience, bringing people together in ways that allow us to learn, to listen, to experience together.
For conservatoire students, who engage in many hours of dedicated, solitary practice to master their instruments, it is enormously valuable to do so in an environment that allows them to connect and collaborate with their peers, and to experience performing in front of real audiences as part of their education.
For audiences, these foyers and performance spaces create opportunities to gather with other people to have emotionally intense experiences together. In a well-designed hall, a connection is created between the performers and the audience, and between the audience members themselves, that cannot be replicated or experienced in any other way. Our challenge as architects is to understand how to use spatial, aesthetic and acoustic design to create this experience.
Acoustic design was naturally a critical part of getting this building right, and there are two fundamental strategies at work. The first is to ensure that audible sound cannot pass between spaces that are being used simultaneously so that our engagement in listening, performing or practising is not disturbed by other sounds. The second strategy is to create acoustic conditions within a room that best support the music being performed and the connection between performers and audience. This enhances not only the quality and accuracy of what is heard in a space but also the nature of the experience and therefore what is felt by the audience and performers.
Good sound separation is a matter of careful strategic positioning of loud spaces away from quiet, sensitive spaces, combined with appropriate technical design to minimise sound transfer. The most challenging adjacencies are between neighbouring performance spaces. However the compact site meant that all five venues could not be spread out on the ground floor, so it was necessary to stack venues on top of each other. To ensure acoustic isolation between them, we gave each venue its own independent steel frame sitting on rubber isolating feet. These nest inside each other like Russian dolls, never touching to ensure no transfer of sound between venues. This is so effective that you could have Tchaikovsky's 1812 Overture happening in one hall and John Cage's 4'33 in another, and you wouldn't be able to tell.
Creating the right acoustic qualities within a room is a much more delicate and subjective art in which the experience and creativity of the acoustic engineers is critical. We worked closely with Michael Whitcroft, Acoustician at Hoare Lea, to understand and develop the specific acoustic character needed for each performance space to support the kind of music being performed, and the kind of experience created.
Our work involved detailing and specifying forms and finishes which met the exacting dimensional and mass parameters needed for acoustic performance, while also creating the atmosphere and appearance that would complement the scale and musical feel of each space. The result is the creation of five diverse performance spaces supporting many different performance styles across a wide range of classical and contemporary musical genres.
The Concert Hall is the largest and most complex of the venues. A 500-seat hall for rehearsal, performance, recording and broadcast. The main auditorium is designed to feel warm and enveloping and has the flexibility for the acoustic treatment to be tailored to suit the programme.
The hall was extensively modelled during the design process, resulting in a combination of fine and larger scale panels for diffusion and sound scattering which work together to produce a rich, even and diffuse sound field. Aesthetically we employed a rich, dark palette of chocolate and wine to create a dramatic ambience.
A similar acoustic approach was taken in the recital hall, but with a lighter, fully wood lined aesthetic to evoke a more 'music-box' chamber music aesthetic. Retractable seating allows the smaller space to be used as a flat floor rehearsal space for a full orchestra.
The organ studio is a smaller space, but as a tall space with a complex ceiling shape and hard walls, it achieves a perceived acoustic volume that significantly exceeds its actual measured reverberation time.
In contrast, The Lab has a very low reverberation time. It is a highly controlled acoustic which is perfect for spoken word, electronic music and theatre. Supported by the black box aesthetic of the room, it is adaptable for a wide variety of performance and teaching scenarios.
The Jazz Club is one of the most innovative spaces within the Conservatoire. Taking inspiration from Ronnie Scotts' London Jazz Club, we paid particular attention to the furniture and lighting, with a variety of tables and chairs across several levels and around the stage. The audience is part of the show in this venue, and with daily performances from big names in the jazz world, as well as groups of Conservatoire students, it has become an important venue on the jazz circuit.
The Conservatoire hosts regular free lunchtime concerts as part of its programme, showcasing the work of the students and professional performers to a wide audience from Birmingham and beyond. This creates wonderful moments in which the world of student life and that of a classical music audience overlap briefly in the foyers and café spaces, creating connections through their shared love of performing and experiencing music together. The Royal Birmingham Conservatoire is, above all, a place of education and performance, for students, professionals and audience to come together to share experience, knowledge and music.
Colin is a Partner at FCBStudios and was the project lead for the multi-award-winning Royal Birmingham Conservatoire. He is experienced in design for higher education and performance and leads on much of the practices' theatre work. He is a musician, lynchpin of the FCBS Bath office band and is passionate about acoustic quality.

Images
Top: Main concert hall, Royal Birmingham Conservatoire, (c) Nick Robinson
1. Acoustic Linings are designed in response to the music to be performed in the main hall. (c) Hufton & Crow
2. Royal Birmingham Conservatoire Jazz Club (c) Hufton & Crow
3. Royal Birmingham Conservatoire Jazz Club (c) Greg Milner
4. Organ Studio\, Royal Birmingham Conservatoire (c) Hufton & Crow
5. Each of the venues of the conservatoire are acoustically separated. Section through the building. (c) FCBStudios
6. Colin demonstrated the acoustic in the Adrian Boult Hall during the FCBStudios 2018 Awayday. (c) FCBStudios