Opening the door to opportunity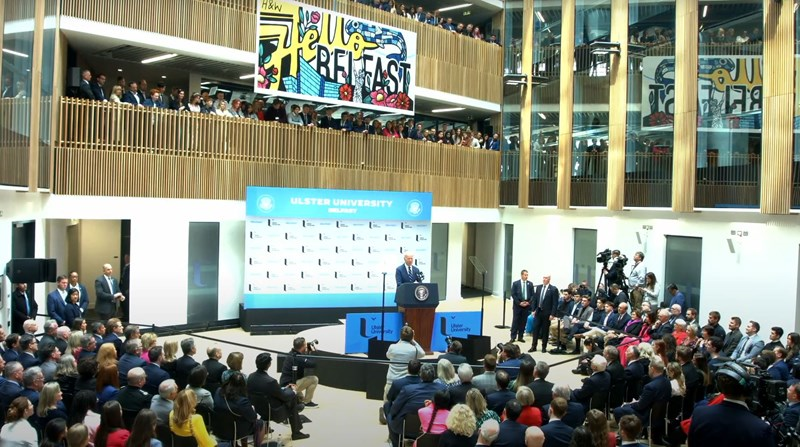 On 12 April 2023, President of the United States, Joseph R. Biden Jr, delivered his historic keynote address at Ulster University's Belfast Campus, designed by FCBStudios to mark the 25th anniversary of the Good Friday Agreement. In his keynote address Joe Biden commented on seeing the new University Campus and reflected on the impact it has had on him: "Thank you for hosting us today at this beautiful Campus of Ulster University. It is good to see Belfast city alive with commerce, art, and inspiration, the dividends of peace are all around us. Where barbed wire once sliced up the city, today we find a cathedral of learning, built of glass letting the light shine in and out, it has a profound impact. Testament to powers and possibilities of peace."
The new campus is located next to the Ulster University's existing architecture college, adjacent to districts once regularly in the news during the violence of the Troubles. This grand civic building is designed to encourage connections between academics, students, industry, communities and Belfast's spectacular natural setting.
Increasing the University's presence by 15,000 students and staff on the city centre site will ensure the up-and-coming cultural quarter thrives, and will foster wide-scale urban regeneration in the city and environs. This new campus is one of the great success stories of peace in Northern Ireland and prompts the city to look forward to openness, and investment in people and growth.
Joe Biden said, 'Opportunity is perhaps the greatest gift of the Good Friday Agreement'.
Let's see what the next 25 years brings.