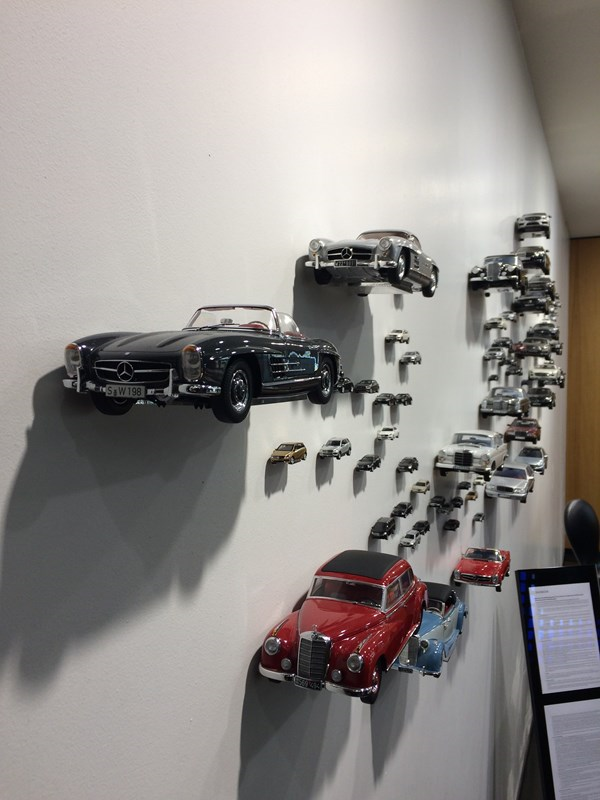 Henry Ford may have dreamed of everyone owning a car, but I wonder whether he imagined that it would become the catalyst for some of the largest societal and physical shifts in the last 50 years. The private car has transformed how and where we live, work and socialise. It has transformed our houses, streets, and cities as much as any popular design movement. However, it has also brought with it various environmental, social and economic problems. The arguments for reducing car usage are well documented, but the logistical challenges of doing so are numerous and complex.
Over the years, Berlin has produced countless radical visions for the city and it continues to push itself. With ambitions of being 'climate neutral' by 2050, and reducing the CO2 omissions by 40% between 1990 and 2020, Berlin hopes to relieve inner-city districts of automobile traffic, reducing noise and air pollution whilst maintaining and improving various elements of 'eco-mobility'.
In October 2017, 30 young designers travelled to Berlin to investigate the narrative around car-free cities. Structural, services, transport and sustainability engineers from Buro Happold were joined by Architects from Feilden Clegg Bradley Studios and Landscape Architects from Grant Associates, hoping to take a fresh look at the problems of designing for a 'post-car era' whilst gaining valuable design and collaboration experience. Using a live project in the north-west of Berlin, we set about testing ideas and assessing the practicality of implementing various solutions.
Over three days we took part in talks, workshops, design sprints and tours, with the ambition of provoking ideas and building on interdisciplinary relationships whilst immersing ourselves in a city with an exciting verve. Guided by our German-based counterparts, we explored the wintry streets of Berlin, assessing existing schemes, discussing ideas and navigating problems whilst hunting for inspiration in the markets of Friedrichshain, the museums of Mitte and the gardens of Kreuzberg.
Though none of us professed to be experts on 'car-less-ness', our combined skillsets paired with a youthful vigour allowed us to prophesize and explore both our desire and our reliance on cars. As we engaged with each other and our hosts – including various local engineers, architects and a former member of the Berlin Senate – our discussions began to unpick the intricacies of replacing car-based infrastructures.
Our initial proposals consisted of a 'mobility hub', which provided access to various transport facilities and intended to relieve the surrounding neighbourhoods of busy roads and car parks. However, it quickly became apparent that the conversation would need to consider a much wider definition of the term 'mobility' and that designing a state-of-the-art transport facility would not be sufficient on its own.
The desire to de-clutter our roads and peel away the ribbons of tarmac (as attempted in Madrid last year and more recently in Oslo) is both admirable and justified. However, imposing such efforts in existing urban environments without providing alternative solutions that mimic the convenience of a personal car could create social obstacles for those everyday tasks such as picking up the kids from school or bringing home the weekly food shop.
Rather than grand plans and utopian visions, perhaps our role as designers of the built environment is to propose smaller interventions which could have a disproportionate effect in encouraging new behaviours that may reduce social reliance on the car.
There is a potential for technologies, social gestures and incentives to provide solutions. Rental services, mobile phone applications and shared amenities could form the basis for schemes which provide access to welfare, child-care and care for the elderly as well as leisure, laundrettes and libraries whilst managing waste, goods, maintenance and emergency services. When combined together, such proposals could start to cover the gaps left when the convenience of personal transport is absent.
Berlin has various projects which are attempting to address similar matters of 'social mobility'. Holzmarkt Co-operative and "BIGyard" by Zanderroth Architeckten provide office space, studios and workshops within their premises where professionals, artists and trades (and in the case of Holzmarkt, circus performers ) are able to work without commuting miles each day whilst shared guest apartments, garden spaces and summer kitchens allow people to entertain friends, family and neighbours locally.
Shared spaces could also act as adaptable drop-in-centres for organisations that provide health advice, home-care services, night-schools and yoga classes in an effort to provide a diverse set of services within easy reach of home, further reducing the need for those little trips that make the personal car so valuable.
Whilst goods delivery systems are already being developed by interested companies, problems such as waste management have attracted fewer solutions.
Curitiba's 'Green Exchange' programme could serve as one suggestion, purchasing bags of separated rubbish collected by the public and exchanging them for travel tokens, encouraging inhabitants to recycle whilst providing incentives to use public transport. Such ideas could be extended to allow people to use tokens for other public services or to buy goods in local shops.
Such systems needn't be complicated or necessarily run by multinational firms like Google or Amazon. Secure intranet, concierge-like systems could be fashioned that serve a few flats, a residential block or an entire street in the same way that universities and businesses manage their own systems and daily communications.
As advocated in (and by) Berlin, it is not necessarily the replacement of cars that we must address. Certainly transport development plays a large part in the discussion, but it is the unseen complications that lead us to choose the car with which we must concern ourselves. As such, we must consider that it is also the invisible solutions that may drive the revolution and ultimately reduce our need and desire to each own our own car.
Jacob Szikora
I will build a car for the great multitude. It will be large enough for the family, but small enough for the individual to run and take care of. It will be constructed of the best materials, by the best men to be hired, after the simplest designs that modern engineering can devise. But it will be so low in price that no man making a good salary will be unable to own one.
Henry Ford
Images Vintage toy car installation at the Mercedes Benz plant in Berlin. The factory now manufactures the BlueTec and BlueEfficient cleaner energy engines.
Carousel 1. Early morning on the Kurfurstendamm. This dual carriageway boulevard runs 3.5km through the centre of the city 2. The Berlin U-Bahn is the most extensive underground network in Germany. In 2006, travel on the U-Bahn was equivalent to 122.2 million km of car journeys. 3. The Trabant car was manufactured in East Germany between 1957 and 1990\, but largely abandoned after the fall of the Berlin Wall. This one advertises a local bar. All photos © Pete Mitchell / Feilden Clegg Bradley Studios