Are we entering a new golden age of offices?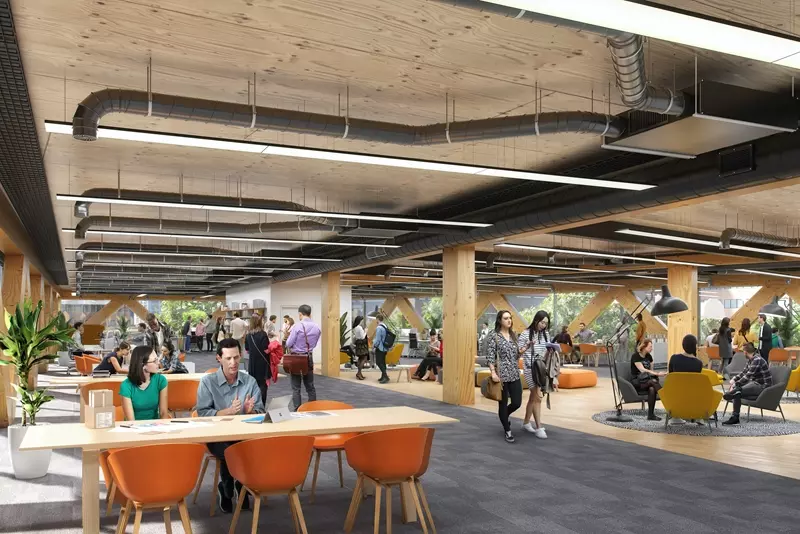 A YEAR OF HOMEWORKING AND THE IMPORTANCE OF WELLBEING IN THE WORKPLACE.
The rapid move to working from home in 2020 proved that it is possible to work at the kitchen table, in the garage or leaning on a box at the end of your bed, with children and cats as your co-workers, so long as the broadband connection is reliable.
However, we have also had a chance to reflect on why our offices, studios, workshops and meeting rooms are still required, and what we want them to be like.
Our time at work contributes to economic sustainability, but also to our personal growth and the building of our relationships and communities. We can achieve much of this from home, but the crucial role of a separate workplace, in addition to our home offices is becoming clear. The importance of good, healthy, low energy design of these workplaces has also been made clear. Wellbeing is no longer a 'nice to have' idea for our clients. It is critical to the success of a project.
The best workplaces are open, welcoming, light-filled, generous in scale, active at entrance level and flexible in use. They allow for concentration, collaboration and chance conversations. They are clean and comfortable.
The events over the last year will have changed many people's perception of what makes a successful workplace. As a result, a blended approach to office working is likely to be more normal in the future as a place where we come together for creativity, for learning and discussion, but work in independent spaces for concentrated tasks.
Comfort has long been a measurement of good design in terms of temperature, ventilation and sound levels. We require space and fresh air, roomy places to gather for a shared experience, and a way to clear our heads between screen-based tasks. Future workplaces will need to adapt to allow clean and safe systems that have already partly become habit. Feeling secure and safe in your environment will be key and could include one-way systems around buildings and more places to wash our hands.
In Paradise, in London's Vauxhall for Bywater Properties, the brief asked for a net zero carbon building with ambitions to be 'London's healthiest workplace'. The two aspirations have worked together to create an atmosphere of wellbeing through natural materials, fresh air, a visual and physical connection to Old Paradise Gardens and ground floor workshops and retail that will lend a buzz of activity.
Natural light, excellent thermal properties and air quality come as standard with the low running costs of a net zero building. In our next generation of workplaces, innovative and flexible Mechanical and Electrical systems are more important than ever, to ensure the ventilation is right, and the heating and cooling effective and sustainable.
Workplaces can contribute to our physical fitness as well as our mental and physical health. A combination of design and culture can make it desirable to use the stairs for example, or to go outside for a meeting or lunchtime walk and spend time in nature. Our journeys to work can keep us fit and healthy, taking notice of our surroundings.
Some of our earliest office designs, for The National Trust, Greenpeace and The Woodland Trust, incorporated this design ethos from the outset. They used natural materials, low energy systems with a low tech approach to operation, have spaces inside and outside to gather, and have established a sense of place. Their flexible spaces have been reconfigured as working practices have evolved. Through post-occupation evaluation studies at these buildings, we have learned the value of a healthy workplace and tried to reflect that in future projects.
More recently, a speculative office development in Sunderland, The Beam, was described by the BCO awards judges as having "the highest health and sustainability credentials". Designed to be a lean and appealing building, it is also a symbol of regeneration in Sunderland, kicking off a major mixed-use masterplan and redevelopment of the Vaux Brewery Site. The industrial heritage of the site belies the scenic setting, and part of its appeal is the riverside location and proximity to both the town centre and the stunning countryside nearby.
Densities within workplaces may change in the future, with full occupancy being less common as we mix home working with office working. Lower usage densities will allow flexible fit-out opportunities to allow for more movement around the office and more break out spaces. New kinds of social and working spaces are formed within rooftop terraces, wintergardens and atria.
The way that we work now, with more activities taking place virtually, means we no longer have the usual commute between offices and meeting rooms and therefore the time and space to clear our heads and prepare mentally for the next session. Providing roaming space through the shared spaces inside and outside our buildings encourages us to stretch our legs between virtual meetings or have one-on-one walking meetings. It gives us a chance to adjust our minds to a wider horizon, away from our screens, without having to leave the comfort of the office.
The Beam has an external atrium at its heart. This planted courtyard, for informal meetings, lunch, events or just time between meetings, brings natural light deep into the heart of the building, as well as fresh air and views out. A new office for landscape architects Planit IE, in the Cotswolds has been dubbed the 'Landlab'. It will be a base for staff to work with the estate management team, a collaborative hub and community café set within working gardens and landscape.
Our proposal for Three Chamberlain Square in Argent's Paradise Birmingham development brings the outside in. Adaptable and resilient spaces can breathe new life into the workplace. With daylight, dramatic views, natural ventilation and greenery throughout, the offices are designed to engage with the outside to make an inspiring and sustainable workplace. They will help to build communities and relationships and provide the appropriate workspaces in the office of the near future.
Our approach to healthy workplace design echoes the WHO's definition of health not as the absence of ill-health but as "a state of complete physical, mental and social wellbeing". To that, we might also add environmental wellbeing.
This definition of health certainly resonates more strongly now than it might have done before the 2020 pandemic, and so our workplace designs must also support it.
Amanda leads the practice's Workplace sector with Alex Whitbread. Between them, they have 35 years of experience leading FCBStudios projects and are currently delivering projects including no 1 & 2 Circle Square in Manchester for Bruntwood, Paradise in London Vauxhall for Bywater, Three Chamberlain Square in Birmingham for Argent, Globe Point in Leeds for CEG and Carver Street offices for Sheffield City Council.
Amanda is an NLA wellbeing ambassador, and one of the FCBStudios mental health first aiders.
Images
Top: The timber structure of Paradise will be exposed, with natural light, ventilation and views maximised throughout.
1. The Headquarters of The Woodland Trust has a garden at their heart\, which is well used by staff for breaks and meetings. (c) Peter Cook / View Pictures
2. A central staircase at The Woodland Trust becomes a social focus\, and encourages use of the stairs. (c) Peter Cook / View Pictures
3. Natural light and ventilation flood into the atrium of the National Trust Headquarters (c) Dennis Gilbert / View Pictures
4. The planted atrium in The Beam is accessible to all staff and has the dual purpose of allowing natural light and air into all parts of the offices. (c) Daniel Hopkinson
5. Symphony Park is the largest new public space to be created in a generation\, giving workers in the Circle Square offices easy access to green space and fresh air.
6. With daylight\, dramatic views\, natural ventilation and greenery throughout\, Three Chamberlain Square engages with the outside to make an inspiring workplace.
7. A roof terrace provides more options to take a breather or a change of scenery for people in the offices of Three Chamberlain Square
8. Visual links to the hidden Paradise Gardens will benefit those working in Paradise.
All images (c) FCBStudios unless otherwise credited.