FCBSTUDIOS SHORTLISTED FOR AJ100 COMMUNITY IMPACT AWARD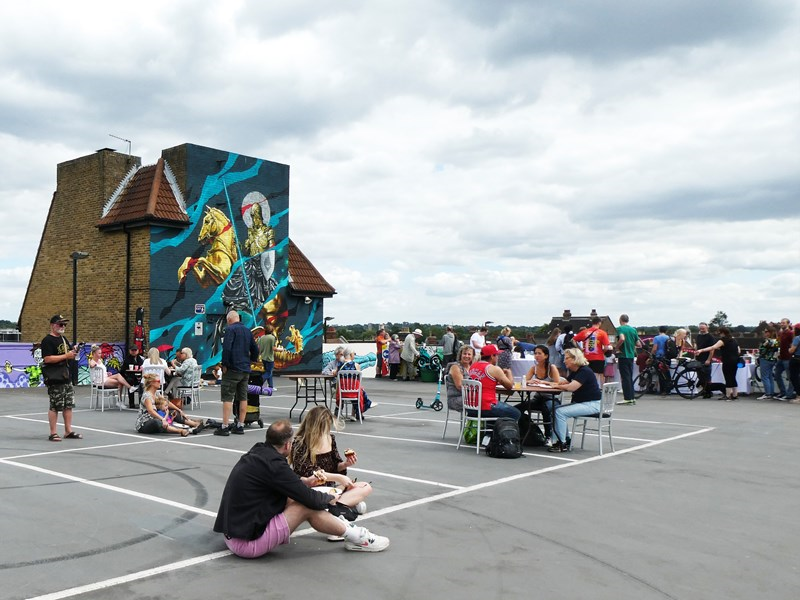 Blenheim Car Park Rooftop Gallery, in collaboration with Hadley Property Group, has been shortlisted for an AJ100 Community Impact Project of the Year Award.
FCBStudios is currently working on proposals for the regeneration of the Blenheim Centre on Penge High Street for Hadley Property Group. Prior to the submission of the planning application, we have been working with local artists, businesses and schools to ensure that the culture and character that's unique to the area is celebrated, resulting in the currently unused multistorey car park being turned into a hive of activity for the local community.
The space has delivered a program of high-quality sports coaching for local school children, a cycle repair station as well as hosting weekly yoga classes and community open days with music and food.
The project has been an important tool to encourage people, young and old, to feel part of the community, enjoy the artwork and activities and experience the views of the surrounding town they live in.
Find out more and watch a film of the project here.
Seven practices have been shortlisted, and the winners of all the AJ100 awards will be announced in June.
Images: (c) Hadley Property Group